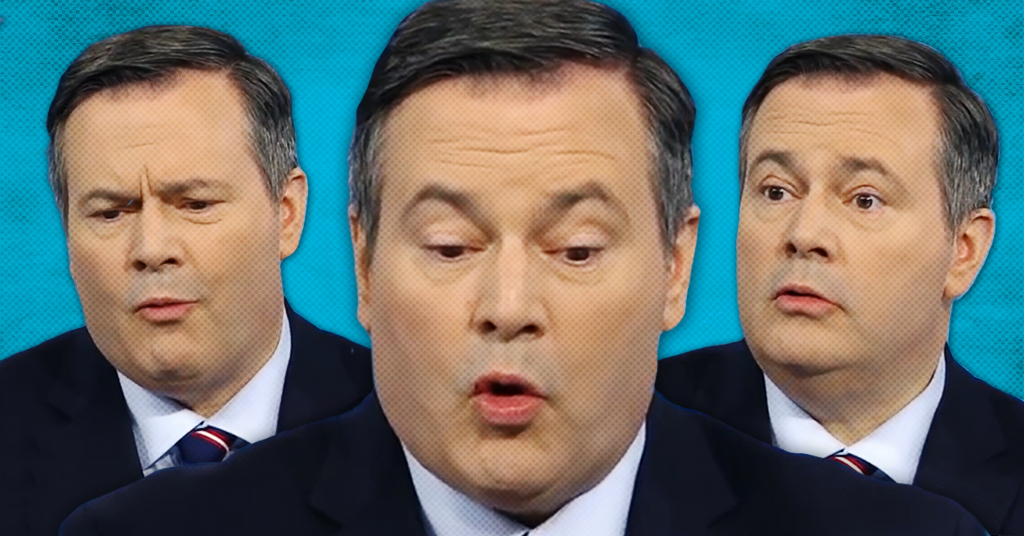 Analysis
Here Are All The Bozos, Bigots and Sketchy Characters Who Created Chaos for Jason Kenney's UCP in 2018
Looking back at all the candidates who passed the United Conservative Party's vetting process in 2018
2018 was a year of chaos for Jason Kenney's United Conservative Party.
From rigged nomination battles and grassroots anger directed at Kenney's inner circle to allegations of fraud, bribery and dirty tricks, a casual observer might conclude the UCP is at war with itself.
But that's only the tip of the iceberg – behind-the-scenes, anti-abortion groups are stacking nomination meetings, white nationalists are infiltrating the party and the UCP's campus clubs have been overtaken by the alt-right.
What's more, Derek Fildebrandt was kicked out of the UCP for poaching a deer.
As Alberta heads into an election year, here's a look back at all the controversies and scandals involving UCP candidates who all managed to get through the party's vetting process:
The UCP candidate who tried to bankroll a neo-nazi Instagram account
After leaked messages were obtained by PressProgress, UCP hopeful Phil Schuman was outed for offering money to help an alt-right Instagram account that posted anti-semitic and nazi-sympathetic memes.
Although Kenney's party ignored calls to disqualify him as a candidate over the "nazi meme scandal," Schuman would fall short of winning his nomination.
 The UCP candidates who partied with the Soldiers of Odin hate group
Three UCP candidates were caught partying with a white nationalist hate group  that calls itself the "Soldiers of Odin."
Although Kenney initially floated an elaborate excuse claiming an Alberta separatist party brought far-right extremists to the event in an effort to embarrass the UCP, PressProgress later reported one UCP candidates, Lance Coulter, was himself posting anti-Muslim messages in white nationalist and alt-right groups online.
The UCP later disqualified Coulter after he contradicted Kenney's story, admitting he knew who the Soldiers of Odin were all along and thought the controversy was "blown way out of proportion," adding he found the hate group "cordial" and "polite."
The UCP candidate who made anti-Muslim Facebook posts
UCP candidate Maureen Zelmer landed herself in trouble after posting a meme on Facebook calling the Muslim Prophet Muhammed a pedophile. She resigned shortly after.
Next we have Maureen Gow Zelmer who was nomination candidate for Calgary-Glenmore.

In March of 2017 she posted this image which is *still* up on her facebook page.

She later resigned from the race. I couldn't find comment from the UCP on this case.https://t.co/7BdXpZP25E pic.twitter.com/3XFJqMQB2W

— Bashir Mohamed (@BashirMohamed) October 8, 2018
… Again
Mark Mantei, another UCP candidate, also drew fire for a Facebook rant in which he downplayed the significance of the Crusades and asserted Muslims are the only religious group that engages in extremism and violence.
… And again
Todd Beasley was disqualified as a UCP candidate over another rant in which he called Muslims "fools who worship Satan."
Beasley later doubled down on the remarks and insisted he told Kenney's party about his anti-Muslim commentary during the screening process.
The UCP candidate who ran a controversial anti-abortion group
UCP candidate Adrianna LaGrange, a Catholic school board trustee in Red Deer, secured her nomination in October. During her time as a trustee, students in one local school were forced to watch videos comparing abortion to the Holocaust – as it turned out, LaGrange had also been the president of the anti-abortion group that presented the video.
And as PressProgress reported, she won her nomination with help from a national anti-abortion group.
The UCP candidates who were nominated thanks to anti-abortion activists
After working hard to secure Kenney's nomination, anti-abortion political action groups RightNow! and The Wilberforce Project set to work on a campaign to secretly install anti-abortion candidates in 52 Alberta ridings.
Led by a former Kenney staffer and supported by US right-wing groups connected to the Koch Brothers' donor network, the anti-abortion group RightNow has helped secure nominations for UCP candidates Hannah Presakarchuk, Kaycee Madu, Nate Glubish, Jordan Walker, Joseph Schow, Pete DeJong, Paul Frank and Michaela Glasgo.
The UCP candidate who called climate change a hoax
UCP candidate Randy Kerr, who previously served as Jason Kenney's campaign manager, made headlines in August over his raving declarations that climate change is a "hoax."
Kerr secured his nomination to represent Kenney's UCP in Calgary-Beddington
The UCP candidate who worked for Donald Trump's campaign
Before becoming a UCP MLA, Devin Dreeshen's hidden past working in America for Donald Trump's presidential campaign was exposed.
When asked about it by a reporter from Vice News, Dreeshen excused himself to the bathroom and never returned.
Our thoughts and prayers go out to Devin Dreeshen. We hope he's ok. #ableg pic.twitter.com/S37HgFvsE8

— Progress Alberta (@ProgressAlberta) November 2, 2018
The UCP candidate who plotted a secret letter campaign to sound alarm about gay-straight alliances
In October, UCP candidate Brad Leishman was recorded voicing his support for a bizarre plan to send secret letters to school principals, both catholic and private, warning about the dangers of gay-straight alliance clubs in schools.
All the UCP candidates who pointed fingers at one another
Things got ugly in June when UCP MLA Leela Aheer's campaign clashed with rival David Campbell at a constituency association meeting.
Aheer filed for a restraining order preventing Anderson from coming within 200 meters of her. Campbell claims he was "manhandled" by a member of Aheer's team.
Derek Fildebrandt later chimed in saying Aheer's husband sent him death threats.
The UCP parachute candidate who faced a revolt from her own constituency association
In October, nine members of UCP candidate Caylan Ford's constituency association signed a letter demanding an investigation into their candidate's residency requirements.
Ford, described by her own constituency association as a "parachute candidate," was personally recruited by Kenney to run for Alberta's UCP after the Ontario resident met him at a cocktail party.
The UCP candidate who appeared to rant and rave in a leaked audio recording about "too many Chinese" voters
UCP candidate Paul Frank would neither confirm nor deny that the voice in a leaked audio recording ranting about "too many Chinese" people showing up to cast votes during a UCP nomination meeting was his own.
The UCP candidate who quietly withdrew after taking an illegal donation
After receiving a reprimand from Elections Alberta accepting an illegal corporate donation from a car dealer, Haley Wile quietly withdrew from the UCP's nomination race in Red Deer South.
This came out shortly after a leaked document showed Alberta car dealerships throwing massive financial support behind a pro-Kenney PAC Shaping Alberta's Future, in exchange, according to the letter, for policies friendly to their industry.
The UCP MLA who resigned after a ballot box was stolen
In June, a video appeared online showing  angry members confronting party elites  during a nomination meeting in Calgary-North East before a ballot box was whisked to a room behind closed doors.
Despite the presence of several other party members, UCP MLA Prab Gill would fall on his own sword following an internal investigation – although he later proclaimed his innocence, insisting Kenney's party threatened to bankrupt him in court unless he took the fall.
The UCP candidate who was accused of bribery and fraud
According to affidavits sworn by party members, UCP candidate Peter Singh allegedly committed acts of bribery and fraud in his bid to sign up party members.
Some local residents accuse Singh of bribing them with gifts while others allege he used the credit card numbers of customers at his auto repair shop to bill them for UCP memberships they never signed up for.
The UCP candidate who accused Jason Kenney of orchestrating a secret "kamikaze" campaign
After a leaked audio recording surfaced suggesting Jason Kenney recruited a UCP leadership candidate to run a "kamikaze" campaign against Brian Jean, an aspiring UCP candidate revealed he donated $3,000 to the kamikaze candidate and called for a judicial inquiry to investigate political interference by top UCP insiders.
The UCP candidates embroiled in a suspicious nomination battle
After incumbent UCP MLA Wayne Anderson was defeated in a controversial nomination in Calgary-Highwood, Anderson filed a formal complaint over "discrepancies" in the vote, which was won by one of Kenney's close allies.
Our journalism is powered by readers like you.

We're an award-winning non-profit news organization that covers topics like social and economic inequality, big business and labour, and right-wing extremism.
Help us build so we can bring to light stories that don't get the attention they deserve from Canada's big corporate media outlets.
Donate