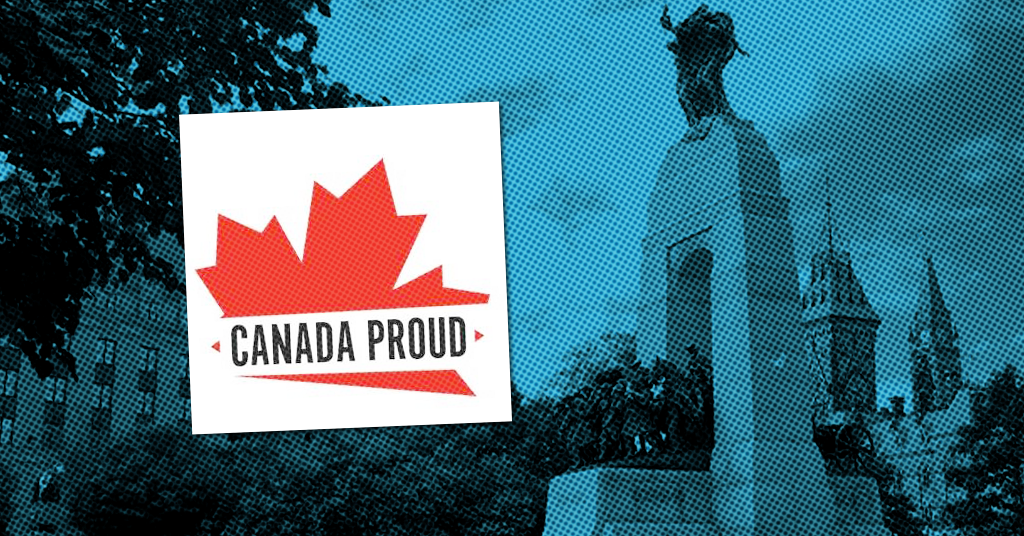 Fact-Check
Canada Proud's Claim That The Government 'Banned' Remembrance Day Ceremonies is Very Clearly False
No, Canada did not cancel Remembrance Day
Claim: A meme published by the right-wing Facebook page Canada Proud claims Remembrance Day ceremonies were "banned" by "the government."
The meme shows an image of a City of Ottawa dump truck blocking off a deserted intersection at Elgin and Albert in Ottawa near the National War Memorial, accompanied with text reading "Remembrance Day Ceremonies: Banned."
That image is juxtaposed with an image of Prime Minister Justin Trudeau at a Black Lives Matter protest on Parliament Hill in June, with text that reads: "Mass protests: Still okay."
In a caption on the Facebook post, Canada Proud claims:
"The government has banned Canadians from going near the National War Memorial on Remembrance Day. But Justin Trudeau is fine with attending mass protests."
Rating: Canada Proud's claim that Remembrance Day ceremonies were "banned" by "the government" is false because there is no factual basis supporting the claim.
About the source: Canada Proud is a right-wing third party advertising group that is part of a network of "Proud" Facebook pages run primarily by Jeff Ballingall.
Ballingall is a former Conservative staffer, Sun News Network employee as well as a Bay Street lobbyist who served as digital director for Erin O'Toole's successful campaign for leader of the Conservative Party of Canada.
Ballingall is also a director and part-owner of The Post Millennial, a right-wing news site that has previously published articles written by a fake journalists using false identities with computer-generated images.
How it spread: Canada Proud posted the meme on Facebook, where the right-wing group has a wide reach with a Facebook page that counts 225,000 followers.
To date, Canada Proud's meme has generated over 4,600 interactions on Facebook. The false information has been spread further with the help of two affiliated pages, Ontario Proud and BC Proud, which together account for an additional 1,800 Facebook interactions. It was also tweeted out by right-wing celebrity millionaire W. Brett Wilson, accounting for an extra 650 retweets and 2,100 likes on Twitter.
The reality: Canada Proud's statements that "Remembrance Day ceremonies" were "banned" and that "the government has banned Canadians from going near the National War Memorial on Remembrance Day" are very clearly false.
Ceremonies honouring fallen veterans did go ahead across the country, albeit with smaller crowds to avoid the spread of COVID-19. At the ceremony at the National War Memorial in Ottawa, Canada's top military commander General Jonathan Vance told CBC News:
"It's comforting to people that we can still do some of these normal, important national moments even though there's a pandemic."
And while ceremony organizers did discourage the public from attending in-person, no one was legally or otherwise "banned" from doing so.
Video from the November 11, 2020 ceremony in Ottawa clearly shows the ceremony did indeed take place and that small crowds of spectators gathered across the street next to Parliament Hill.
As CBC News reported on Remembrance Day:
"A much smaller crowd of a hundred or so dignitaries, active service members, veterans and members of the public gathered at the National War Memorial while Canadians across the country tuned in to the ceremony online or on TV."
As well, "the government" does not organize the National War Memorial ceremony in Ottawa specifically referenced by Canada Proud's post — that ceremony is actually organized by the Royal Canadian Legion.
In fact, it was the Legion that asked the public not to attend ceremonies in-person, which may be understandable given elderly veterans would be a high risk group threatened by COVID-19. The Legion's official release on "changes to the content of the ceremony" indicates spectators were "discouraged" from attending, but they were not "banned":
Spectators: Discouraged from attending due to the limited space and the requirement to physically distance.
The Legion's website elaborates further:
"The COVID-19 pandemic is changing the way the Legion will run Remembrance Day Ceremonies in 2020. The National Remembrance Day Ceremony in Ottawa will continue although modified to meet local health guidelines. For the first time, spectators will be discouraged from attending in person, due to the limited space and requirement to physically distance."
As #RemembranceDay approaches, The Royal Canadian Legion is reminding Canadians that the best way to pay tribute to our fallen this year, is at home. Tune in on Facebook Live to watch the National Remembrance Day Ceremony (10:45 EST). More: https://t.co/W2ybOoP56F #LestWeForget pic.twitter.com/nEmfCIFHuf

— The Royal Canadian Legion (@RoyalCdnLegion) November 9, 2020
As for Canada Proud's suggestion that anti-racist Black Lives Matter protests are receiving special treatment, public health officials did, in fact, issue similar guidelines to avoid the risk of further coronavirus outbreaks.
Canada's Chief Medical Officer of Health Theresa Tam advised this summer that the public should take extra precautions at in-person protests, and considering safer ways to express support:
"Wearing a mask is important, but shouting and making really loud projections can potentially increase the risk, and so might want to choose other means of showing or messaging, whether it be signage or making noise using other instruments for example."
Our journalism is powered by readers like you.

We're an award-winning non-profit news organization that covers topics like social and economic inequality, big business and labour, and right-wing extremism.
Help us build so we can bring to light stories that don't get the attention they deserve from Canada's big corporate media outlets.
Donate