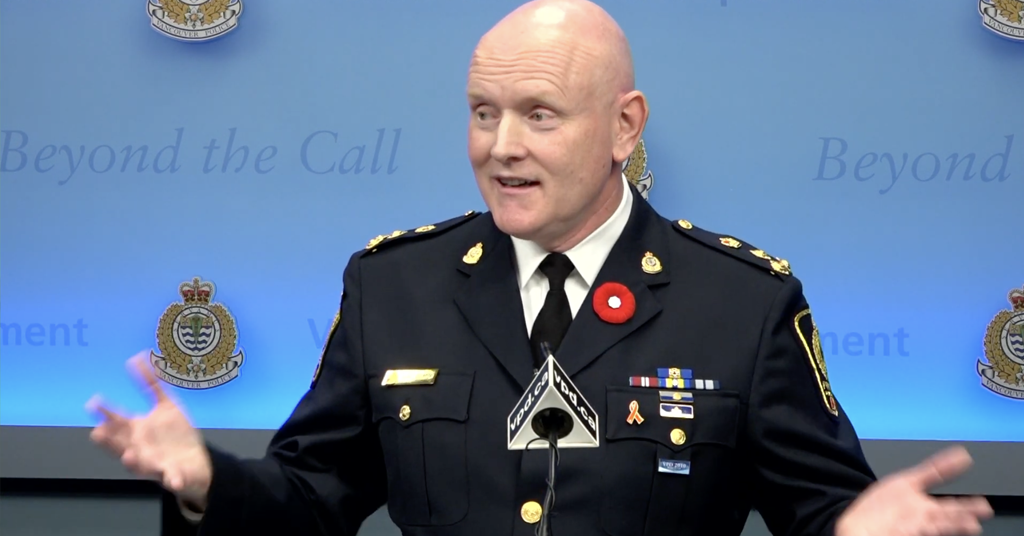 Analysis
Police and Politics: How Police in Vancouver Became British Columbia's Top Newsmaker in 2022
This year, police became political and stirred up a panic over crime and homelessness to help justify more funding for cops
In 2022, police went beyond the call of duty and waded into politics, even helping influence the outcome of British Columbia's biggest election of the year.
Police, with the support of right-wing advocacy groups, played a big role in making law and order the story of the day, with panics about crime, addiction and homelessness leading the way, claiming that "Vancouver is dying."
Right-wing politicians conveniently proposed solving these problems by increasing police budgets rather than address the social issues impacting the city's residents.
Here's a look at some of the ways Vancouver Police became one of British Columbia's top newsmakers of the year.
Vancouver Police Union endorses Ken Sim for Mayor
One of the year's top stories was when then-Mayoral candidate Ken Sim received an official endorsement from the Vancouver Police Union, who broke with tradition to endorse a candidate for the first time.
Sim called the endorsement an "honour" and a "step in the right direction toward repairing city hall's broken relationship with law enforcement," even though the endorsement drew criticism from those who said that police endorsing a candidate for office was "dangerous."
It's an honour to have received the endorsement of the union representing Vancouver's Police.

Public safety is one of the most important issues facing our city today. Addressing big, complex challenges takes collaboration and a willingness to work together. #vanpoli https://t.co/uy29UuscEw

— Mayor Ken Sim (@KenSimCity) October 5, 2022
Part of Sim's platform included a promise to hire 100 more police officers and 100 more nurses if elected, in order to address issues of public safety in Vancouver.
The president of the Vancouver Police Union, Ralph Kaisers, was also listed as a donor to Sim's campaign.
Vancouver's wealthy wade into politics
One group that helped Sim get elected was a right-wing group called the Pacific Prosperity Network, which describes itself as the "largest pro-freedom and pro-free enterprise organization in the province of British Columbia."
The group is funded by wealthy Vancouver businessmen like Lululemon founder Chip Wilson.
Right-wing group funded by Lululemon founder helped promote a film demonizing Vancouver's homeless.

A group funded by Lululemon founder Chip Wilson sponsored an event that united Vancouver's police union with local right-wing activists.https://t.co/hgIpKeuujw #vanpoli #bcpoli

— PressProgress (@pressprogress) October 15, 2022
In July, Wilson wrote a letter to a number of wealthy acquaintances in Vancouver requesting donations of up to $200,000 to PPN. Wilson stated that he had already donated $380,000 "to build software to run a successful campaign, to gather big data, empower grassroots, and be an effective full-time voice for the right."
In advance of the municipal election, PPN teamed up with former BC Proud spokesperson and failed BC Liberal leadership candidate Aaron Gunn to promote a video documentary demonizing Vancouver's homeless population and the Downtown Eastside.
The film, titled "Vancouver is Dying, portrays Vancouver's Downtown Eastside as fraught with "skyrocketing crime and violent attacks" and characterizes the city's homeless population as "violent."
The documentary also featured VPU President Kaisers and NPA candidate Arezo Zarrabian, a former Vancouver Police department analyst. Both Kaisers and Zarrabian were featured in the documentary and attended in an in-person panel discussion sponsored by PPN.
"Copaganda" report leaked to Vancouver media
In November, Vancouver Police Department hired a social technology company to conduct an "audit" of Vancouver's "social safety net."
Police across Canada are hiring a tech company to justify bigger budgets and belittle social services.

Helpseeker, a Calgary-based 'social impact' firm, has been hired by police in Edmonton, Vancouver and Ottawa.https://t.co/ROB5u5W8sb #bcpoli #ableg #ottnews

— PressProgress (@pressprogress) November 17, 2022
The report used inflated numbers that exaggerated the cost of social services in order to justify bigger police budgets and expand the scope of policing.
There was also an apparent focus on the Downtown Eastside both in the report and in the VPD Chief Adam Palmer's press conference about its findings.
"This HelpSeeker analysis suggests that there was already loss of money in the system," Palmer said. "But there's also an increasing body of evidence that suggests this money isn't being used in a way that best serves the people who need it the most."
Palmer also casually mentioned Mayor Ken Sim's promise to hire 100 more police officers during the press conference: "There were certain political promises that were made."
100 more cops for Vancouver
Coincidentally, a week after the release of the Helpseeker report, Vancouver city council was set to vote on a motion to hire 100 more police officers.
The motion, which is set to cost up to $20 million a year, was approved in November with all six members of Sim's ABC municipal party voting in favour.
In the same month, the VPD presented a report to the Vancouver Police Board, seeking an 11.17% increase in their operating budget for 2023.
Cops back in Vancouver schools
The city also followed through on another ABC Party platform promise, by voting to reinstate police in schools through the School Liaison Officer program.
There was significant opposition to the motion, given the decision to remove police from schools in 2021 happened after extensive consultations with students and community members.
Prior to the vote, the BC Human Rights Commissioner wrote a letter recommending "that all school districts end the use of SLOs until the impact of these programs can be established empirically."
Pierre Poilievre uses homeless encampment as political prop
Pierre Poilievre doubled down on the moral panic surrounding the supposedly "deteriorating" conditions in Vancouver, by making a video talking about how "everything is broken."
Why Pierre Poilievre's video attacking safe supply is misleading and dangerous.

"The three things he wanted to do are really like Richard Nixon's war on drugs." https://t.co/6qXyiNdkjE #cdnpoli #bcpoli

— PressProgress (@pressprogress) November 25, 2022
In it, he made misleading claims about safe supply while using a homeless encampment as a backdrop. It includes a montage of tents, people slumped over on the ground and needles strewn on the streets, interspersed with clips of Poilievre doing a walk-through of the Downtown Eastside.
During the same trip to Vancouver, Poilievre also met with the Vancouver Police Union. He also met with the Vancouver Police Department earlier this year.
Ken Sim supports 'Thin Blue Line' patch
A late entry, Brian Montague, a retired police officer turned-ABC Party Councillor who ran on the promise of focusing on Vancouver's "rising crime rates," was photographed wearing a thin blue line patch on his jacket in December.
Montague defended his choice to wear the patch on Twitter, saying that he wore the symbol as a memorial to his friends and colleagues, and that "earned the right to wear it."
It symbolizes a line of dedicated people who protect. It is a memorial to many of the friends and colleagues I have lost. It symbolizes courage and sacrifice. I earned the right to wear it. How dare you, or anyone, attempt to redefine, hijack, or appropriate my symbol.

— Brian Montague (@BrianVMontague) December 19, 2022
However, the symbol has been associated with racism and co-opted by white supremacists, and more popularly emerged alongside the "Blue Lives Matter" movement as a response to Black Lives Matter.
Vancouver Mayor Ken Sim issued a statement saying that he stands by Montague's decision to wear the symbol.
"We condemn those who attempt to redefine or co-opt the thin blue line symbol for hatred or political purposes."
The Vancouver Police Department, who faced some backlash around the choice of some officers to wear the symbol earlier this year, said that they do not have a policy surrounding the wearing of the thin blue line.
"We do not have a policy about this, and some police officers choose to wear a Thin Blue Line patch as a symbolic gesture in honour of colleagues who have died in the line of duty," Media Relations Officer Steve Addison told PressProgress.
The patch has been banned in parts of the US and by the RCMP along with several Canadian municipal forces including Calgary, Toronto, Saskatoon and Victoria.
Ken Sim, who also serves as chair of the Vancouver Police Board, did not respond to a request for comment regarding whether or not there are plans to reevaluate the use of this symbol by officers in Vancouver.
Our journalism is powered by readers like you.

We're an award-winning non-profit news organization that covers topics like social and economic inequality, big business and labour, and right-wing extremism.
Help us build so we can bring to light stories that don't get the attention they deserve from Canada's big corporate media outlets.
Donate