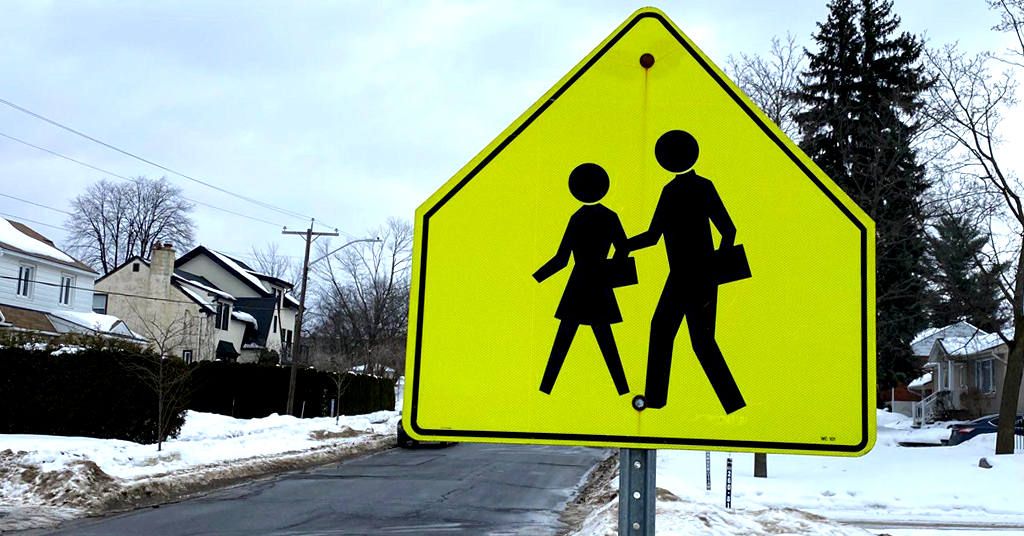 NEW
Elementary School Students and Teachers Dealing With Harassment as Far-Right Convoy Occupies Ottawa
Ottawa school board confirms incident outside local elementary school
An Ottawa school board is confirming an incident at a local elementary school as leaders of a far-right convoy muse openly about targeting area schools.
Earlier this week, as students were let out at the end of a school day, a number of parents and teachers at Alta Vista Public School encountered a vehicle that appeared to be connected to the far-right siege of Ottawa. The school is located in one of the city's residential neighbourhoods 20 minutes south of Parliament Hill.
One eyewitness said the vehicle had the word "freedom" written on its side. They said the vehicle taunted students by revving its engines before giving a group of parents, teachers and young children the middle finger.
"He was going super slow," the eyewitness told PressProgress, adding that the incident lasted up to "two minutes" and left them feeling "nervous" and "worried for the kids."

"It's really scary, actually."
"Deliberate too," they added, noting the elementary school is "not on a main street."
A spokesperson for the Ottawa-Carleton District School Board confirmed the incident described by the eyewitness.
"We can confirm that on Tuesday afternoon a small, white sports car drove slowly past Alta Vista public school at the end of the school day and repeatedly revved its engine," OCDSB spokesperson Darcy Knoll told PressProgress.
"There were markings on the car, but school staff were unclear what it said," the spokesperson added.
"An individual in the car appeared to give the middle finger to the school. The car drove past the school once and did not return."
The OCDSB spokesperson emphasized most students were "unaffected" by the incident. They added that while it was "unclear if the individual was involved with the demonstrations," school staff "reported that they have never seen this vehicle before."
The school board's confirmation of the incident comes as top leaders of the far-right convoy muse openly about targeting Ottawa-area schools.
Thursday morning, as far-right convoy members drove in circles around the Ottawa International Airport to obstruct traffic, convoy leader Pat King broadcasted a livestream in which organizers discussed a similar plan to drive slowly in circles around schools later in the day.
"Yeah, go to the schools and let the kids see the convoy," one organizer is heard saying in the livestreamed video.
"There's a good one," replies King. "We'd go roll the schools."
"Every child matters, baby."
Top convoy leaders are now musing about driving slowly in circles around Ottawa-area schools later today.

"Go to the schools and let the kids see the convoy."
"There's a good one, we'd go roll the schools."
"Every child matters, baby."

CC: @OCDSB @OttCatholicSB #ottnews pic.twitter.com/gF5QJGaCTI

— Luke LeBrun (@_llebrun) February 10, 2022
King is one of the far-right extremists at the centre of the occupation. According to the Canadian Anti-Hate Network, King has previously issued threats to anti-racists, whom he claims are recruiting children from schools.
In response to questions from PressProgress, the OCDSB issued a statement indicating it had alerted schools about the plan discussed in King's video but had not yet received any reports of "concerning activity" Thursday afternoon.
"This idea is unacceptable," the school board said about plans to drive convoys past schools. "Schools are a place for learning and the safety of students and staff should not be threatened. We have reached out to the Ottawa Police Service and know that they are monitoring the situation."
We have seen tweets circulating about protestors having the convoy drive past schools. This idea is unacceptable. Schools are places for learning, and the safety of students and staff should not be threatened.

1/3

— OCDSB (@OCDSB) February 10, 2022
Other Ottawa-area schools have been impacted by the occupation.
Lisgar Collegiate, a downtown Ottawa high school, is located next to a roadway owned by the National Capital Commission that was set-aside by Ottawa Police for convoy members to park their vehicles — they camped out for over a week instead.
One of Lisgar's vice principals told PressProgress last week they were investigating after learning that a vehicle with a half dozen gas cans was found parked a few metres from the high school while students were in class.
I just spoke to a Vice Principal at Lisgar Collegiate where a truck flying an "Every Child Matters" flag is parked next to the high school with half a dozen gas cans.

They confirmed students are currently in-class and said the principal has gone outside to investigate.#ottnews pic.twitter.com/DXvVU5GYqE

— Luke LeBrun (@_llebrun) February 4, 2022
The far-right convoy, which includes white supremacists and other hate groups, has repeatedly sought to co-opt Indigenous symbols, including the phrase "Every Child Matters" (used to honour residential school survivors), to counter claims they are racist.
The convoy and its messages have been roundly disavowed by First Nations leaders.
Our journalism is powered by readers like you.

We're an award-winning non-profit news organization that covers topics like social and economic inequality, big business and labour, and right-wing extremism.
Help us build so we can bring to light stories that don't get the attention they deserve from Canada's big corporate media outlets.
Donate