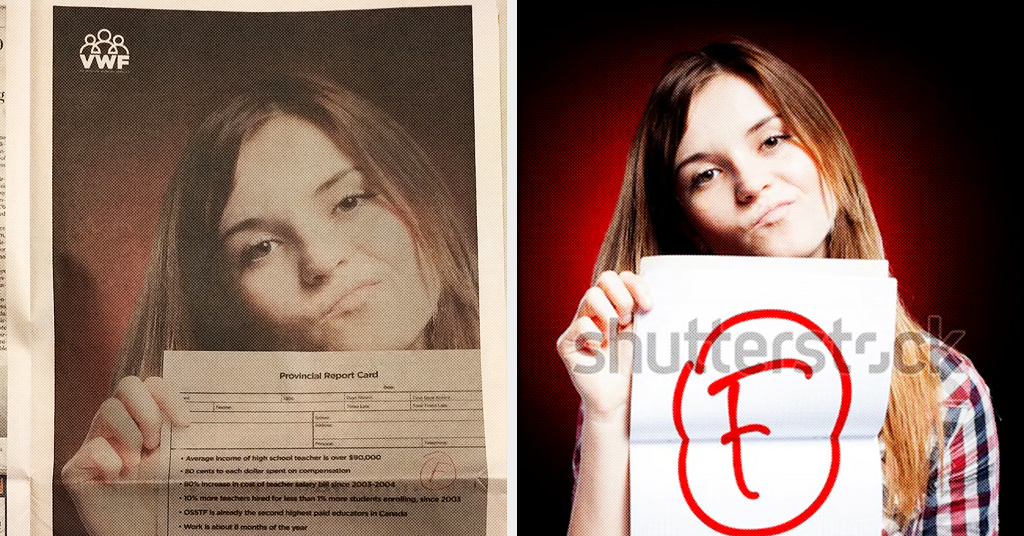 New
Toronto School Trustee Files Complaint Over Anti-Teacher Attack Ads From Mysterious Fake Parents' Group
Globe and Mail says it cannot disclose identity of the mystery group or how much it was paid to print the anti-teacher attack ad
The Globe and Mail and Toronto Star are facing a formal complaint with Canada's advertising standards body over a mysterious anti-teacher attack ad that appeared in both newspapers Saturday morning.
Norm Di Pasquale, a Toronto Catholic District School Board trustee, said he filed the complaint with Ad Standards Canada because it is impossible for the public to verify if the anonymous group that paid for ads really is who they claim to be.
Over the weekend, expensive full-page ads appeared in the Saturday editions of the Globe and Mail, Toronto Star and National Post paid for by a mystery group calling itself "Vaughan Working Families."
Di Pasquale notes the group provides "no contact information and (has) no Internet presence," while people in the community say they've never heard of the group.
An investigation by PressProgress reveals there is no trace of the group's existence apart from their ads. The mother presented as the public face of the group in one of its ads was revealed to be a woman from Poland who says she has no knowledge of Ontario provincial politics.
We tracked down the mother presented as the public face of the mysterious "Vaughan Working Families" group.

It turns out she's not from Vaughan – she's from Poland, and she'd like you to know she has "nothing to do with the teacher strike in Canada."https://t.co/ddVxSQP41E pic.twitter.com/Pl3Nc6GT3o

— PressProgress (@pressprogress) February 2, 2020
According to a copy of the formal complaint reviewed by PressProgress, Di Pasquale takes issue with the group's anonymous and potentially misleading identity.
"There is no way to contact the advertiser to verify they are actually 'Vaughan Working Families'," the complaint states. "The ad is misleading in that it purports (to) represent working families in Vaughan."
Did you know the Consumer Complaint Procedure provides consumers with a mechanism to submit concerns about Canadian ads? If you see or hear an ad you believe is problematic, fill out our online complaint submission form at: https://t.co/udRDFf6owi

— Ad Standards (@AdStandardsCan) March 1, 2019
"It opens up a lot of questions and a lot of suspicion as to what the actual source of these ads were," Di Pasquale told PressProgress.
"This might be coming from an organization that wants to sell us a mandatory e-learning solution for students." The school trustee also noted "Vaughan happens to be the riding that the minister of education is from."
"This organization, at best, is misrepresenting what families in Vaughan actually want and to me that's disturbing — they're stealing the voice of that community."
In a statement Monday morning to PressProgress, a Globe and Mail spokesperson said the newspaper is not able to disclose the identity of the "Vaughan Working Families" group.
"Unfortunately no, we cannot disclose who placed the ad or how much it cost," the spokesperson said.
The spokesperson noted that the Globe does "have a verification process for these types of ads through management and our legal department."
Approximately 50 minutes later, PressProgress received a second e-mail from an unnamed Globe and Mail e-mail account stating: "Globe Media Group would like to recall the message 'Media Inquiry'."
The Globe and Mail did not respond to further requests for comment from PressProgress.
The "Vaughan Working Families" name is also ruffling the feathers an existing group in Ontario created by the labour movement that has called itself "Working Families" for many years.
Pat Dillon, a spokesperson for Working Families told PressProgress he "absolutely" believes the group "Vaughan Working Families" is mimicking his organization's name to sow confusion because his group supports Ontario teachers.
The Working Families spokesperson said he doubts the big newspapers would let his group buy full-page ads saying: "'We support the teachers', brought to you by the Kingston chapter of the Progressive Conservative party."
Dillon said his organization is currently exploring its legal options and considering sending the group a "cease-and-desist" letter.
---
Update (February 3): Following publication of this story, Ad Standards Canada issued a public statement on its website indicating it had "received a large number of complaints" about the "Vaughan Working Families" ad, but said their organization is not able to adjudicate the complaints because "political ads are outside the scope of the Canadian Code of Advertising Standards."
"In response, we have alerted the carrying media about the issue and shared the level of concern that has been voiced to us," the self-regulatory body said.
An Ad Standards Canada spokesperson told PressProgress that its guidelines define "political advertising" more broadly than ads about political parties or elections, but can also refer to ads about a "policy or issue that is the current subject of debate at any level of government."
Ad Standards Canada added that it contacted the Globe and Mail, Toronto Star and National Post and "received confirmation that each is independently investigating."
Our journalism is powered by readers like you.

We're an award-winning non-profit news organization that covers topics like social and economic inequality, big business and labour, and right-wing extremism.
Help us build so we can bring to light stories that don't get the attention they deserve from Canada's big corporate media outlets.
Donate