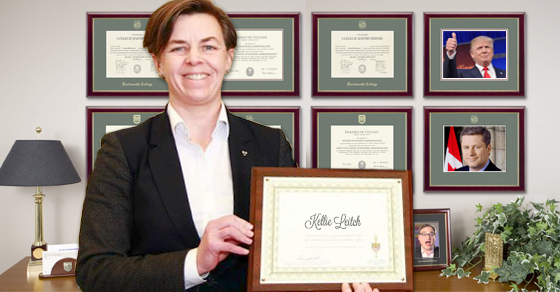 AUDIO: Kellie Leitch brags she doesn't need to consult anyone because she graduated med school
"I do have 22 letters at the end of my name. I'm not an idiot," the Conservative leadership candidate said.
Maybe Donald Trump would call her Snobby Kellie?
At a Thursday evening event with campus conservatives at McGill University, Conservative leadership candidate Kellie Leitch suggested that the "22 letters" at the end of her name qualifies her to change the law without consulting anybody:
"I do have 22 letters at the end of my name. I'm not an idiot. I have thought through all the details with respect to what we should do."  
Leitch was reportedly responding to a question "about her plans to abolish the Indian Act without consulting aboriginal groups" first.
Audio published by a The Prince Arthur Herald, a right-leaning student news publication, appears to show the controversial Conservative leadership candidate advocating Canada go ahead and "eliminate the Indian Act," suggesting the fact she went to med school is proof she's capable of thinking through "all the details" herself without consulting Indigenous communities first:
Despite portraying her leadership campaign as a popular revolt against elites, honorary titles and other markers of social class and prestige do seem near and dear to Leitch's heart.
According to Maclean's, during the early weeks of the 2015 election campaign, Leitch berated a 27-year-old Conservative Party staffer who forgot to include the word "doctor" on her business cards.
When the staffer told Leitch the card's template did not allow honorary titles, Maclean's reports Leitch exploded:
"'You're lying,' Leitch yelled, according to Wong. 'This is unacceptable. Even the prime minister [Stephen Harper] introduced me as Dr. Kellie Leitch this morning. I've earned all these titles. Do you have these titles after your name? No.' Wong said Leitch then threatened to call Harper if the cards weren't fixed."
Friday afternoon, Leitch took to Twitter to offer her apologies.
Not to Indigenous people in Canada or to anyone who might wonder if Leitch thinks they're an "idiot" because they didn't go to med school – Leitch instead apologized for incorrectly identifying the number of letters at the end of her name:
I apologize for the error, I have 18 letters after my name, not 22. Each is an achievement I worked hard for. -kkl https://t.co/q6I6naKWTW

— Kellie Leitch (@KellieLeitch) January 13, 2017
However, that clarification might not be accurate either.
House of Commons records suggest Leitch actually has 16 letters after her name, not 18 – plus, counting the letters "M.D." on top of "Dr." seems a little redundant too:
Leitch's anti-elite leadership bid is largely bankrolled by wealthy, well-connected establishment Conservatives and her campaign is managed by a party insider who served as Chief-of-Staff to two Toronto mayors.
[h/t Prince Arthur Herald]
Photo: Facebook.
Our journalism is powered by readers like you.

We're an award-winning non-profit news organization that covers topics like social and economic inequality, big business and labour, and right-wing extremism.
Help us build so we can bring to light stories that don't get the attention they deserve from Canada's big corporate media outlets.
Donate