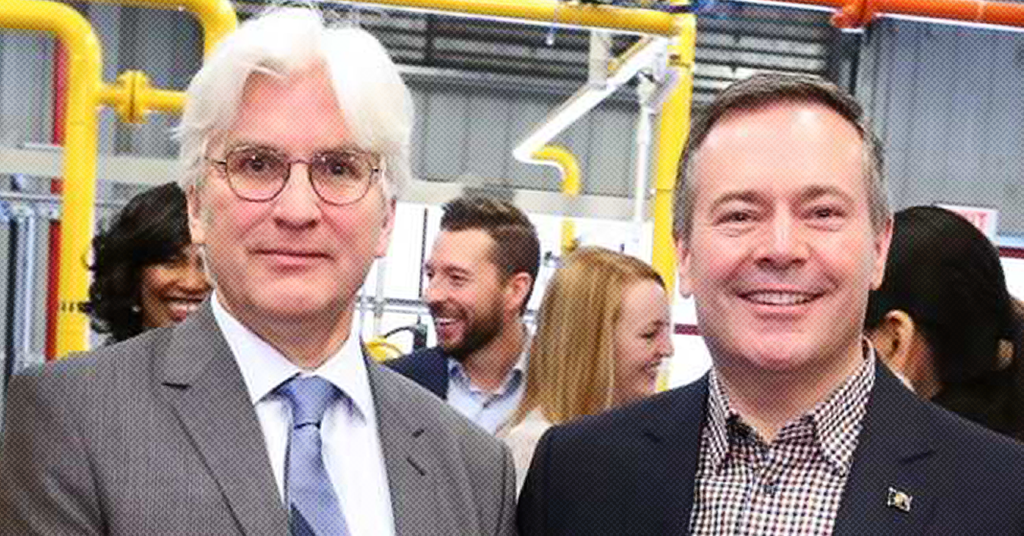 News
Jason Kenney's Energy War Room Deletes Tweets Accusing the New York Times of 'Bias' and 'Anti-Semitism'
Energy war room CEO apologizes for the 'tone' of 'some tweets' attacking the New York Times
Jason Kenney's $30 million energy war room is in damage control mode, once again.
The latest blooper relates to a bizarre Twitter rant that saw the war room accuse the New York Times of "anti-Semitism" after the newspaper published an article noting global investors are losing interest in Alberta's oil industry.
The New York Times article reported that BlackRock Inc, the world's largest global investment management corporation, is pulling out of Alberta's oil patch.
In response, the Canadian Energy Centre, better known as the "energy war room," fired off a bewildering 23 tweet tirade railing against the New York Times.
We have a new article to talk about today. As always, lets provide some information (no reference to Mad Max though as jokes seem to make a lot of you really angry)https://t.co/2kNGUQUEWY

— Canadian Energy Centre (@CDNEnergyCentre) February 12, 2020
The tweets that followed included references to a disgraced reporter involved in a high profile plagiarism scandal two decades ago and links to dubious right-wing websites that accuse the Times of being "very, very, very biased" in its coverage of President Donald Trump.
The energy war room also attempted to discredit the New York Times' reporting on the investment climate in Alberta based on an error-riddled appraisal of the life of Walter Cronkite by a TV critic following his death over a decade ago, which the paper went to extensive lengths to correct.
Maybe most eyebrow raising was a tweet suggesting the New York Times' reporting could not be trusted due to "countless" examples of "anti-Semitism."
The energy war room noted a controversy involving a New York Times e-newsletter editor who came under fire last year when the far-right website Breitbart dug up an offensive joke they had tweeted a decade earlier while in college.
The New York Times has "been called out for anti-Semitism countless times," the energy war room tweeted.
"So their track record is very dodgy. This is important to note as we look at this article. And we are building more information to put on our website."
That tweet and a handful of others were deleted Wednesday afternoon.
The Canadian Energy Centre's rapid response team did not respond to a request for comment from PressProgress.
Tom Olsen, a failed UCP candidate who now serves as the energy war room's CEO, issued a tweet apologizing for "some of the tweets," stating that "the tone did not meet CEC's standard for public discourse."
I apologize for some of the tweets in @CDNEnergyCentre Twitter thread this am
The tone did not meet CEC's standard for public discourse
This issue has been dealt with internally
There will be a substantive response to the NYT article w/in our mandate of challenging inaccuracies

— Tom Olsen (@TomOlsenXIX) February 12, 2020
Despite their concerns about "bias" and "anti-Semitism" at the New York Times, the energy war room is still spending part of its $30 million per year budget running ads in the American newspaper.
As recently as Wednesday night, paid advertisements from the energy war room were still appearing on the New York Times' website.
This is only the latest in a long series of missteps for the embattled war room.
When it launched in December, Olsen started off on the wrong foot when he told a reporter that the war room's mission was "disproving true facts" and defended a move to shield the organization from Freedom of Information laws because it could help Alberta's enemies and those who want the war room to "fail."
The next day it was revealed the war room's corporate logo was identical to a logo that is already used by a tech company based in Massachusetts. The logo had been designed by an ad firm that immediately deleted its website and other traces of its existence from social media.
A little over a week later, the war room unveiled a second logo which was quickly discovered to bear similarities to another tech company based in California. That company said it was exploring its legal options.
Our journalism is powered by readers like you.

We're an award-winning non-profit news organization that covers topics like social and economic inequality, big business and labour, and right-wing extremism.
Help us build so we can bring to light stories that don't get the attention they deserve from Canada's big corporate media outlets.
Donate