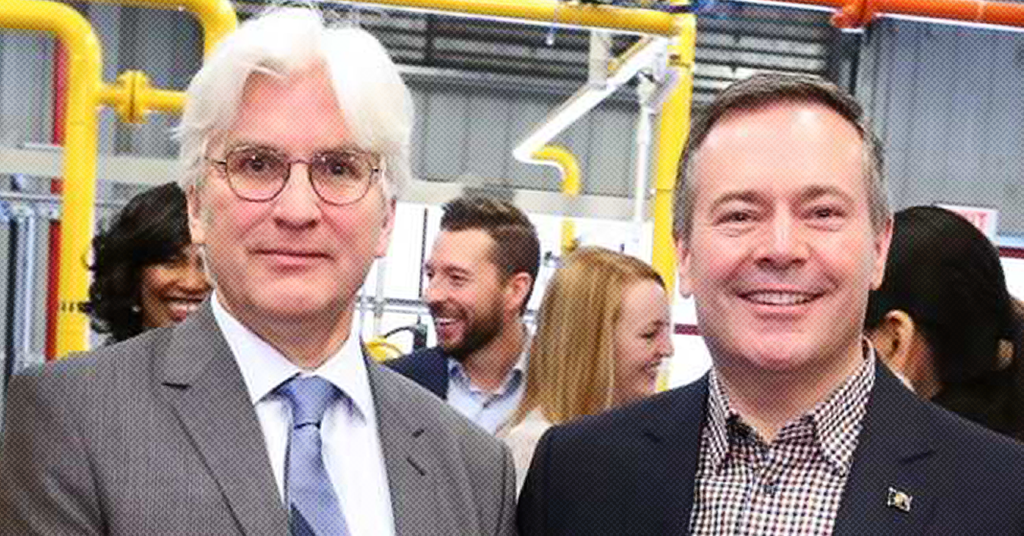 Video
Jason Kenney's Energy War Room: Alberta's Freedom of Information Laws Help Our Enemies
"Essentially FOIP allows people who want you to fail to look at your playbook," Kenney's war room commander says
The CEO of Jason Kenney's $30 million energy war room says his organization's activities need to be kept secret because normal government transparency rules could help people who want to see him "fail."
After its long awaited launch, the so-called "Canadian Energy Centre" appeared to stumble out of the gate this week, earning underwhelming headlines that describe the initiative as a "$30 million propaganda machine" and an "expensive joke."
In an attempt to demystify the war room's activities, CEC CEO and failed UCP candidate Tom Olsen opened his doors to a Global News crew — but the interview wasn't quite as puffy as the war room may have hoped it would be.
Global News' Dallas Flexhaug asked Olsen why the CEC was set-up as a provincial government corporation, a move that exempts it from normal transparency rules that would allow journalists to obtain internal documents or review its expenses through Freedom of Information requests.
Olsen's response? If Freedom of Information laws applied to the energy war room, that would only help "people who want us to fail":
Flexhaug: Let's talk about some of the criticisms to this that have come out over recent days. In terms of transparency, FOIP does not apply here — Freedom of Information.

Olsen: A decision made by the provincial government which I support. I mean, essentially FOIP allows people who want you to fail to look at your playbook …

Flexhaug: What do you make of the optics around that though? Can you agree that it doesn't look the greatest that people like the media can't file a freedom of information request and hold you to account?

Olsen: The media will hold us to account. Albertans, Canadians, international citizens will hold us to account. It made no sense to allow our strategy to be seen in real time by people who want us to fail.
Neither Olsen nor the CEC responded to a list of questions from PressProgress seeking clarification and elaboration on Olsen's comments.
Olsen was asked to clarify which "people" he is worried about and how transparency over the energy war room's activities could cause his organization "fail."
In October, Jason Kenney spokesperson Christine Myatt claimed that opening the CEC up to Freedom of Information requests would give "foreign-funded" actors a "strategic advantage" to "attack our province."
The energy war room's $30 million budget is nearly equal to the amount of money the Kenney government recently cut from Calgary schools.
Our journalism is powered by readers like you.

We're an award-winning non-profit news organization that covers topics like social and economic inequality, big business and labour, and right-wing extremism.
Help us build so we can bring to light stories that don't get the attention they deserve from Canada's big corporate media outlets.
Donate