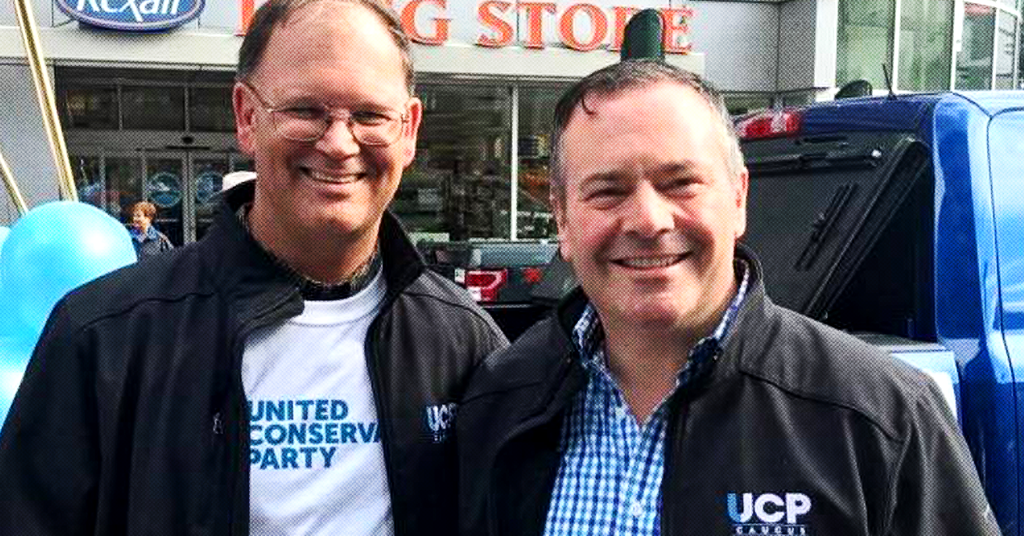 New
UCP Candidate Delivered Sermon Comparing 'Homosexual Love' to 'Pedophilia'
UCP education critic claimed television programs are trying to convince people that "homosexual love is good love"
One of Jason Kenney's United Conservative Party candidates likened "homosexual love" to "pedophilia" during a sermon to a baptist church.
Mark Smith, the UCP candidate for Drayton Valley, previously served as Kenney's UCP education critic, weighing in on important issues ranging from the elementary school curriculum to gay-straight alliances.
But in a 2013 sermon surfaced Tuesday by Gaywire,  a University of Alberta campus radio show, Smith offered parishioners at Calvary Baptist Church in Drayton Valley his candid two cents on the true meaning of "love."
"What is love?" Smith asked.
"You know, it's all around you," he added. "I think there's a real misguided sense of when we try to understand what love is."
Smith proceeded to reference abortion and euthanasia before wrapping things up by comparing homosexuality to pedophilia and warning that television programs are trying to convince people that "homosexual love is good love":
"You don't have to watch any TV for any length of time today where you don't see on the TV programs, them trying to tell you that homosexuality and homosexual love is good love. Heck, there are people out there, I could take you, I could take you to places on the website I'm sure where you could find out that there's, where pedophilia is love."
JUST IN Mark Smith, @jkenney UCP candidate in Drayton-Valley Devon, and hand-picked Education critic, revives one of the most harmful and ugly attacks on the LGBTQ2S community. Listen to to him say "homosexual love" isn't real love and is akin to pedophelia. #ableg #abvote pic.twitter.com/M9Lm99YKQm

— Gaywire on CJSR (@gaywire) April 2, 2019
Smith did not respond to a request for comment from PressProgress.
In a statement issued by the party, quotes attributed to Smith state he doesn't "specifically recall the comments in question," but notes "I regret how my commentary was framed at the time."
"I unequivocally apologize if anyone was offended or hurt," the quotes attributed to Smith add. "Obviously that would never be my intention."
Despite the unequivocal apology, Smith's statement quibbles with critics who said he was suggesting "love between same-sex couples was not love" and insisted "I do not not believe that homosexuality is akin to pedophilia."
"Albertans are tired of revisting old, divisive debates from many years prior."
If Albertans are tired of it, it might be because Kenney's UCP candidates keep volunteering problematic statements about gender and sexuality.
Last week, UCP candidate Eva Kiryakos resigned after admitting to statements claiming GSAs are designed to "convert" the sexual orientations of children while UCP candidate David Dorward came under fire for statements falsely claiming gender-inclusive washroom policies allow men to wander into schools and lurk in girls washrooms.
Kennney has himself come under fire for his past work as an anti-gay activist, once bragging while he was an elected MP that he once "helped to lead an ultimately successful initiative petition, which led to a referendum which overturned the first gay spousal law in North America."
Our journalism is powered by readers like you.

We're an award-winning non-profit news organization that covers topics like social and economic inequality, big business and labour, and right-wing extremism.
Help us build so we can bring to light stories that don't get the attention they deserve from Canada's big corporate media outlets.
Donate