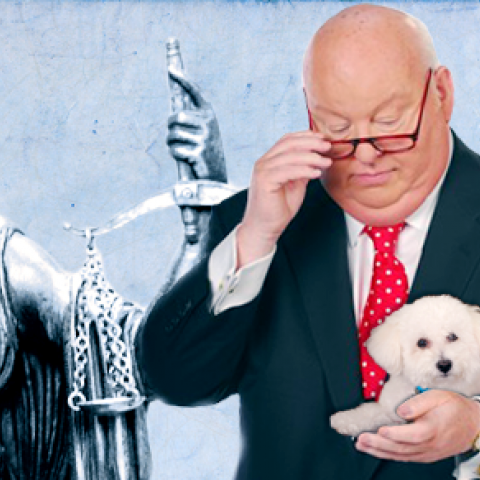 The 5 most "explosive" Mike Duffy secrets Canadians know about so far
What could be more "explosive" than lunch with Mike Duffy? Apparently finding your name in Duffy's "diaries" — as many prominent Canadian conservatives are now beginning to learn. Here are 5 things we currently know based on documents already tabled in court in the opening week of Duffy's trial on fraud, breach of trust and […]
What could be more "explosive" than lunch with Mike Duffy?
Apparently finding your name in Duffy's "diaries" — as many prominent Canadian conservatives are now beginning to learn.
Here are 5 things we currently know based on documents already tabled in court in the opening week of Duffy's trial on fraud, breach of trust and bribery charges:
1. Remember Peter MacKay's helicopter ride? He thinks he was betrayed by a top Stephen Harper aide
Back in 2010, Peter MacKay (who was defence minister at the time) came under fire after reports surfaced that he used a search-and-rescue helicopter to pick him up from vacation at a Newfoundland fishing camp.
But according to Duffy's diary, MacKay told Duffy it was Harper's former communications director Dimitri Soudas who not only called MacKay away from vacation, but then proceeded to leak the embarassing story of MacKay's helicopter ride to the press:
According to Duffy's diary, MacKay said he was called away from NFLD by Dimitri, who then leaked the embarrassing chopper story #cdnpoli

— Paul McLeod (@pdmcleod) April 8, 2015 
2. Ezra Levant received thousands of dollars in Senate funds to write Mike Duffy's speeches. Did that include a speech attacking journalism schools?

According to court documents, a company that received $65,000 in Senate funds and run by a Duffy middleman doled out $4,200 to Ezra Levant, who went on to become a Sun News host,  as payment for ghostwriting two of Duffy's speeches in 2010 and 2011. 
What were the taxpayer-funded speeches about?
According to e-mails tabled in court, the topic of the 2011 speech was "responsible government." You won't find that on Mike Duffy's website now (it appears to have been scrubbed sometime after February 16, 2015), but we've got the full copy of Duffy's vanishing ghostwritten speech right here.
And court documents don't specify what the 2010 speech was about, but it's worth noting Duffy delivered a controversial speech attacking journalism schools, claiming they teach "critical thinking" skills and Noam Chomsky. Duffy delivered the speech a month after the first cheque was cut. Attacking journalists? Attacking Noam Chomsky? Hmmm. Who does that sound like?
After former Sun News host David Akin tweeted copies of Levant's cheques, Twitter users pointed to a six-month-old Toronto Sun column in which Levant criticized former National Post comments editor Jonathan Kay for contributing as a ghostwriter on the autobiography of Liberal leader Justin Trudeau. At the time, Levant said:
"But is the rousing defence of Trudeau really Kay's honest view? Or is it a reflection of a private business arrangement with the Liberals that Kay kept hidden from his readers until another newspaper revealed it last weekend?"
Good question.
In e-mail, @EzraLevant worried he did not give #Duffy his best in speech: pic.twitter.com/tJkMjlEsjc

— David Akin (@davidakin) April 8, 2015
3. James Moore "fixes" a national museum; Duffy tips off Sun News

Duffy's diary-like calendar also notes that on May 16, 2011, then-Heritage Minister James Moore informed the Conservative caucus that he 'fixed' the Canadian Museum of Science and Technology's sex exhibit.
Except the next day, after the museum placed age restrictions on the exhibit and censored certain features of the exhibit, Moore told Parliament, "I believe in the independence of our museums," and added, "frankly, the museum can make its own decisions about its programming. It is up to the museum's representatives to make this type of decision independently."
Fair enough, but did Moore 'fix' the museum or did the museum 'fix' the museum? Both can't be true.
And according to Duffy's diary, a few hours after that caucus meeting, he tipped off the Sun's Kris Sims (she's since found a job as director of communications for Veterans Affairs). Six hours later, a story ran crediting Moore for giving the museum a "spanking," though it never explicitly says Moore twisted the museum's arm to censor the exhibit.

4. Mike Duffy may or may not have billed taxpayers to go get a puppy 
The Crown calls it a "shopping trip." But Duffy's lawyer says "there was no dog bought in Peterborough." Who's telling the truth?
The Crown prosecutor alleges that among Duffy's fraudulent expenses was a July 2010 trip to Peterborough on the taxpayers' dime to meet ex-Conservative MP Dean Del Mastro (he's since resigned after being convicted on election law charges) for coffee, which was followed by a visit to a local dog show where Mike Duffy allegedly adopted a puppy.
But Duffy's diary says he did indeed attend the Canadian Kennel Club dog show on July 3, 2010, but contrary to the allegations of the Crown, he makes no mention of getting a puppy. Duffy expensed the trip as "public business." 
CBC's The National aired two photos Tuesday night, one featuring Duffy's wife with a black dog and another featuring a jubilant Duffy and Del Mastro. Is this the puppy in question? And is it, in fact, a taxpayer-funded puppy? Or did he drive to get it on his own dime?
Additionally, PressProgress has uncovered a still from a CTV piece on Duffy appearing to show the very same puppy peeking its bashful button nose from around the corner of Duffy's garage:
 
Does Duffy's puppy have something to hide? Or is the puppy merely shy?
And most important of all: where is the puppy's primary residence?
5. Duffy spent more time fundraising for the Conservatives than he did using 'sober second thought'

And finally there's the issue of Senator Duffy's partisan fundraising activities.
As the Globe and Mail's Campbell Clark points out: "there are far more entries devoted to media interviews and public events, and especially to a long string of appearances at Conservative riding-association meetings and fundraisers" than entries about "the legislative business of the land."
The Ottawa Citizen notes a top Harper aide asked him "Is (Mike Duffy) available for events wityh (sic) the PM?" on April 2, 2011 — the first day of the 2011 election campaign.
Shouldn't a Canadian senator be spending more time, you know, doing 'Senate business' rather than 'Conservative business'?
Photo: hardchessesandyou, jsmoorman. Used under Creative Commons license. mike duffy.
Our journalism is powered by readers like you.

We're an award-winning non-profit news organization that covers topics like social and economic inequality, big business and labour, and right-wing extremism.
Help us build so we can bring to light stories that don't get the attention they deserve from Canada's big corporate media outlets.
Donate