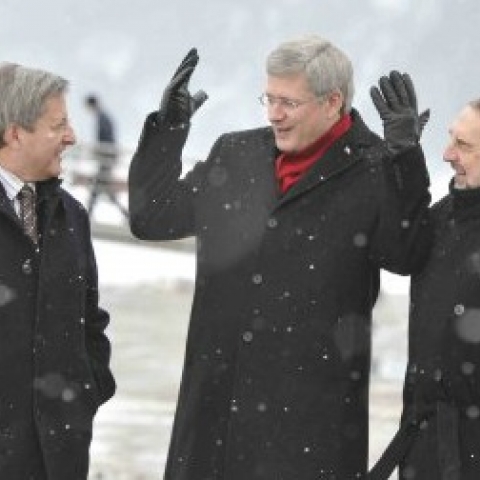 Stephen Harper's dream candidate explains comment on "black people" and "negroes"
So apparently we're not done with racially divisive comments by politicians linked to Stephen Harper. Jean Tremblay, a high-profile mayor in Quebec, wants everyone to know that "there are people working like negroes" in Saguenay, Quebec. Immediately realizing why his comment during a radio interview Friday could be a problem, Tremblay — who was courted […]
So apparently we're not done with racially divisive comments by politicians linked to Stephen Harper.
Jean Tremblay, a high-profile mayor in Quebec, wants everyone to know that "there are people working like negroes" in Saguenay, Quebec.
Immediately realizing why his comment during a radio interview Friday could be a problem, Tremblay — who was courted by Harper to run for the Conservatives in 2015 as recently as last week — clarified what he actually meant to say:
"Excuse the expression," he said.
"Because we know a black person works hard. They don't have big salaries, but they work hard, those people. It is in that sense that I mean it.  And those people, I pity them.  They give their life for a minimum wage.  And they have trouble making ends meet."
And up until only four days ago, Tremblay was considering a run for the Conservative Party after apparently being approached by the Tories and the Liberals; Tremblay, who appeared at a campaign-style event for Harper during the 2008 campaign because he's "closer to Conservatives values, the moral values of Conservatives," announced Monday he would stay on as mayor.
He hinted, though, he was keeping the door open to changing his mind in the future.
Tremblay landed in trouble with his "blacks" comment just days after making headlines for appearing in a widely ridiculed YouTube video calling on citizens "to mobilize against Greenpeace and the intellectuals of this world."
Tremblay's comments follow a series of outbursts about race by Conservatives.
On March 8, Conservative MP John Williamson faced a heavy backlash after he characterized the Temporary Foreign Worker Program as a matter of "brown people" taking the jobs of "whities":
"I'm going to put this in terms of colours but it's not meant to be about race, it makes no sense to pay 'whities' to stay home while we bring in brown people to work in these jobs."
Williamson's comments came after a long string of racially polarizing messages by Harper's Conservatives dating back to early January.
Photo: La Presse
Our journalism is powered by readers like you.

We're an award-winning non-profit news organization that covers topics like social and economic inequality, big business and labour, and right-wing extremism.
Help us build so we can bring to light stories that don't get the attention they deserve from Canada's big corporate media outlets.
Donate