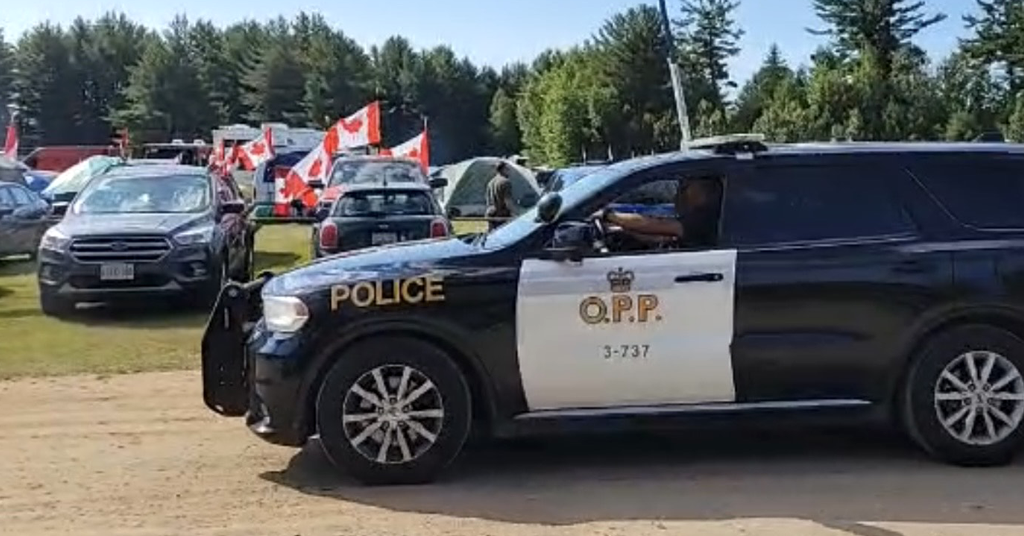 News
OPP Confirms Death at Convoy Supporters' Canada Day Campsite Outside Ottawa
Ontario Provincial Police say they responded to a call reporting a death at a campsite used by Canada Day protesters in Ottawa
One person was found dead at a campsite that was being used by convoy supporters staging protests against COVID-19 public health rules in Ottawa over the Canada Day long weekend.
The Ontario Provincial Police confirms it responded to a call the morning after Canada Day reporting a death at the KOA campsite located nearly an hour outside Ottawa in Renfrew, Ontario.
"Police were called to assist ambulance for a death that had occurred," OPP Sergeant Erin Cranton told PressProgress.
Videos show two OPP cruisers on scene at KOA Renfrew. Cranton said OPP officers were "on scene investigating" the death with the help of paramedics.
The OPP said it is not able to release any details about the identity of the deceased or cause of death, other than to clarify "no foul play is suspected."
In a statement to PressProgress, a corporate representative for Kampsites of America said management at KOA Renfrew told them the "the camper died of natural causes," but noted it was unable to independently verify that account.
KOA Renfrew franchise owner Angela Burgess did not respond to multiple requests for comment. Videos from the event show Burgess actively participating in the convoy group's Canada Day activities at the campsite.
Other livestreams from the campsite show Canada Day protesters held a funeral procession in which one speaker recalled inviting the deceased to Ottawa for the Canada Day protests despite a significant health condition.
After an initial medical emergency a few days earlier, the speaker said he offered to "take her back home," but their friend insisted on remaining with the Canada Day protesters at the campsite in Renfrew.
"I was willing to take her back to Barrie," the speaker said. "She didn't want to leave, you couldn't have dragged her out of here."
Veterans for Freedom, one of the main groups organizing the Canada Day protests, said it had heard about the death but was not able to provide any details as they were camping at a different location in a "farmer's field east of Ottawa."
"We heard something about that but have no (situational awareness) on what happened there," the group's spokesperson told PressProgress. "V4F cannot provide any details."
Last month, the group said it had set-up the semi-permanent camp, which it named "Camp Eagle," and pledged to organize protests for the "entire summer."
The group, whose leaders include top leaders of February's convoy occupation, has found itself at the centre of controversy after meeting with 20 Conservative MPs ahead of Canada Day. The group also organized a march, extensively promoted by far-right influencers, that saw Conservative leadership candidate Pierre Poilievre lead Canada Day protesters through Ottawa's residential neighbourhoods.
The long weekend saw several arrests in Ottawa as one Canada Day protester breached a security barrier at Parliament Hill while others brawled with Ottawa Police at the National War Memorial.
Our journalism is powered by readers like you.

We're an award-winning non-profit news organization that covers topics like social and economic inequality, big business and labour, and right-wing extremism.
Help us build so we can bring to light stories that don't get the attention they deserve from Canada's big corporate media outlets.
Donate