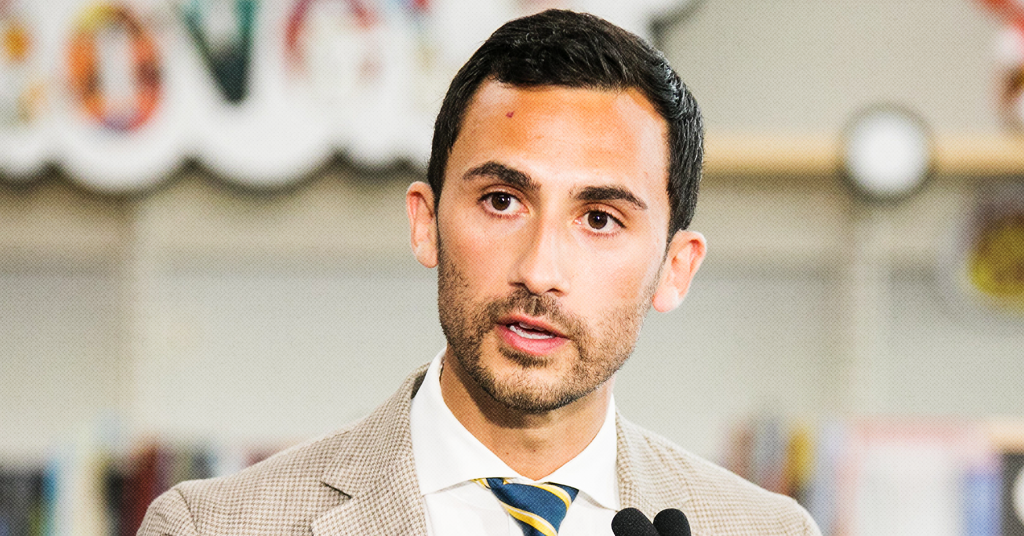 News
Ontario's Education Minister Lets Slip His New Plan Could Eliminate Secure Jobs for Special Educators
Education Minister Stephen Lecce's new 'Supports for Students' plan would 'create a two-tier system of education', support staff say
Ontario Education Minister Stephen Lecce confirmed during a radio interview that his "Supports for Students Fund" is really a ploy to replace secure unionized teacher jobs with precarious, non-unionized positions.
Last week, Lecce presented the Support for Students Fund as a replacement of the previous Local Priorities Fund, which covers the salaries of special education staff.
Lecce claims the funding will be "equivalent" to the older fund, except the amount pledged is nearly one hundred million dollars lower.
On Friday, Ford's education minister told London's AM980 News that his new fund will "not necessarily" fund unionized teaching jobs:
"The Liberals had negotiated a program called the Local Priorities Fund. We've come up with a different but similar aim called the Support For Students Fund. The focus of that fund is for moneys to have more flexibility to get directly to help students, not necessarily to go through unions for only union members. As you know local boards and parents will have different needs, but if it means another EA or another special education teacher, those funds will be there."
A press release released last week by Lecce's ministry also emphasized that the new fund will provide "more flexibility."
Laura Walton, president of CUPE's Ontario School Board Council of Unions, said Lecce's comments suggest he wants to replace secure, unionized teacher jobs with precarious, non-unionized positions.
"If we're to believe what he said in the radio interview he gave on Friday, his plans for the fund include taking public money to fund private services in our education system," Walton said.
"The Minister is really talking about creating a two-tier system of education," the OSBCU president added, noting Lecce wants to "hand jobs and responsibilities in public schools over to private companies."
"The consequences would be dire," Walton said, suggesting it could mean "losing good jobs and increasing precarious work to making private profit part of our students' education."
"It's no wonder that Minister Lecce is keeping details of the Supports for Students fund under wraps."
Last week, the OSBCU characterized Lecce's new Support for Students Fund as a  "bait and switch."
Our journalism is powered by readers like you.

We're an award-winning non-profit news organization that covers topics like social and economic inequality, big business and labour, and right-wing extremism.
Help us build so we can bring to light stories that don't get the attention they deserve from Canada's big corporate media outlets.
Donate