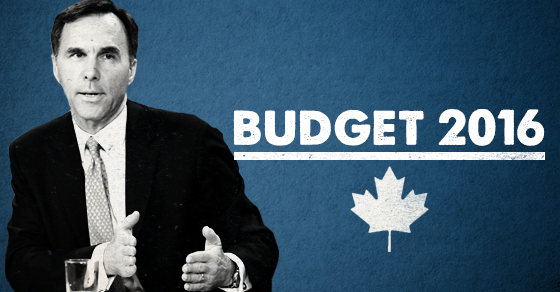 Finance Minister Bill Morneau announces flip-flop, won't close CEO stock options tax loophole
Pop your champagne, wealthy CEOs: Budget 2016 will not close the stock options tax loophole!
Pop your champagne, wealthy CEOs!
Budget 2016 will not close the stock options tax loophole!

Despite a campaign promise, Morneau confirmed Tuesday the Liberal government's 2016 budget will not touch a $750 million tax loophole the Liberals themselves say is used primarily by corporate executives to lower their tax bill.
The Liberal platform explicitly promised to close the stock option loophole, but Morneau said Tuesday that after meeting with business leaders, he's "decided not to put that in our budget."
Morneau added "it's not in our plan" to touch stock options in future budgets either.
And although Morneau suggested stock options are a "legitimate form of compensation," the Liberal platform justified making changes to the way stock options are taxed by pointing out "three quarters" of all deductions claimed through the stock options loophole in 2014 were claimed by "8,000 very high-income Canadians":
"Department of Finance estimates that 8,000 very high-income Canadians de­duct an average of $400,000 from their taxable incomes via stock options. This represents three quarters of the fiscal impact of this deduction, which in total cost $750 million in 2014."
In the lead up to the budget, Morneau had been evasive about whether or not he would touch stock options, dodging questions on both sides of the issue from Conservatives and New Democrats.
Last month, "industry sources" told the Ottawa Citizen Morneau was "expected to drop or at least postpone his party's plans for increasing taxes on employee stock option benefits" after facing pressure from "tech executives."
Previously, Morneau said last November that any changes in how stock options are taxed would not apply to any existing stock options.
"Any stock options that have been issued prior to that date will be under that taxation regime that was in effect prior to that date," Mr. Morneau said. "That I hope should relieve those Canadians who have that concern from taking actions that would be inappropriate."
Now it turns out Morneau will not touch stock options at all.
Stock options have become the single largest component of compensation among CEOs and senor executives at large public traded companies in Canada," University of Victoria professor Lindsay Tedd has said. "The income earned from stock options is granted preferential tax treatment when compared to other forms of employment remuneration."
"While income earned from stock options is deemed to be ordinary income under our tax laws, a special deduction was created in 1984," Tedds explains, allowing "individuals to deduct 50 per cent of the income derived from exercising stock options."
"That is, only half of the employment benefit from stock options is subject to tax."
Finance Canada confirmed no additional measures contained in the budget will have indirect impact on how stock options are taxed either.
"Nope. Nothing in there," a Finance Canada official told PressProgress.
Photo: Finance Canada.
PressProgress is powered by readers. Not by advertisers.
We're not a corporate media outlet. We're a small non-profit news organization that produces award-winning journalism with support from our readers.
If you see value in ad-free, non-profit journalism that holds powerful interests accountable, please consider making an investment in our work today.
Invest in Our Journalism