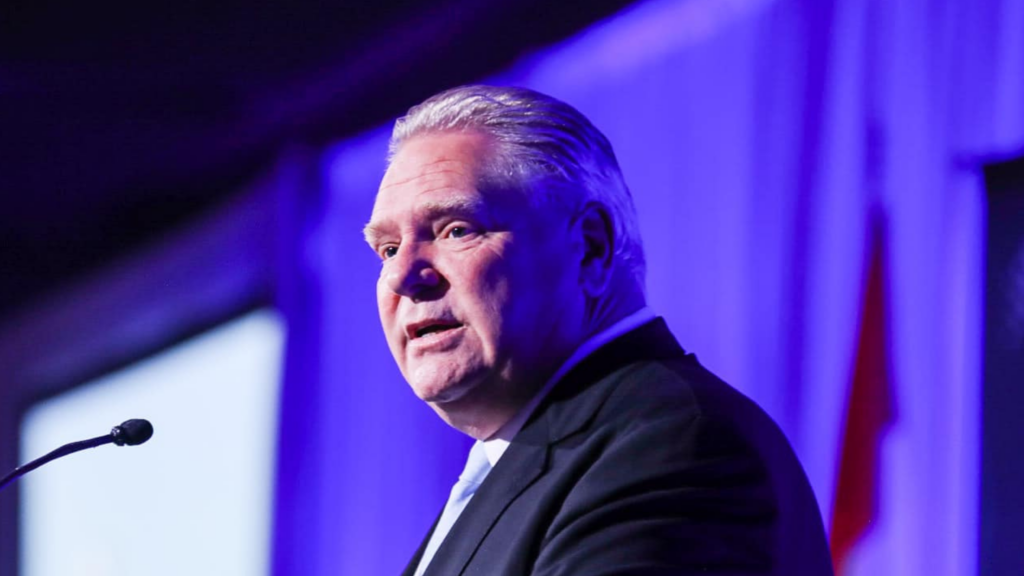 Analysis
Court Strikes Down Doug Ford's Bill 124: Not 'Justified' In a 'Free and Democratic Society'
The Court found the bill overrode workers' rights to 'meaningful' collective bargaining without justification
Today, Ontario's Superior Court struck down Doug Ford's wage-cut legislation, Bill 124, calling it a violation of worker's Charter-protected rights to meaningful collective bargaining.
In 2019, Doug Ford's government introduced Bill 124, the Protecting a Sustainable Public Sector for Future Generations Act. The legislation limited all "compensation increases" across the public sector to 1% annually for three years. It, moreover,  defined compensation broadly to include all "discretionary non-discretionary payments", and benefits — including vacation and sick days.
Many nurses in Ontario may be unable to get paid sick days because of Doug Ford's Bill 124https://t.co/2a918l1CRy #onpoli #cdnhealth

— PressProgress (@pressprogress) November 18, 2021
For example, today's court ruling observed:
Any increases to employee benefit plans or pension plans would count towards the 1% salary limit…Employers have taken the view that any other form of quantifiable benefit including meal allowances, parking, expense allowances for personal protective equipment, vacation time or bereavement leave is quantified as part of the overall 1% limit.
The legislation provoked immediate controversy and several court challenges from the unions representing public sector workers — including nurses and long-term care staff.
Today, the court struck the law down. The final ruling concluded "the Act is not a reasonable limit on a right that can be demonstrably justified in a free and democratic society."
With a legislated 1% compensation cap, the ruling argued, workers lose their charter-protected right to meaningful collective bargaining.
"The imposition of a 1% pay cap has a material effect on the process
of collective bargaining. It has taken off the table any discussion of wage increases above 1%. That materially limits the ability of employees to put issues on the table for negotiation. If a collective goal of employees was a wage increase of more than 1%, that is no longer possible. Moreover, if one of the underlying purposes of collective bargaining is to equalize power imbalances between employees on the one hand and employers or the
state on the other hand, that purpose is fundamentally undermined when the state intervenes by imposing limits on wage increases. In that latter situation, collective bargaining does not equalize power. Rather, it exacerbates inequality by allowing the state to prevent employees from having a meaningful discussion about the issue."
The court ruled "The Act has prevented employers and unions from negotiating solutions to address this crisis even though the government's own study linked the staffing crisis to compensation."
Bill 124 was an overreach on the part of the Premier, designed to inhibit bargaining, prevent strikes and remove the ability to affect public opinion

Todays decision is a massive win for the worker, mostly women workers 🏆 #osstf #onted #onpoli #dotherightthing https://t.co/qsElWgJsV6

— osstfkaren (@karenosstf) November 29, 2022
Today is a good day for workers! #Bill124 #onpoli

— JP Hornick (@JPHornick) November 29, 2022
Breaking: ONA has received Justice Koehnen's decision declaring Bill 124 unconstitutional & contrary to s 2(d) of the Charter. As a result of this decision, Bill 124 is void & of no effect.

Nurses are demanding the government respect the court's decision. #RepealBill124 #ONpoli pic.twitter.com/Ot6R0HBXO4

— Ontario Nurses' Association (@ontarionurses) November 29, 2022
In a statement to PressProgress, Ontario Nurses Association interim president Bernie Robinson called the ruling a "hard-fought win."
"This is a vindication of the rights of nurses, and public-sector workers across the province," Robinson said. "ONA's position from the start was that this bill interfered with the Charter rights of nurses and health-care professionals to freely negotiate a collective agreement. We are ecstatic that the courts agree."
While the Ford government has not officially commented on the ruling, calculations from Ontario's Financial Accountability Office estimate that overturning the unconstitutional legislation could cost the government up to $8.4 billion.
Our journalism is powered by readers like you.

We're an award-winning non-profit news organization that covers topics like social and economic inequality, big business and labour, and right-wing extremism.
Help us build so we can bring to light stories that don't get the attention they deserve from Canada's big corporate media outlets.
Donate