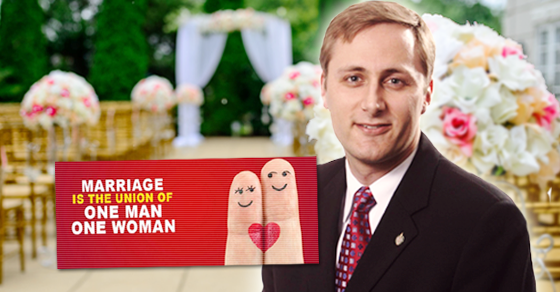 Conservative leadership candidate launches online ads attacking same-sex marriage
The text of the ad reads: "marriage is the union of one man one woman."
Will opposing the rights of one million Canadians send Brad Trost to 24 Sussex?
Probably not, but the aspiring Prime Minister appears poised to make opposition to same-sex marriage the signature issue of his Conservative leadership campaign anyway.
As fellow leadership hopefuls Kellie Leitch and Tony Clement steer the Conservative leadership race in weird directions, Trost's campaign has launched an ad blitz against the rights and freedoms of over one hundred thousand gay and lesbian Canadians who are already married.
Ads appearing recently on Facebook tout Trost as "100% CONSERVATIVE."
The ads feature two fingers sharing a heartfelt side-glance – the middle-finger is gendered masculine while the comparatively smaller index finger is gendered feminine.
The ad is accompanied by text that reads: "marriage is the union of one man one woman."
Contacted by PressProgress, Trost's campaign confirmed they're behind the ad but cited confidentiality when asked who they hoped the ad would appeal to.
"Mr. Trost has been pretty clear and in no way supports the idea of gay marriage," campaign spokesperson Mike Patton told PressProgress.
And it's true: Trost has a long history of opposing "homosexual unions."
During debate on Canada's Civil Marriages Act during the mid-2000s, Trost called the idea of same-sex marriage "a direct attack on the basic institution of marriage" that was intended to "malign the religious freedoms of millions of Canadians."
Trost also argued "the uniquely heterosexual nature of marriage" is the only way to "build society in a responsible and organized fashion."
In 2009, Trost described the Toronto Pride parade as "polarizing" and said funding should be cut off because it is "more political than touristic in nature." 
And this spring at the 2016 Conservative Convention, Trost drew links between same-sex marriage and socialism following a landmark vote that saw the party adopt a neutral position on same-sex marriage:
.@MichelleRempel's face as Brad Trost compares marriage equality to economic socialism… #cdnpoli #cpc16 pic.twitter.com/XX1RwRimgJ

— Emma Loop (@LoopEmma) May 27, 2016
Photo: Facebook.
Our journalism is powered by readers like you.

We're an award-winning non-profit news organization that covers topics like social and economic inequality, big business and labour, and right-wing extremism.
Help us build so we can bring to light stories that don't get the attention they deserve from Canada's big corporate media outlets.
Donate