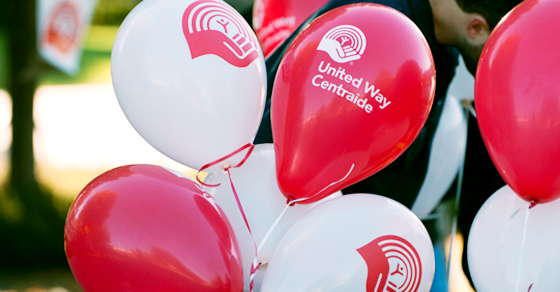 Business leader wants boycott of United Way for advocating "mass unemployment"
Head of business lobby group said WHAAT?!?
Finally!
Someone with the courage to stand up to the United Way and their "mass unemployment" agenda!
Wait, the United Way!? Mass unemployment!? What the dickens is going on here??
In a bizarre string of tweets this week, Dan Kelly, the CEO of one of Canada's largest business lobby groups, called on smaller companies to consider boycotting the United Way, one of Canada's largest charities focused on poverty, homelessness and related social issues for "advocating measures to kill" small and medium sized businesses, as well as, um, "mass unemployment."
This comes on the heels of an Ottawa Citizen report last week linking a Canadian Federation of Independent Business phone number to a secretive anti-union group called Working Canadians. The snafu resulted in a paid employee leaving CFIB "effective immediately."
So what sent Kelly off-the-rails this week?
A new living wage report by the Nova Scotia office of the Canadian Centre of Policy Alternatives, published in partnership with United Way Halifax. It found that a person working a full time, full year job in Halifax would need to be paid $20.10 an hour. 
@Monika_Dutt @Tony_Tracy @CCPANS @UWHalifax Increasingly seeing the United Way as a left wing advocacy group.

— Dan Kelly (@CFIB) June 1, 2015
@CCPANS @Monika_Dutt @Tony_Tracy @UWHalifax Advocating measures to kill SMEs & ensure mass unemployment seems at odds with this goal.

— Dan Kelly (@CFIB) June 1, 2015
And what happened next?
Kelly called on small businesses to "rethink participation" in the United Way's charitable activities due to their "growing role as a left-wing advocacy group":
Given the United Way's growing role as a left-wing advocacy group, I suggest small firms rethink participation & support charities directly.

— Dan Kelly (@CFIB) June 1, 2015
So many great charities out there. I encourage small firms to support them directly rather than through a third party.

— Dan Kelly (@CFIB) June 1, 2015
The report itself calculates the cost of food, shelter, clothing, transportation and raising children for the average Haligonian at $20.10/hr (at 35 hours per week), pointing out "some 40% of children living in poverty in Nova Scotia live with at least one full-time, full-year wage earner."
And aside from the economic security of families, the report also specifically addresses arguments that higher wages are bad for business, citing evidence that paying a living wage decreases turnover rates, attracts more highly skilled workers, improves productivity, quality of work and the overall competitiveness of businesses.
Employees who are paid adequately, the report notes, expand the tax base, decrease reliance on government benefits and stimulate the economy — because people have more money in their pocket to spend money.
Here's how people reacted to Kelly's call for a boycott:
@CFIB What? I had to read twice. You do not reflect many business owners who support United Way. Should we boycott CFIB member businesses?

— Louis Lafortune (@LouisLafortune1) June 2, 2015
With @CFIB's crazy boycott of #UnitedWay, perhaps small businesses might want other representation. #NSpoli #canlab https://t.co/fLJiseY0Xi

— Tony Tracy (@Tony_Tracy) June 2, 2015
The @CFIB is attacking #UnitedWay for trying to address poverty. This is why as a business owner I'll never join #CFIB #cdnpoli

— Harvey McKinnon (@harveymckinnon) June 2, 2015
It's about time someone but the United Way in its place. Imagine, helping people! How leftist! Watch out old ladies, you're next! #cfib

— John Woodford (@JohnWoodford) June 2, 2015
@CFIB. Seriously! Shame on you for shunning the United Way and the great work they do!!

— Leslie Saunders (@LeslieRPN1) June 2, 2015
Oh, nice, the @CFIB is attacking the United Way. Profits first, community second. Is that how it works? No!

— Scott McMillan (@Scott_HFX) June 2, 2015
But on Wednesday afternoon, Kelly appeared to be walking back his calls for a boycott of the United Way: 
With all the supportive tweets I've had this week, I'm ready to take on Santa Claus next. Wish me luck!

— Dan Kelly (@CFIB) June 3, 2015
Good talk w the Chair of @uwaysc today. Happy to clarify that my concerns were w the report in Halifax. Other regions take other approaches.

— Dan Kelly (@CFIB) June 3, 2015
Our journalism is powered by readers like you.

We're an award-winning non-profit news organization that covers topics like social and economic inequality, big business and labour, and right-wing extremism.
Help us build so we can bring to light stories that don't get the attention they deserve from Canada's big corporate media outlets.
Donate