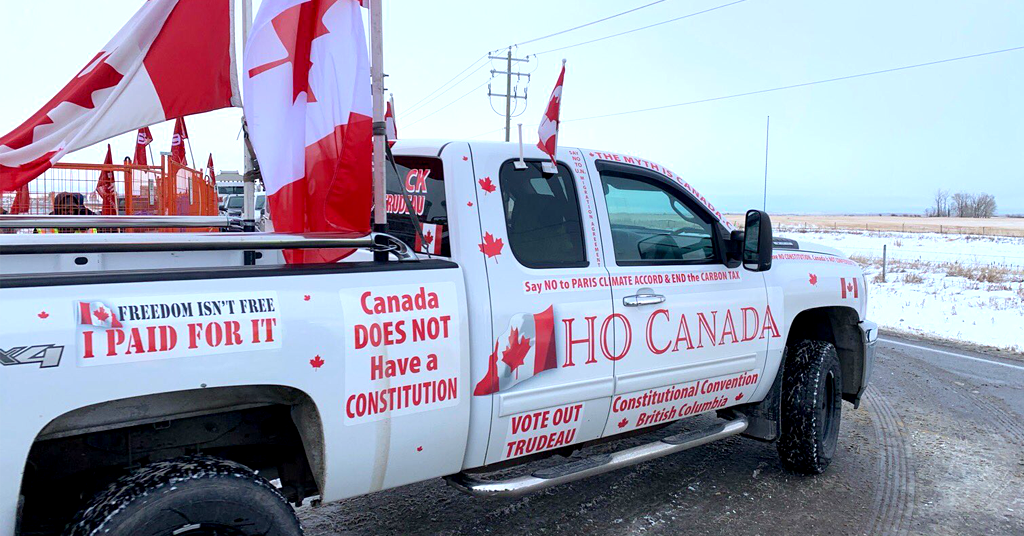 News
Anti-Vax Convoy Organizers Previously Targeted Picketing Oil Refinery Workers in Alberta
Federated Co-op denies convoy organizers' claims that they are providing support to anti-vax convoy
Despite presenting the so-called "Freedom Convoy" as a protest centered on the concerns of blue-collar workers, the "president" of the convoy apparently doesn't believe in unity if you're in a union.
James Bauder created "Canada Unity," the group behind the "Freedom Convoy" that has shut down Canada's national capital. Bauder also authored the group's rambling "memorandum of understanding," which calls for deposing Canada's elected government.
Two years ago, Bauder was part of a similar far-right convoy that mobbed a picket line and threatened to run over locked-out oil refinery workers.
Bauder livestreamed the convoy's anti-union protest, which featured interviews with figures linked to the far-right "Yellow Vest" group.
United We Roll is threatening to break Unifor's secondary picket at Carseland, Alberta today.

They were going to meet at the Husky House in Strathmore at 2PM, but changed it to 1PM in a video message.https://t.co/gIYxElWh5S#canlab #skpoli #abpoli #cdnpoli #boycottcoop

— Rankandfile.ca (@rankandfileca) February 5, 2020
Workers reported the far-right convoy members, who vowed to dismantle the picket line, had been harassing them and shouting obscenities at them using megaphones.
At the time, Unifor issued a statement criticizing Co-op CEO Scott Banda for publicly thanking a "right-wing group whose members have openly planned and encouraged encouraged violence against locked-out refinery workers."
Other key organizers with "United We Roll" that have participated in events associated with the "Freedom Convoy" include Glen Carrit, Hayley Wile and Don Morrison.
After the media event, @CoopFCL trucks led the yellow vests and united we roll contingent, taking advantage of these threats of violence to cross the line at the Carseland Cardlock. pic.twitter.com/jp10Vfg90L

— Unifor (@UniforTheUnion) February 5, 2020
The UWR group member who threatened to run over workers at the anti-union protest now claims to be in Ottawa with the Freedom Convoy.
They recently posted a graphic showing a truck speeding towards Justin Trudeau.
The admins on the #UnitedWeRoll @Facebook page allowed this post suggesting running over protesters.
Ironic considering they are a protest group. #UnitedWeFail#UnitedWeLOL#YellowVestsCanadaIsAHateGroup pic.twitter.com/97iV5sseaP

— YVCE 🧛‍♂️🧛‍♀️🧛‍♂️🧛 – ARCHIVE (@VestsCanada) February 3, 2020
The anti-union convoy occurred in Carseland, Alberta where oil refinery workers — locked out by their employer, the Co-op Refinery Complex, and represented by Unifor 594 – had established a secondary picket line.
Co-op CEO Scott Banda had scheduled a press conference in Carseland at the same time the far-right truck convoy planned their event and gave them a shout out in his speech before the counter protest.
Here's what happened at yesterday's United We Roll convoy to @UniforTheUnion's secondary picket in Carseland, AB.@VestsCanada identified at least six known Yellow Vesters who participated.

Co-op CEO Banda gave United We Roll a shout out in his speech.https://t.co/J8v2jE0nFy

— Rankandfile.ca (@rankandfileca) February 6, 2020
Federated Co-op's friendly history with these far-right truckers is noteworthy given that top "Freedom Convoy" organizers claim they have received direct support from the oil company – though Federated Co-op now denies those claims.
Pat King and Tamara Lich, who co-organized the "Freedom Convoy" with Bauder, have claimed the convoy had a deal with Federated Co-op to provide bulk fuel at a discounted rate.
In a video posted on January 21, King claimed they had worked out "a great deal on fuel" with Co-op that would be billed directly to the convoy's GoFundMe account. King also claimed Co-op promised to assist with fueling logistics in Regina and Winnipeg.
"So what has happened is that GoFundMe is allowing us to direct bill to the fuel company so we're not looking after everybody's little individual receipt and we're going to have one lump sum," King said in the livestreamed video.
King also claimed the RCMP would escort the convoy in Regina where Co-op trucks would help the convoy refuel.
"Federated Co-op, a Canadian owned business, they're gonna have trucks on either side while our rigs come up the middle and the guys are gonna be hot fueling — if you know the term hot fueling – while they roll, it's going to be a rolling pit stop, like Nascar," King said.
The same day, Freedom Convoy organizer Chris Barber repeated the claim that Co-op had promised to fuel the convoy in a video posted to TikTok.
"Gotta say Federated Co-op has stepped up to the plate, they're going to be supplying the convoy with some fuel throughout the provinces here," Barber said. "Big shout out to Federated Co-op, you guys are stepping up here when it matters the most. Appreciate it. We're winning this, guys, keep it up."
The next day Canadian Trucking Magazine also repeated the claim the convoy had a deal with Co-op in a live video.
However, Co-op spokesperson Brad DeLorey told PressProgress there is "no affiliation or agreement in place with the Freedom Convoy or its participants."
"FCL is also not aware of any Co-ops who have provided discounts on fuel in support of this Convoy. While we have no connection to this demonstration, we do have the largest cardlock network in Western Canada, and we expect some individuals participating are filling up at our cardlock sites," the Co-op spokesperson said.
DeLorey added he "can't speculate" why Freedom Convoy organizers believed there was a deal in place.
We have no arrangement with the organization above the typical customer relationship. No donation or special discount was arranged or given.

— Federated Co-op Ltd. (@CoopFCL) January 27, 2022
Saskatchewan RCMP did not confirm King's claims they would help the convoy fuel up but stated they directed traffic at a stop point in east Regina for road safety.
The Canada4Action website currently lists the meetup spots for Regina and Winnipeg as Flying J truck stops, not Co-op cardlocks. And while some members did meet at a Co-op cardlock in Swift Current, King's Facebook live videos do not show any evidence Co-op provided special assistance to the convoy.
---
Editor's Note: This article's headline was modified after publication to make clearer that the workers on the picket line were locked-out by Federated Co-op Ltd.
Our journalism is powered by readers like you.

We're an award-winning non-profit news organization that covers topics like social and economic inequality, big business and labour, and right-wing extremism.
Help us build so we can bring to light stories that don't get the attention they deserve from Canada's big corporate media outlets.
Donate