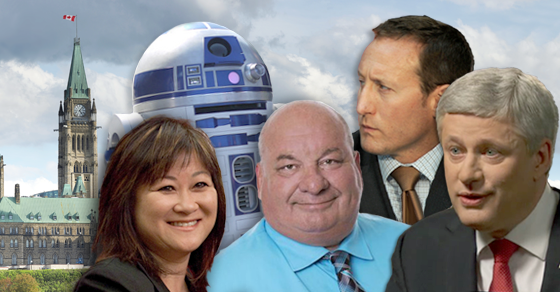 5 times PressProgress made big headlines across Canada in 2015
Last year, the Canadian Press named us a top digital media outlet that's "changing the political landscape." How did we do this year?
Last year, the Canadian Press named us as one of the top digital media outlets that are "changing the political landscape" in Canada.
So, how did we do this year?
Here are some of our biggest stories that made headlines across Canada in 2015:
1. #CPCJesus
This summer, #CPCJesus trended #1 across Canada after PressProgress broke news about former Conservative MP Wai Young's bizarre statement that Bill C-51 reflects the teachings of Jesus.
She also claimed CSIS had advance knowledge of the 1985 Air India bombing but didn't act to stop the tragedy (a claim that has absolutely zero factual basis) and declared, "I do not read the newspapers anymore because most of the facts in there are not factual."
Here's how CBC senior corespondent Terry Milewski reported on our story:
2. "Stay the hell where you came from"
Earlier this year, PressProgress was first to shine a light on Conservative MP Larry Miller's statement that Mulsim women should "stay the hell where you came from" if they didn't like the Conservatives' (failed) attempts to ban niqabs from citizenship ceremonies.
Those comments made headlines across Canada. And during the August 6 leaders debate, it even prompted NDP leader Tom Mulcair to tell Conservative leader Stephen Harper that it's "reprehensible and beneath the dignity of a Canadian Prime Minister" that he signed Miller's nomination papers:
3. Peter MacKay appoints his wedding guests as judges
Talk about wedding favours!
Back in February, PressProgress reported on Peter MacKay's appointments of several donors, friends and wedding guests – including the best man at his wedding – to the Nova Scotia Supreme Court.
That made headlines and led to this exchange on CBC's Power and Politics:
4. Bill C-51 and the use of "terrorist propaganda" in Conservative ads
PressProgress was also first to raise questions about whether the Conservative Party of Canada's use of real "terrorist propaganda" in its advertising was in violation of the Conservatives' own law to stamp out "terrorist propaganda"?
That led to headlines over at CTV News and Maclean's. It even set the stage for one of the 2015 election's most surreal moments when Harper spokesman Kory Teneycke defended the use of ISIS propaganda videos in Conservative ads and stumbling when Global's Tom Clark asked why it didn't contravene C-51:
Conservatives' Facebook post promoting Bill C-51 may be violation of same law: expert http://t.co/jU1cLjMxjm pic.twitter.com/cKVwVBgFx8

— CTV News (@CTVNews) March 6, 2015
5. And our stories made a big impact during the 2015 Election
• Our super-cut video of just how robotic Conservative back-benchers have become went viral, becoming a top story on the Toronto Star and viewed by over 100,000 people in one day alone.
Matériel pour Juste pour rire: WATCH: 13 Conservative MPs drone on like robots reading the exact same script #cdnpoli http://t.co/uGI3eTjOUU

— chantal hébert (@ChantalHbert) July 30, 2015
• Taxpayer-funded 24/Seven promotional videos appeared on the Conservative Party website during election campaign – and after we reported on it, they took them down. Liberal leader Justin Trudeau even scolded Harper over that in the middle of a leaders debate.
• Laureen Harper told a Conservative rally she supports a marijuana policy that sounds more like decriminalization than the Conservatives' hardline drug policy, sparking headlines and even a debate on CBC's Power and Politics. 
• Jason Kenney praised British imperialism and the conquest of New France, making headlines in Quebec newspapers like the Journal de Montreal and Le Devoir. 
• An anti-abortion group endorsed 86 Conservative candidates, many of whom filled out a questionnaire pledging to vote against women's reproductive rights, prompting local papers to question Conservative candidates Michael Cooper and Garnett Genuis.
• Conservative candidate Konstantin Toubis defended himself after we shined a light on misogynistic and homophobic Russian-language articles he shared on social media while he was a Conservative candidate.    
• Conservative candidate Marilyn Gladu's social media posts showed she wasn't very happy with the idea of keeping church and state separate, also that Muslim immigrants "want to kill everyone." That too made headlines, including in her local newspaper.
We reached millions of Canadians and made big headlines across Canada in 2015.
And we did all that without the staffing, resources and budgets Canada's major media outlets enjoy.
Help us expand so we can cover more stories you care about.
Want to make more headlines in 2016?
Chip in $10 now
Photo: slaporte, wladyslaw, US Dept. of Defence. Used under Creative Commons license. Facebook, Prime Minister's Office.
Our journalism is powered by readers like you.

We're an award-winning non-profit news organization that covers topics like social and economic inequality, big business and labour, and right-wing extremism.
Help us build so we can bring to light stories that don't get the attention they deserve from Canada's big corporate media outlets.
Donate