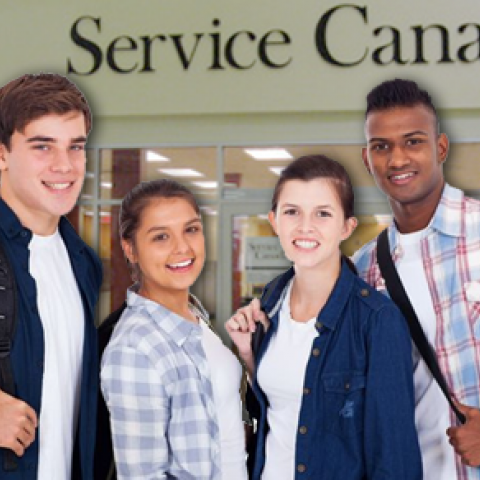 460,581 Canadian students are looking but can't find a job this summer
Know a student who doesn't have a job this summer? Chances are you do because nearly half a million of them are looking but can't find work. A new report from the Canadian Centre for Policy Alternatives is drawing attention to the sixth straight summer of high unemployment among full-time students between the ages 15 and 24. And […]
Know a student who doesn't have a job this summer?
Chances are you do because nearly half a million of them are looking but can't find work.
A new report from the Canadian Centre for Policy Alternatives is drawing attention to the sixth straight summer of high unemployment among full-time students between the ages 15 and 24. And the reason could be tied squarely to the belt of the Conservative government.
The unemployment rate for full-time students stood at 16.5% in June 2014 (down from 18.6% in May, though June is traditionally seen as the beginning of the summer job season).
Unemployment for this group has actually ticked up from 15.8% in June 2013 and has remained high since the recession high of 18% in 2009; Canadian students saw unemployment rates each summer (June) of 16.1% (2010), 15.9% (2011) and 17% (2012).
But look back before the recession, and you'll find unemployment among full-time students has remained higher the last six years than during the previous decade:
When you look at those aged 20 to 24, 106,000 full-time post-secondary students who wanted work couldn't find a job this past month.
Government summer jobs could have helped some of these young people by putting money in young people's pockets — as well as offer "practical experience" and an opportunity to "learn new skills and improve their [prospects for] post-graduation employability."
But the problem, as the CCPA report points out, is the government summer job programs have declined to the point where federal departments report hiring 36% fewer summer students since 2009. 
A big reason for this is employment programs, such as the Youth Employment Strategy (YES), are shrinking, even as youth unemployment rises; YES, for example, shrunk to $335.7 million in 2013-14, compared to $397.9 million in 2010-11.
And a recent Broadbent Institute report calling on the federal government and corporate Canada to work towards a new Youth Jobs Guarantee points out YES currently offers positions for only 49,748 young people compared to 114,000 a decade earlier.
Cutting summer jobs while student unemployment is up is the kind of thing that makes problems worse.
The unemployment rate is a statistic that only captures the total number of people looking for work at any given time, so those who've become discouraged and given up don't get counted. Another way of looking at this is to look at the employment rate, which tells you the percentage of the entire population that actually has a job.
So while the unemployment rate is 16.5%, the employment rate for full-time students is 49.7%. Of course, some students travel during the summer, and others may take courses during the summer semester or are too busy with school to look for work. 
In plain English, here's what that tells us:
There are 2,791,400 full-time students between the ages of 15 and 24 living in Canada.
1,387,326 of those full-time students do not have a job.

460,581 were actively seeking work in the last six months and couldn't find a job.
And this has big implications.
"Working during the summer or part-time during the school year is often thought of as a way for students to help finance their education and minimize their student debt," writes CCPA's Kayle Hatt in the report. "It takes more than twice as long for a student making minimum wage to pay for the cost of university now, compared to a student in 1975."
Our journalism is powered by readers like you.

We're an award-winning non-profit news organization that covers topics like social and economic inequality, big business and labour, and right-wing extremism.
Help us build so we can bring to light stories that don't get the attention they deserve from Canada's big corporate media outlets.
Donate