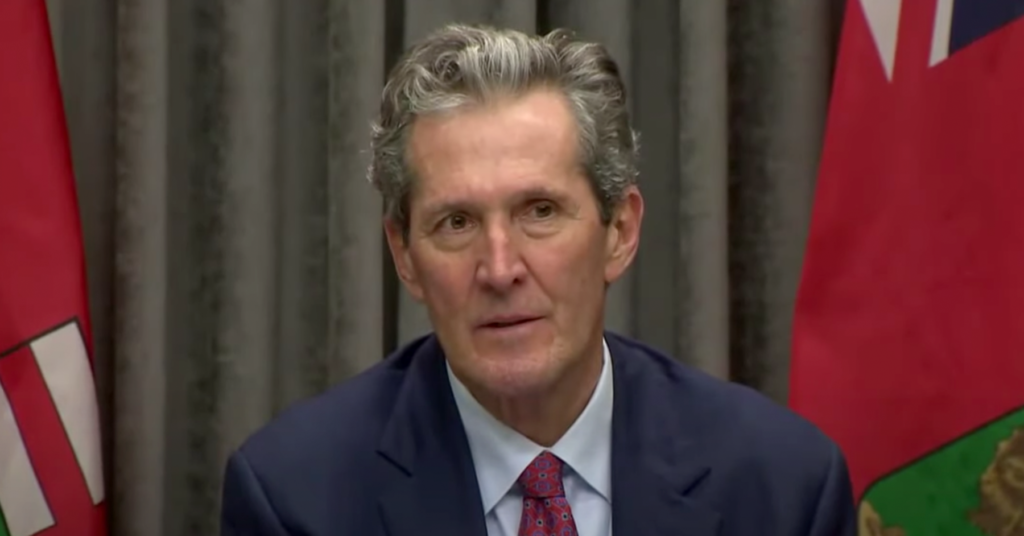 Analysis
3 Reasons Experts Are Warning Brian Pallister is Undermining Manitoba Hydro
Pallister's plans would freeze wages, reduce transparency and privatize chunks of Manitoba Hydro, experts warn
Within the last year, Premier Brian Pallister's conservative government has tried to suppress wages of Manitoba Hydro workers, reduce Hydro's public accountability and advocated for Hydro privatization, experts say.
Manitoba Hydro is a Crown Corporation and one of the largest electricity and natural gas distribution utilities in Canada. Hydro also sells electricity to other markets, making it an important source of revenue for the province.
While the COVID-19 pandemic has consumed public attention, Pallister's PCs have planned significant changes to Manitoba Hydro's operations.
Here are three Hydro stories to keep an eye on:
Threatening layoffs and wage freezes for hydro workers
The Pallister government has once again interfered in public sector bargaining demanding a two year wage freeze for Hydro workers, despite the government's first attempt at freezing public sector wages through legislation was ruled unconstitutional.
Pallister's interference is straining what has always been a strong relationship between the union and Manitoba Hydro, Mike Espenell, Business Agent for IBEW 2034 told PressProgress. Hydro workers have been negotiating for 28 months without significant progress, Espenell said, adding 200 front line workers were forced to take a 1.3% wage rollback under threat of layoffs.
"This is extremely difficult because I think if we were afforded an opportunity to deal with the corporation without interference we wouldn't be here today," Espenell said.
"Our frontline staff have had high incidents of COVID exposure, we've responded to sequestering situations at our generating stations and our critical facilities. We've experienced significant uses of sick leave and things like that because we don't have the ability to work from home," Espenell continued.
"Members have been away from many of their families from, in some cases, up to four weeks just because of the situation with camps and lockdowns. It's been difficult."
Espenell says Pallister's tight pockets don't make sense, given Manitoba Hydro is $64 million dollars ahead of its most recent forecast in its quarterly report.
IBEW members began a rotating strike on Tuesday. Espenell notes that the union will continue emergency restoration services in response to a storm circulating throughout western Manitoba.
Former Saskatchewan Premier Brad Wall's report on Manitoba Hydro
Pallister's PCs employed right-wing former Saskatchewan premier Brad Wall to conduct a review of Manitoba Hydro. In a lengthy $600,000 report, Wall recommended selling off Hydro subsidiaries and use Public-Private Partnerships, known as P3s, to contract out infrastructure projects.
When Brad Wall was premier of Saskatchewan, he privatized several Crown Corporations, sold off Crown subsidiaries and championed P3 projects.
"This is Brad Wall's modus operandi, he likes P3s, he is biased towards them and that's why he's introducing them in this report," Molly McCracken, Director of the Canadian Centre for Policy Alternatives Manitoba office, told PressProgress.
While Manitoba Hydro would require a referendum to be privatized completely – and would likely fail given the majority of Manitobans oppose privatization – Wall's recommendation circumvents the need for public approval by privatizing small pieces of Hydro over time.
P3 projects have been proven to be more expensive and an inefficient use of resources.
In 2014, Ontario's Auditor General reported Ontario could have saved up to $8 billion by fully funding government infrastructure projects instead of using P3s.
Legislation to increase hydro rates and limit public engagement
Pallister's PC government is trying to limit Manitoba Hydro's accountability to the public with Bills 44 and 35, experts say.
In the early days of the COVID-19 pandemic, Pallister's PCs tried to push through Bill 44 which would allow the government to set Hydro rates instead of the arms-length Public Utilities Board, and increase rates by up to 7.5%
In the spring, the PCs were forced to withdraw bills that weren't immediately relevant to the COVID-19 pandemic, including Bill 44. However, in the fall session, the PCs introduced the same bill under a different name, now Bill 35.
Bill 35 would also remove the ability for the PUB to conduct public hearings and make decisions based on public interest and social issues. For example, in 2017 the PUB recommended separate Hydro rates for First Nations reserves based on discussions of poverty and inequality during public hearings.
"In an age of reconciliation, climate change, growing inequality and continental demand for renewable energy, Manitobans need to demand that Manitoba Hydro and the PUB be strengthened, not dismantled," CCPA Researcher Lynne Fernandez wrote in a policy brief.
"Alarm bells should be ringing."
Our journalism is powered by readers like you.

We're an award-winning non-profit news organization that covers topics like social and economic inequality, big business and labour, and right-wing extremism.
Help us build so we can bring to light stories that don't get the attention they deserve from Canada's big corporate media outlets.
Donate