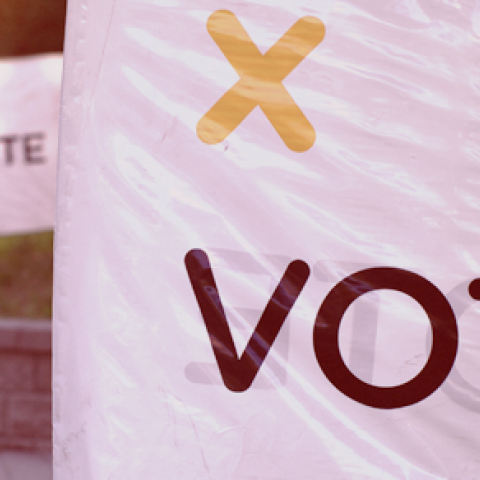 Who's *really* behind "Decline Your Vote" and why you should be skeptical
A campaign picked up steam in the dying days of the Ontario election campaign to encourage voters to decline their ballot. But has this been an authentic expression of voter apathy or, as some critics say, a manipulative voter suppression tactic to tap into voter cynicism to give Ontario PC Tim Hudak a boost on […]
A campaign picked up steam in the dying days of the Ontario election campaign to encourage voters to decline their ballot.
But has this been an authentic expression of voter apathy or, as some critics say, a manipulative voter suppression tactic to tap into voter cynicism to give Ontario PC Tim Hudak a boost on Thursday?
That question exploded on Reddit on Wednesday after a redditor by the name of "Bluesnoodler" connected some dots and showed the "Decline Your Vote" campaign had links to people with a history running in Conservative circles.
(A little-known rule in Ontario allows voters to decline their ballot, and the ostensibly grassroots campaign has gotten considerable media attention in recent days.)
We've dug up new information that raises more questions about the "Decline Your Vote" campaign.
1. THE HEAD OF "DECLINE YOUR VOTE" HAS DEEP LINKS TO THE CONSERVATIVES AND BROADER CONSERVATIVE MOVEMENT
The story began when a redditor checked the LinkedIn profiles connected to "Decline Your Vote" and discovered Paul Synnott, the man who heads the group (and coincidentally appears to be the only member of the group) previously worked for Campaign Research.
The consulting firm is headed by Nick Kouvalis, who has a history of doing work for Harper's Conservatives. He also ran Rob Ford's 2010 election campaign, and is now working for another conservative candidate, former Ontario PC leader John Tory.
Synnott later left CR and started his own firm, PoliSource. According to the company's profile linked to from Synott's LinkedIn page, the firm is a "New Media Solutions company focusing on conservative Canadian Politics at the Municipal, Provincial and Federal levels":
For his part, Synott took to Reddit on Wednesday night to respond to critics. He said "polisource was a company I had briefly formed, but never used."
During the 2008 and 2011 federal elections, Synnott was busy working as the campaign manager of Windsor-Tecumseh Conservative candidate Denise Ghanam. He was quoted in a 2012 news report denying any connection to "weird" robocalls received by NDP supporters during the campaign.
Synnott's long ties to the conservative movement also includes an appearance in a 2007 promotional YouTube video for the Institute for Liberal Studies, in which he interviews Peter Jaworksi, the Institute's Executive Director at the time.
Incidentally, Synnott is variously described as a "local blogger," "political activist," and "former PC supporter" in recent press reports about his "Decline your vote" campaign.
2. "DECLINE YOUR VOTE" IS TARGETING 10 RIDINGS, NONE OF THEM ARE HELD BY CONSERVATIVES
Declineyourvote.ca's website lists 10 ridings where individuals can "spread the word locally."
There is no rationale provided as to why these 10 specific ridings are being targeted. However, keen observers on a blog point out that all 10 ridings are currently held by the NDP or the Liberals. At the federal level, seven out of 10 are also held by the Conservatives, suggesting the ridings could be seen as winnable for their provincial cousins.
3. THREE YEARS AGO, THE GUY BEHIND "DECLINE YOUR VOTE" WAS TRYING TO GET OUT THE VOTE
In 2011, Synott ran a get-out-the-vote (GOTV) campaign called "Vote With Me." Its stated mission was not only to "increase voter turnout for Provincial Elections," but to challenge the public "to get one other person who doesn't vote to vote with you."
Here's how the group's (long inactive) Facebook page describes the campaign:
The campaign's website, votewithme.ca, no longer exists. PressProgress was able to retrieve an archived copy of the site from April 6, 2012, and you can see a screengrab of the website here.
Of particular note are posts describing how powerful he found a sign that simply read "just vote" and another quoting an Afghan veteran: "Canadian soldiers died in Afghanistan so Afghans can vote — good enough to vote in peaceful Ontario."
The unnamed blogger on the site, billed by Synnott as a one-person initiative, adds: "we say 'lest we forget', but how quickly we do."
4. HERE'S WHAT HE HAD TO SAY ABOUT DECLINING YOUR VOTE IN 2011
Synnott also penned a series of blogs for the Windsor Star during the 2011 Ontario election exhorting people to vote and get involved in politics.
Describing himself as "a glass half full kind of person," Synnott explained his campaign's strategy was to target community leaders who hold sway over "varying segments of the population." 
In another post, Synnott explained "how easy it is to create a campaign." Vote With Me cost him "a whole $12.00 dollars!" using a variety of free online services and tools.
Synnott also blogged about declining your ballot. In the comment section of Synnott's publicly available Facebook page, Synnott elaborated on the strategic implications of declining your ballot:
5. HE SEEMS TO BE TARGETING "YOUNGER AGE CATEGORIES"
Another post on his publicly viewable Facebook page suggests he's pleased that he's reaching young people — "almost exactly what I wanted":
6. IT'S NOT EXACTLY CLEAR WHY HE'S "DISILLUSIONED" WITH TIM HUDAK
Although news reports describe Synnott as "disillusioned with the party lately," he has never provided a clear explanation.
In the summer of 2013, an internal rift in the Ontario PC party broke open with calls to oust Hudak after the party lost a few by-elections. At the time, those around Hudak pointed fingers at Nick Kouvalis as a key agitator, accusing him of "making trouble for Mr. Hudak because they feel shut out of the party's operations."
"Mr. Kouvalis has made no secret of his displeasure with not being more involved in Mr. Hudak's campaign planning," the Globe and Mail reported.
For his part, Kouvalis denied the allegations, saying "I'm not one to hide what I do."
During the public spat, Synnott was quoted in news reports after setting up a "Vote Yes for Leadership Review" Facebook page that sought to garner supporters to challenge Hudak's leadership.
A Twitter dialogue around this time between Ontario conservatives, including Kouvalis and Synnott, sheds some light on their disillusionment: it was about winning. 
Is this it then: did he mount a province-wide campaign to encourage "younger age categories" to decline their vote out of "disillusionment" that Hudak didn't have what it took to win?
Vice magazine writes that the campaign "is probably not an evil conservative conspiracy."
What we do know is Synnott has been all over the map. And something doesn't quite add up here.
Did he not expect people to question him about his conservative activism? Is he freelancing? Is he targeting "younger age categories" to help out the blue team, knowing they tend to vote for other parties?
Or is he really just disillusioned and doesn't actually care who wins?
Photo: knehcsg. Used under a Creative Commons BY-SA 2.0 licence.
Our journalism is powered by readers like you.

We're an award-winning non-profit news organization that covers topics like social and economic inequality, big business and labour, and right-wing extremism.
Help us build so we can bring to light stories that don't get the attention they deserve from Canada's big corporate media outlets.
Donate