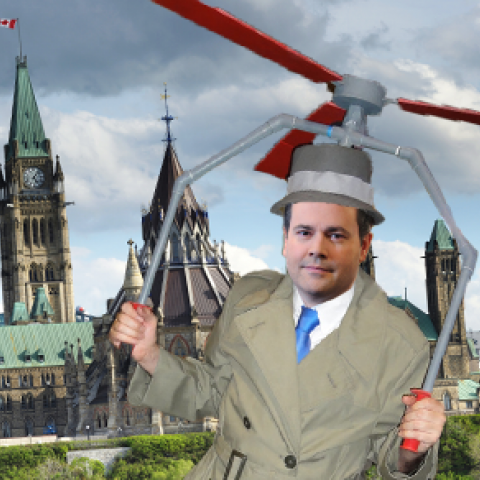 WATCH Jason Kenney talk about TFW inspections that never happened
Employment Minister Jason Kenney talked tough Friday when he and Immigration Minister Chris Alexander announced reforms to Canada's Temporary Foreign Worker Program. Kenney played up "stronger enforcement" and "tougher penalties" — claiming the government will be "massively increasing" the number of inspections so one in four employers using the TFWP will be inspected each year. […]
Employment Minister Jason Kenney talked tough Friday when he and Immigration Minister Chris Alexander announced reforms to Canada's Temporary Foreign Worker Program.
Kenney played up "stronger enforcement" and "tougher penalties" — claiming the government will be "massively increasing" the number of inspections so one in four employers using the TFWP will be inspected each year.
At least that's the commitment (with just another 20 new inspectors, up to 60 in total.)
Set aside the fact that the Conservatives, after forming government in 2006, loosened the rules to facilitate the program's rapid expansion, including in the low-skill sector. New numbers released Friday show even more growth in 2013 under their watch.
But we've also heard Kenney talk about strong enforcement and inspections before.
During the first part of this year, Kenney, reading daily headlines about abuses of the TFW program, regularly touted new regulations put in place in December to ramp up oversight of the program.
And yet, new information released to Canadian Press under Access to Information law shows there was not one single inspection carried out in the first four months of this year at businesses that employ temporary foreign workers.
"Department officials have informed our office that workplace inspections are expected to occur beginning in fall 2014," Jackie Holden, director of access to information and privacy at Employment and Social Development Canada, explained to the Canadian Press.
Now watch Kenney talk about strong oversight during this same period — when zero inspections were carried out.
 https://www.youtube.com/watch?v=EVx_fSqTTzU
Photo: mrefghi. Used under a Creative Commons BY-NC 2.0 licence.
PressProgress is powered by readers. Not by advertisers.
We're not a corporate media outlet. We're a small non-profit news organization that produces award-winning journalism with support from our readers.
If you see value in ad-free, non-profit journalism that holds powerful interests accountable, please consider making an investment in our work today.
Invest in Our Journalism