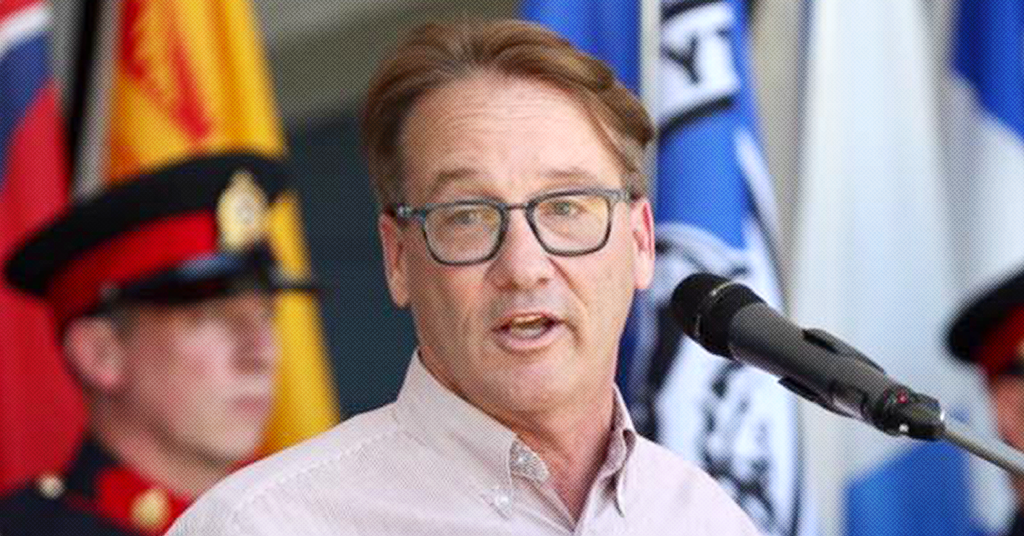 New
UCP MLA's Company Serves Eviction Notice to Struggling Tenant After Rejecting Payment Plan
Letter shows renter was told they had three days to pay $945 after Barnes' company rejected a lenient payment plan
United Conservative Party MLA Drew Barnes' property management company has served an eviction notice to a struggling renter after rejecting a proposed offer from the renter to pay reduced rent in light of the coronavirus pandemic.
Dustin, who rents a property in Medicine Hat that is owned by Drew Barnes, told PressProgress that a private security firm showed up at his door on Friday and served him with an eviction notice.
"I don't have a backup," Dustin told PressProgress, explaining he might be forced to leave Alberta which would complicate a custody arrangement for his child. He said Barnes' company "will not give me an inch of leeway."
"I have a responsibility to provide for my family with what little we have," Dustin told Barnes' company in an e-mail. "Nobody knows how long it will take for things to return to normal."
The Government of Alberta has advised landlords to negotiate a "reasonable" payment plan which "should consider the income and expenses of the tenant."
Dustin said he was served the eviction notice shortly after he received a letter sent from Drew Barnes' personal email account rejecting his proposal to pay $300 rather than $995 for April and May — the best he could do given the state of the job market in Medicine Hat during a pandemic.
In March, Barnes told Medicine Hat News he was "concerned about how COVID-19 is affecting all Albertans, including tenants" and pledged his company would "work with all tenants on an individual basis to ensure their housing needs and financial difficulties are met."
Earlier this month, Dustin told PressProgress that Barnes' company had been threatening him with eviction if he did not pay his full rent for April and May.
Barnes' public disclosure statement shows his company owns dozens of properties in Medicine Hat and around Alberta. The MLA apparently continues to be involved in some of the mundane day-to-day activities — rent money is wired directly to Barnes' personal email account each month.
Dustin said he and other tenants began putting up "flyers in a few apartment buildings" to educate renters about their rights during the pandemic, something that now makes him wonder if he's become a target for "retaliation."
He said he was surprised when Barnes later showed up at his door and served him with a 24-hour entry notice, a move he felt may have been meant to pressure him into paying up or moving out.
Shortly after PressProgress contacted First Choice Property Management seeking their response to Dustin's allegations, Dustin said he suddenly received a letter from the company offering him leniency.
"These are unsettling, unprecedented times and we hope you are doing well and we want to make sure you are aware we are available by email and phone and of our willingness to defer some rental payments owing," read the letter dated May 3.
Despite the apparent change of heart, a subsequent letter took a much firmer tone.
"I will not accept your offer of $300 a month for rent," a letter sent May 11 states. "Agreed upon rent is $995 a month."
The letter goes on to counter-offer a "rental deferral of $500 a month for each of April, May and June 2020," with the remaining $1,500 to "be paid in full no later than October 1, 2020." It also stipulated all future rental payments "must be paid in full on or before the 1st of the month."
Nothing in the letter acknowledges Dustin's predicament on an "individual basis" or takes into consideration other costs like food or caring for a child.
The letter gave Dustin a deadline of only three days to pay Barnes' company $945 for April and May.
The letter is signed by Davis Barnes, who is understood to be Drew Barnes' son.
However, an email reviewed by PressProgress shows it was originally sent from the email address: cubsox@live.com.
That address is publicly listed as the personal email account of Drew Barnes and is also the email address where the renter wires his rent payments each month.
Dustin told the company he did not agree to their terms, explaining that he cannot pay full rent until the public health emergency has subsided and he feels secure in his "ability to secure gainful employment."
Dustin says he wants to fight the eviction notice, but has little confidence Alberta's  Residential Tenancy Dispute Resolution Service is properly "equipped to handle situations like this."
Drew Barnes and First Choice Property Management did not respond to multiple requests for comment from PressProgress, nor did they provide an explanation for why the renter's proposed repayment plan was rejected.
Barnes also ignored requests for comment on a previous story earlier this month detailing his landlord-tenant dispute. However, one staffer in his office claimed he is "not directly involved" in the company and said they thought he may have placed the company into a blind trust.
The Office of the Ethics Commissioner of Alberta later clarified: "Mr. Barnes does not have a blind trust so he is able to be involved with his company."
Our journalism is powered by readers like you.

We're an award-winning non-profit news organization that covers topics like social and economic inequality, big business and labour, and right-wing extremism.
Help us build so we can bring to light stories that don't get the attention they deserve from Canada's big corporate media outlets.
Donate