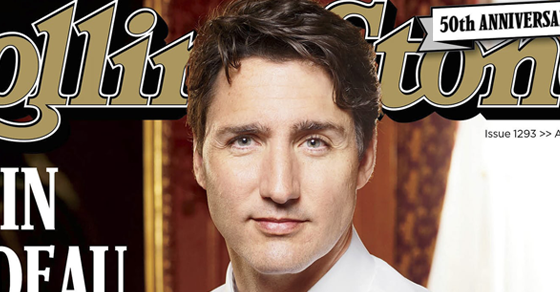 This Justin Trudeau Quote in the New Rolling Stone is Pretty Weird and Disturbing
Trudeau now says he "regrets" his comments, but he also made similar comments in 2012.
Would the Prime Minister like to elaborate on what he was talking about here?
In the new issue of the New York-based Rolling Stone magazine, Justin Trudeau reflects on his 2012 boxing match with Conservative Senator Patrick Brazeau that began "Trudeau's journey from backbencher to prime minister."
Five years later, Trudeau tells Rolling Stone that selecting Brazeau for the spectacle "wasn't random," explaining that the Senator "fit the bill" for "the right story to tell" because he had the look of a "good foil" – a "scrappy tough-guy senator from an Indigenous community," as Trudeau puts it: 
"Trudeau mischievously smiles when I ask how much of the boxing match had been planned out. 'It wasn't random,' Trudeau says. 'I wanted someone who would be a good foil, and we stumbled upon the scrappy tough-guy senator from an indigenous community. He fit the bill, and it was a very nice counterpoint.' Trudeau says this with the calculation of a CFO in a company-budget markup session. 'I saw it as the right kind of narrative, the right story to tell.'"
Um. Seems like there's a lot to unpack here, no?
Leaving aside Brazeau's antagonistic relationship with Indigenous leaders and troubles with the law, the comments pull back the curtain on Trudeau's image politics and prompts unsettling questions about the Prime Minister's attitude towards Indigenous people.
As the Globe and Mail reports, the Rolling Stone piece left many prominent Indigenous voices bewildered.
"I was actually shocked to read that coming from someone who's been speaking about reconciliation and repairing relationships" said Pam Palmater, an associate professor and chair in Indigenous governance at Ryerson.
Cindy Blackstock, a prominent advocate for Indigenous children, said Trudeau's comments play on old stereotypes "where Indigenous peoples are the savages and the non-Indigenous people are the civilized": 
"It's unfortunate … He's using Indigenous peoples to try and emphasize the good qualities about himself. That really reinforces a lot of negative stereotypes about Indigenous peoples."
Trudeau's government is currently battling the Human Rights Tribunal in court after the Tribunal sided with Blackstock and ordered Ottawa to stop discriminating against Indigenous kids.
Asked to explain his comments on CBC Radio Tuesday, Trudeau avoided elaborating but said "I regret the way it's been taken, I regret the choice of language that I made," adding that his comments don't "contribute to the positive spirit of reconciliation that I'd like to think I know my government stands for."
But the Rolling Stone interview is not the first time the Prime Minister has talked about the kind of image he hoped to manufacture – back in 2012, Trudeau described the contrast in image between Brazeau and himself this way:
"He grew up in the mean streets of Maniwaki and I grew up with a silver spoon in my mouth, you know?"
Trudeau also offered this response when asked about a "side bet" between him and Brazeau, wherein Trudeau suggested "the loser gets a haircut," explaining that cutting hair "has a cultural significance for First Nations peoples" and he proposed it because "it's a sign of shame":
"He resisted back a little bit, you know, pointing out that hair has a cultural significance for First Nations peoples, and I said 'I know. That's why I proposed it'. When a warrior cuts his hair, it's a sign of shame, so it's very apropos."
Trudeau knowingly wanted to use something of "cultural significance" to "shame" an Indigenous man? Like, seriously – what? 
Here are a few observations Indigenous writer Clayton Thomas-Muller made about Trudeau's comments a few years ago:
"Trudeau is the one who suggested the loser get his haircut, even while he expressed a clear understanding of the spiritual significance and cosmology of a Native man's hair … It's no secret that Brazeau is no friend to his fellow Native, and much has been made of his notorious reputation and deplorable actions. But the powerful symbolism woven throughout the boxing match and its aftermath bears more consideration … To me the symbolism represented not charity, but rather the manipulation and exploitation of one of our deepest and strictest spiritual protocols. To touch a Native man's hair, and especially to cut it, has a profound impact on the individual."
Back over to you, Mr. Prime Minister.
Our journalism is powered by readers like you.

We're an award-winning non-profit news organization that covers topics like social and economic inequality, big business and labour, and right-wing extremism.
Help us build so we can bring to light stories that don't get the attention they deserve from Canada's big corporate media outlets.
Donate