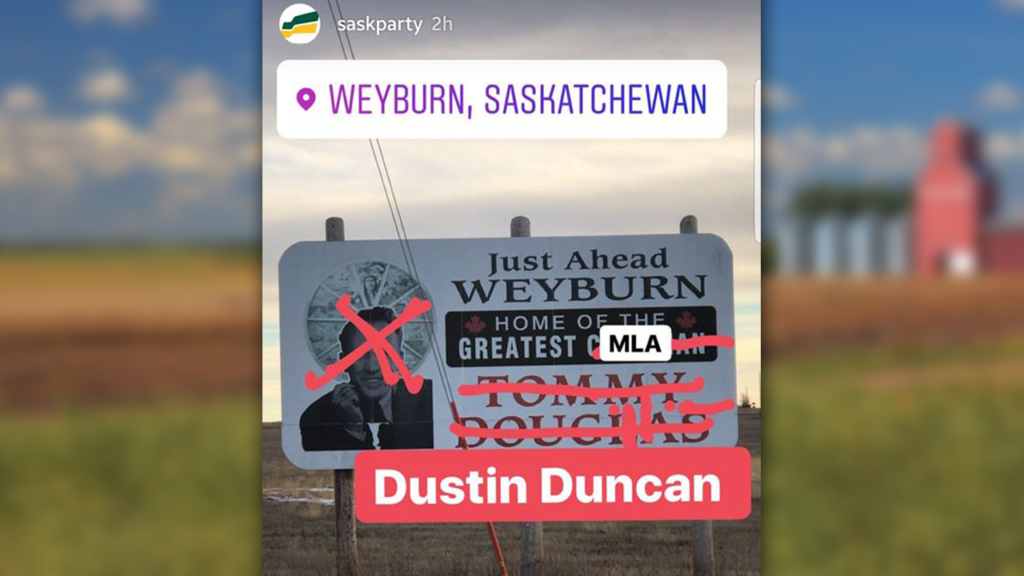 News
Saskatchewan Party 'Deeply Regrets' Defacing Billboard Honouring Tommy Douglas on Instagram
Saskatchewan's governing party tells PressProgress they did not mean to 'denigrate' the father of Canadian medicare
Saskatchewan's governing party is apologizing after using its official Instagram account to deface a sign honouring Tommy Douglas, the former CCF Premier of Saskatchewan who is widely recognized as "the Greatest Canadian."
An Instagram "story" that appeared on the party's official account last week featured a digitally altered image of a billboard honouring the father of Canadian medicare outside his hometown of Weyburn, Saskatchewan.
Premier Brad Wall's political party drew a bright red 'X' over Douglas' face, crossed out both his name and "Greatest Canadian" title and replaced it with the name of current Sask. Party Environment Minister Dustin Duncan, MLA for the provincial riding of Weyburn-Big Muddy.
Instagram stories are designed to disappear from users' newsfeeds after 24 hours – but not before this screenshot was taken:
In a statement to PressProgress, Sask. Party Executive Director Patrick Bundrock said the party "deeply regrets the post," explaining the party meant to "promote the local MLA, Dustin Duncan" and did not intend to "denigrate Premier Tommy Douglas in any way."
The statement adds that "the Saskatchewan Party respects Mr. Douglas":
"The Instagram post was posted by a staff person and done so as a way to promote the local MLA, Dustin Duncan. The Instagram story post has now expired. It was not intended to denigrate Premier Tommy Douglas in any way. The Saskatchewan Party respects Mr. Douglas and deeply regrets the post. The Saskatchewan Party will not be doing similar ones like it in the future."
As Premier of Saskatchewan from 1944 to 1961, Douglas oversaw a series of sweeping reforms including the creation of public auto insurance, the modernization of public infrastructure and the passage of the province's first bill of rights.
His efforts led to the creation of North America's first ever system of public health insurance, a model eventually adopted at the national level.
In November 2004, a CBC special named Tommy Douglas "the Greatest Canadian."
Duncan, by contrast, led a push to privatize parts of Saskatchewan's healthcare system when he served as the province's health minister.
Our journalism is powered by readers like you.

We're an award-winning non-profit news organization that covers topics like social and economic inequality, big business and labour, and right-wing extremism.
Help us build so we can bring to light stories that don't get the attention they deserve from Canada's big corporate media outlets.
Donate