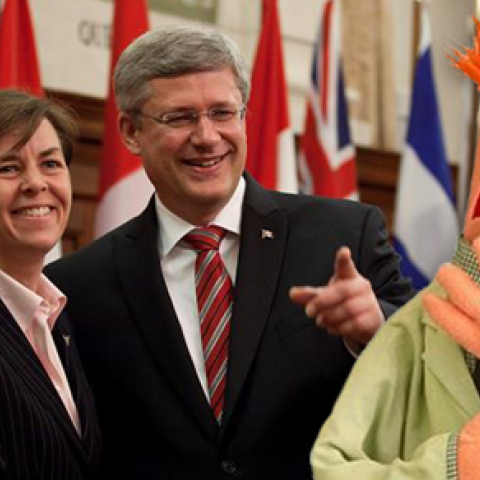 MP to lecture university students on "why Stephen Harper is good for science"
UPDATE: Following the publication of this post, the "Why Stephen Harper is Good for Science" lecture was cancelled. For more details, please scroll to bottom of the post. Is Stephen Harper good for science? According to one Conservative minister, the answer is a resounding YES!   That's exactly what the young, impressionable minds at Queen's […]
UPDATE: Following the publication of this post, the "Why Stephen Harper is Good for Science" lecture was cancelled. For more details, please scroll to bottom of the post.
Is Stephen Harper good for science?
According to one Conservative minister, the answer is a resounding YES!
That's exactly what the young, impressionable minds at Queen's University will learn when Labour Minister Kellie Leitch mounts a courageous defence of Prime Minister Harper's record on scientific progress.
According to the Queen's University Conservative Association's Facebook event page, Canadians will finally "hear the other side of the story." 
It's high time Canadians do "hear the other side of the story," because the "story" they have been hearing thus far isn't a good one.
The Harper government's cuts to scientific funding, shut down of environmental agencies — particularly those involved in climate science — and general muzzling of scientists has been well documented.
For a short list of examples:
The CBC reports the government dismissed over 2,000 scientists in five years, while "shutting down hundreds of programs and world-renowned research facilities." CBC's the fifth estate outlined the trends in their documentary Silence of the Labs.
Muzzling scientists: The list of government scientists prevented from talking to the media is long – including one scientist with Natural Resources Canada who wasn't even allowed to talk to media about a 13,000 year-old flood without ministerial approval. Climate-change scientists have felt particularly "muzzled." 
Numerous scientists have described the Harper governments strategy as a "war on science," including atmospheric scientist Tom Duck.
Looks like Chris Turner, author of The War on Science: Muzzled Scientists and Willful Blindness in Stephen Harper's Canada, also didn't get the memo about Harper's scientific success stories. As he once put it, "Do No Science, Hear No Science, Speak No Science — this is the essence of the Harper agenda."
And to top all that off, Harper even has one sitting MP who openly questioned the science behind climate change — not to mention the validity of evolution:
"Any scientist who declares that the theory of evolution is a fact has already abandoned the foundations of science," James Lunney declared to the House of Commons in 2009. "Given the modern evidence unavailable to Darwin – advanced models of plate tectonics, polonium radio halos, polystratic fossils – I am prepared to believe that Darwin would be willing to reexamine his assumptions."
Alas, after all this, we're all going to have to wait to hear about how the Harper government is good for science.
Several hours after the publication of the post, the campus club announced late Tuesday on its Facebook page that the event was cancelled to due "scheduling changes from the speaker." The message also explained that "we're so happy that our event has generated so much attention — we were very excited for what was to be a lively discussion on campus."
Photo: Facebook, Jedi94. Used under creative commons license.
PressProgress is powered by readers. Not by advertisers.
We're not a corporate media outlet. We're a small non-profit news organization that produces award-winning journalism with support from our readers.
If you see value in ad-free, non-profit journalism that holds powerful interests accountable, please consider making an investment in our work today.
Invest in Our Journalism