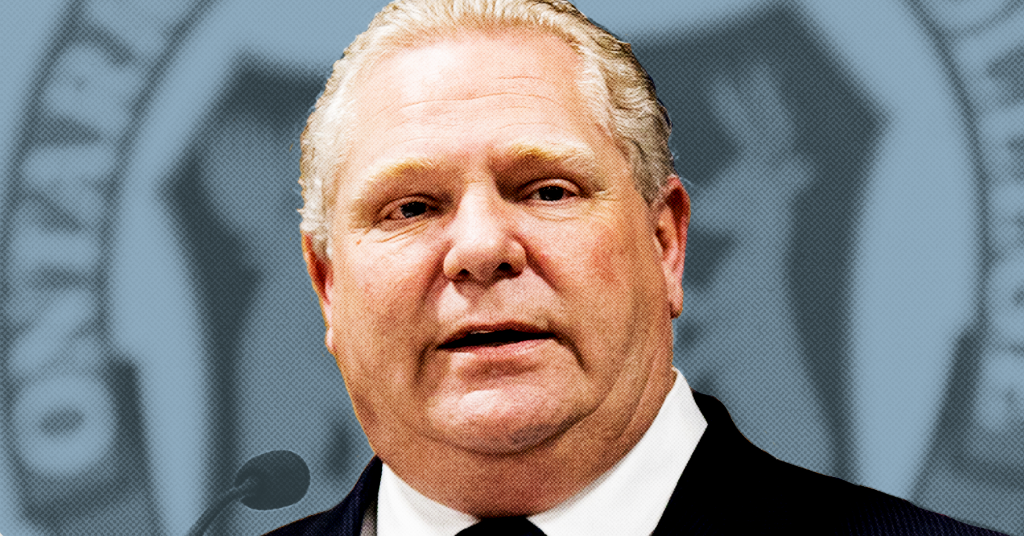 Analysis
Many Living In Poverty Should Brace For Ford Government's ODSP Recalculation: Study
The break-even point for the new calculation is $13,200 — those earning more may be worse off
The proposed revamp of the Ontario Disability Support Program — though promised to provide recipients with "dignity" — would likely harm many of those recipients living in poverty, a study by Reegan Financial finds.
Currently, ODSP recipients can earn up to $200 of work income per month or $2400 per year, with each additional dollar earned reducing benefits by $0.50. The Ford government's proposed revamp will calculate qualifications annually, while allowing recipients to earn up to $6,000 per year in work income, without clawbacks. Beyond that, however, each dollar earned would reduce benefits by $0.75.
For those earning below $6000 per year,  Reegan financial adviser Ron Malis told PressProgress, the revamp is an improvement over the existing rules. But, Malis said "the break-even point — where someone would do no-better and no-worse with the rule change — is $13,200 per year, in net income. Above that $13,200, the recipient does worse under the new rules"
Similar concerns were raised by the Income Security Advocacy Centre,  which remarked "in combination with the higher clawback rate of 75% on additional earnings, people with disabilities will also be negatively impacted the more they are able to earn."
It's currently unknown exactly how many recipients earn above that break even point, Malis said. But, his report notes — in March 2017 —  28% of couples with two children on ODSP earned employment income. The average monthly net income of these families was $1,464, or $17,658 per year.
Under the current rules, Malis wrote, an income of $1,464 per month results in an ODSP reduction of $632 per month or $7,584 for the year. Under the proposed changes, benefits would be reduced by $8,676 for the year — a difference of $1,092.
But families hardly live luxuriously on $17,658 annually — especially if both or one parent has a disability. By Malis' calculations, recipients with incomes below $22,000 are in poverty.
This is cause for worry, Malis said. "The typical person not on ODSP is pretty crappy at saving money. But if you're on ODSP and your monthly work income is $1,464? It's even harder."
The Ministry of Children, Community and Social Services did not respond to PressProgress multiple requests for comment.
But, as PressProgress reported previously, the Ford government is also looking to change the definition of disability to match more stringent, federal requirements and to cut millions from ODSP financial support.
Our journalism is powered by readers like you.

We're an award-winning non-profit news organization that covers topics like social and economic inequality, big business and labour, and right-wing extremism.
Help us build so we can bring to light stories that don't get the attention they deserve from Canada's big corporate media outlets.
Donate