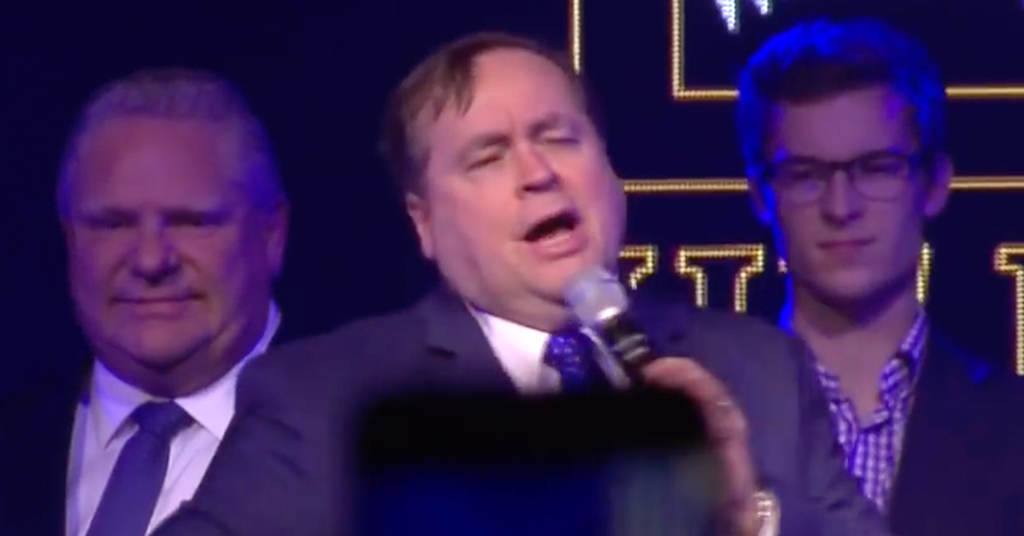 New
Evangelical Preacher Charles McVety is Facing a Lawsuit Over Spa and Pet Grooming Expenses
A pair of dueling lawsuits allege Canada Christian College tuition revenue was 'knowingly misappropriated' for lavish personal expenses
Evangelical preacher Charles McVety, a key ally of Ontario Premier Doug Ford, is at the centre of dueling lawsuits alleging his family used millions of dollars in tuition revenue from Canada Christian College on things including golfing, pet grooming and visits to hair and nail salons and spas.
McVety and his college deny the allegations and have filed a countersuit alleging the former head of the bible college's Korean department misused Canada Christian College funds on cars, clothes and overseas family vacations.
The allegations made in either party's court filings have not yet been tested in court.
Nearly two years ago, McVety's Canada Christian College was almost granted university status by the Ford's government. In fall 2020, an omnibus bill sought to make McVety's private bible college, a fully qualified university, able to grant degrees – despite its role in backing COVID-19 conspiracy theories, anti-gay campaigns and doomsday prophecies.
While Canada Christian College was ultimately rejected by regulators, the bible college is now embroiled in a new lawsuit alleging McVety engaged in "years of self-dealing" and "knowingly misappropriated funds."
In a Statement of Claim filed in May, Wansoo Chai, a music composer and former director of the College's Korean Department, alleges he was improperly terminated from the program he helped launch in 2000 under a "revenue sharing agreement" with McVety. Chai further claims he is owed compensation for lost pay and funds "unlawfully" withdrawn by McVety and his family.
According to his claim, Chai and McVety set up the Korean department of the theological college, which operates as a charity, in 2000. Under the arrangement, the Korean department would provide 35% of tuition revenues to the College for use of its facilities but retain the rest in its own bank account.
However, since 2014, Chai alleges McVety and others in his family have taken control of the department's funds and have withdrawn over $2 million to cover personal expenses.
In 2021, it alleges, McVety told Chai the College would take over the department's funds and employ Chai strictly as an employee – which he refused.
According to the Statement of Claim:
"Starting in January 2014, the McVetys began withdrawing funds from the Korean Department's account for the benefit of either themselves or the College. They did so without notice to Dr. Chai and without Dr. Chai's permission. Nothing in the Agreement, to which Charles had agreed and under which he had performed for almost fifteen years, permitted Charles to withdraw any funds from the Korean Department's account."
The claim also alleges withdrawals made by the McVetys "caused significant harm to the Korean Department" and kept it from making its pre-arranged payments to the college.
The lawsuit alleges the withdrawals were used for lavish personal expenses:
"These unauthorized withdrawals have been for, among other things, such personal expenses as animal hospitals, pet stores, hair and nail salons, spas, golf expenses, pet grooming, jewellers, women's fashion stores, and many unrecognizable foreign exchange ATM and VISA expenses."
In total, Chai's statement alleges these withdrawals totalled over $2,180,000.
In a statement to PressProgress, Canada Christian College said not only does it deny Chai's allegations set out in his claims – the college also questions their former Korean department head's grasp of reality.
"Mr. Chai has brought a frivolous lawsuit based on an assertion that he 'owned' a department of the institution," a Canada Christian College spokesperson told PressProgress.
"His assertions are factually unsupported and delusional."
In his counterclaim, McVety alleges Chai himself was not a co-owner of the account and was not entitled to any compensation beyond his salary as it is a registered charity. The counterclaim also alleges Chai "appropriated funds belonging to the College" himself and that's why he was cut-off from accessing the nearly one million dollar fund.
"During the years 2018 through 2021 (up until August 25, 2021), the Plaintiffs received cheques totalling $934,446.01 from the College," the counterclaim states. "The payments to Dr. Chai and his family members were substantially in excess of the amounts for which the Plaintiffs and their son received T4's from the College."
McVety's counterclaim goes on to allege Chai used the fund to pay for his and his family's "personal automobile expenses," including "lease payments, gas, insurance and service/maintenance."
McVety also claims Canada Christian College funds were spent on "housing costs, meals, Uber transportation, clothing, personal electronics (and) family vacations to Mexico, Europe, Japan, Philippines and Finland."
"The Plaintiffs and their son had no legal right or entitlement to receive funds from the College, except for salary for services actually provided to the College or reimbursement of legitimate expenses incurred on behalf of the College," McVety adds.
In 2020, the Post-secondary Education Quality Assessment Board released documents showing McVety took out loans of more than half a million dollars from the Canada Christian College, despite the fact McVety sets his own salary at $200,000 per year.
The Ontario NDP later raised questions about whether Canada Christian College had been using its charitable status to buy boats, jetskis, ATVs and other recreational vehicles.
Read the full Statement of Claim
PDF-2022-08-01

Read the full Statement of Defence
PDF-2022-08-02

Our journalism is powered by readers like you.

We're an award-winning non-profit news organization that covers topics like social and economic inequality, big business and labour, and right-wing extremism.
Help us build so we can bring to light stories that don't get the attention they deserve from Canada's big corporate media outlets.
Donate