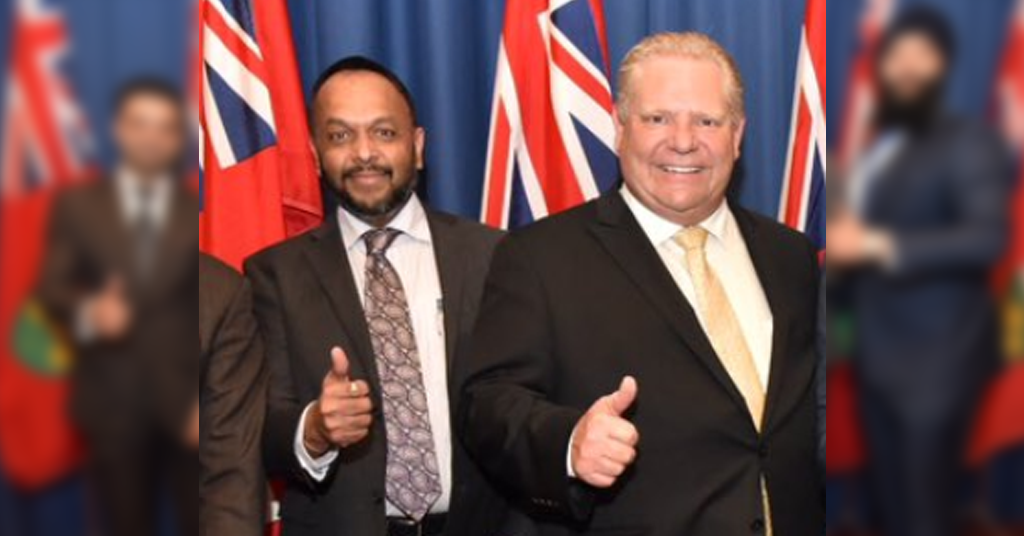 News
Doug Ford Says He's 'Proud' of Ontario PC Candidate Accused of Fraud in Several Bombshell Lawsuits
Ford insists candidate facing multiple fraud lawsuits is an 'all-star'
Ontario PC leader Doug Ford is standing behind an Ontario PC candidate accused of fraud in several lawsuits connected to his work as an immigration consultant.
Ripudaman Dhillon, the Ontario PC candidate in Brampton North, is facing four separate lawsuits as well as several additional complaints from former clients alleging fraud and various ethical breaches.
First reported by QP Briefing, court documents detail allegations from Dhillon's former clients that "he duped them out of tens of thousands of dollars."
Four additional ex-clients allege the Ontario PC candidate "convinced them to pay thousands of dollars up front for assistance in bringing friends and loved ones to Canada, only to see the immigration applications denied."
The PC candidate for Brampton North faces four lawsuits for allegedly defrauding immigration consultancy clients of tens of thousands of dollars.

The party knew about about the lawsuits and approved Ripudaman Dhillon's candidacy anyway. https://t.co/8pYhVdV3b7 #onpoli

— QP Briefing (@QPbriefing) June 4, 2018
Despite the revelations, Ford is doubling-down on his support for the candidate.
Questioned by reporters, Ford said he had no previous knowledge of the accusations and declared he is "proud" to count the accused fraudster as a member of his team of "all-stars."
"That's actually the first time I've heard of that. But I'm proud of our team. I'm proud to move forward with 123 all-stars."
Although Ford claimed he had no knowledge his candidate was facing four lawsuits on allegations of fraud, an Ontario PC spokesperson complicated that story.
The Ontario PC Party told QP Briefing they were completely aware of Dhillon's fraud lawsuits before his candidacy was approved and predicted he "will be excellent representative for the people of Brampton North."
On April 28, the Ontario PCs issued a press release under Doug Ford's name congratulating Dhillon on winning the nomination in Brampton, noting that "the people of Brampton North deserve a government they can trust."
Here are a few of the allegations against Dhillon detailed in the four lawsuits:
• One plaintiff accuses Dhillon's business of "fraudulent misrepresentation," alleging he was charged $14,500 but the Ontario PC candidate "provided no immigration services to the plaintiff at all."
• Another plaintiff looking to help his brother immigrate to Canada from Punjab accuses Dhillon of charging him $6,700 and not following-up for nearly a year before being notified his brother's immigration application was denied.
• A third plaintiff accuses Dhillon of "fraud, deceit" and "dishonesty," alleging the Ontario PC candidate guaranteed he could get his brother-in-law's immigration application approved, but first "demanded $20,000." The plaintiff alleges Dhillon "delayed the matter for nearly two years without doing anything."
• A fourth plaintiff says he paid the Ontario PC candidate $11,000 to help his nephew immigrate to Canada from Qatar. The plaintiff alleges Dhillon "never filed" the applications and strung him along for several years, asking "every year, every one-and-a-half years" for "more money" to "open another file."
None of the allegations detailed in the four lawsuits have been proven in court. Dhillon's company has filed statements disputing the claims against them.
Ford's party has been dogged by accusations of fraud and unethical behaviour throughout the election campaign.
Last month, an investigation by the Globe and Mail found "widespread evidence" of election fraud in a number of PC nominations, including "alleged ballot-box stuffing, ineligible voters and fake memberships."
Ford himself was accused of violating Ontario's election laws after an audio recording surfaced that appeared to show Ford selling "bogus" memberships on behalf of Etobicoke Centre PC candidate Kinga Surma.
Our journalism is powered by readers like you.

We're an award-winning non-profit news organization that covers topics like social and economic inequality, big business and labour, and right-wing extremism.
Help us build so we can bring to light stories that don't get the attention they deserve from Canada's big corporate media outlets.
Donate