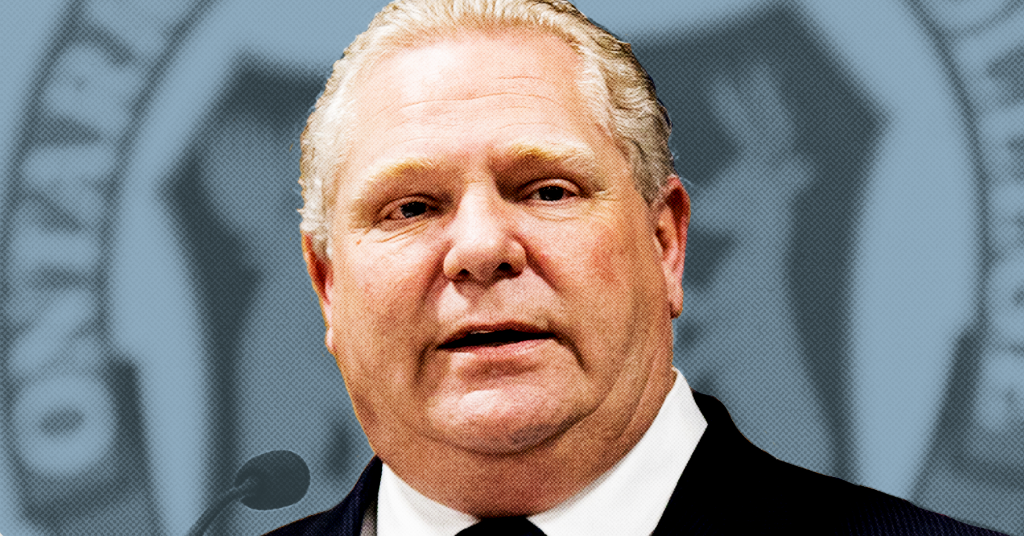 News
Doug Ford Quietly Planning Half a Billion Dollars in Cuts For Low-Income Workers and People With Disabilities
Ford government's expenditure estimates foreshadow cuts for low-income workers and people with disabilities
Post-budget spending plans suggest Doug Ford's government is quietly planning to cut half a billion from the province's two main income support programs.
The budget tabled by the Ford government last month already announced plans to carve a billion dollars out of the budget of the ministry that provides funds to income support programs.
Although the budget makes no mention of cutting programs linked to "poverty" or "disabilities," the Ford government's more-recent itemized expenditure estimates for 2019-2020 show both Ontario Works and the Ontario Disability Support Program are slated for deep cuts.
Ontario Works is an income support program that provides low-income workers with financial and employment assistance. The Ontario Disability Support Program, meanwhile, offers financial and employment assistance for those with recognized disabilities.
According to the Ford government's estimates, funding for financial assistance under Ontario Works would be $296.3 million lower in 2019-2020 than in the previous year, while employment assistance funding under the same program would drop $10 million.
People with disabilities would see ODSP financial assistance cut by $222.1 million.
Together, the total estimated loss amounts to more than half a billion dollars.
Dr. Jonathon Herriot, co-chair of Health Providers Against Poverty, says Ford's targeting of low-income workers and people with disabilities for steep cuts is "dangerous" and "cruel."
"These cuts suggest very dangerous things coming for our social assistance program in this province," Dr. Herriot told PressProgress.
Dr. Herriot noted these estimated cuts signal a "commitment to inadequate social assistance rates, that leave Ontarians in deep poverty with no hope of dignity or health."
And, he said, it suggests bad things for the government's forthcoming changes to ODSP rules.
How much money is Doug Ford taking away from poor & disabled Ontarians next year?

OVER $500 MILLION.

$296 Million from those on OW and $222 Million from those on ODSP.

Retweet, share, and like to tell @fordnation to stop the cruel cuts! #onpoli #cdnpoli #sdoh #odsp pic.twitter.com/UVepmWJKo7

— Health Providers Against Poverty (@HPAP_Ontario) May 13, 2019
The Toronto Star reported the government will likely move to revamp its income support program, this Fall. Key targets included tightening qualifications for ODSP.
Although Children, Community and Social Services Minister Lisa MacLeod has said current recipients will be grandfathered into the program, new applicants who don't meet the stricter ODSP criteria will likely be put into the OW stream.
That's a problem, for one, because ODSP provides more support than OW does (up to $733 per month compared to $1,169 per month).
The Canadian Press also reported "MacLeod said those currently receiving disability supports from the province will be grandfathered in but would not say whether fewer would be able to qualify in the future."
Dr. Herriott said the cuts "suggest that the planned change to the definition of disability for the ODSP program is going to be inappropriate and restrictive."
"This will prevent many sick and disabled Ontarians from getting the support that they need to stay healthy," he added.
The office of Children, Community and Social Services Minister Lisa MacLeod did not respond to questions from PressProgress seeking clarification about how the ministry plans to meet the expenditure estimate.
Our journalism is powered by readers like you.

We're an award-winning non-profit news organization that covers topics like social and economic inequality, big business and labour, and right-wing extremism.
Help us build so we can bring to light stories that don't get the attention they deserve from Canada's big corporate media outlets.
Donate