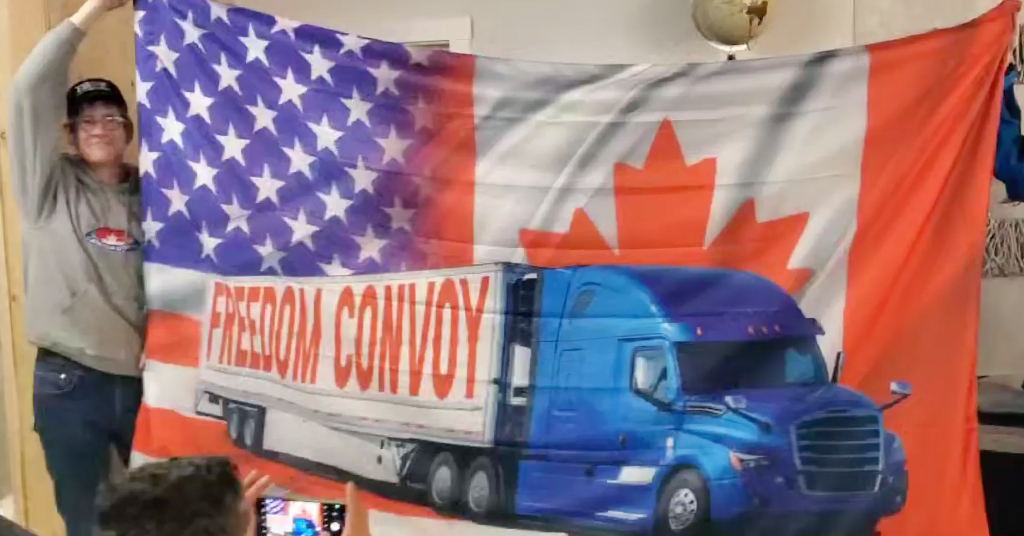 News
2023 'Freedom Convoy' Reunion is Officially Cancelled, Convoy Organizer Says
"We were hijacked – full stop"
The so-called "Freedom Convoy 2.0" has officially been cancelled amid concerns that the convoy has been "hijacked and infiltrated."
James Bauder, lead organizer of the group 'Canada Unity' which was behind the original Freedom Convoy last year, made the abrupt announcement in a press release posted on Facebook late on New Year's Eve.
"The Canada Unity Official Freedom Convoy 2.0 Reunion that was scheduled for Feb 17 to 20th, 2023, is hereby officially being issued a 10-7 'OUT OF SERVICE'," reads the statement sent from the "desk of James Bauder."
Bauder made national headlines last week after announcing on Christmas Day that the reunion convoy would occupy Winnipeg, Manitoba this year rather than risk a return to Ottawa.
The organizers of a so-called "Freedom Convoy" that paralyzed Ottawa for a month in February announced a 2023 gathering in Winnipeg.https://t.co/JxPKzM5EQl

— Globalnews.ca (@globalnews) December 29, 2022
According to the press release, the decision to cancel this year's convoy reunion was made following  a series of "security breaches," as well as personal insults.
"The main reason for cancelling the Freedom Convoy 2.0 is, since I made the official announcing plans to bring the Official Freedom Convoy 2.0 back to Ottawa Area for a 4-day reunion, I have had several security breaches," Bauder states, adding that he also received "personal character attacks made against me and others on Team Canada Unity."
"As a result of these security breaches that are beyond our control, I cannot in good conscience guarantee public safety as I promised."
In the comment section of the press release that was posted on his Facebook page, Bauder further elaborated: "We were hijacked – full stop."
"My press release was the hardest thing I have had to write as I feel I have let Canada down," Bauder told PressProgress. "I know how much hope, love, peace and unity the Freedom Convoy 23 would have created. I have been destroyed by these people and I am done."
Bauder claims he has "proof" that an individual "infiltrated and sabotaged my entire team, my web platform and all of my data."
"This is dressed up," Bauder said. "Lots of players are involved."
"As a result of being hijacked, and infiltrated, James is proceeding in 2023 with a legal team at his side," a spokesperson for Canada Unity told PressProgress.
The press release also distances the "official Canada Unity Freedom Convoy" from "similar 'convoy-themed' events" planned for Ottawa, Winnipeg, Toronto, Vancouver, Edmonton, Calgary, Regina and Quebec.
Bauder authored the convoy's controversial "memorandum of understanding" which called for overthrowing Canada's democratic government and replacing it with an unelected junta consisting of convoy leaders, the Senate and the Governor General — Bauder later withdrew the document.
The convoy organizer is facing a number of criminal charges relating to his participation in last year's convoy. Bauder is currently petitioning the court to move his trial away from Ottawa.
The decision to cancel the Freedom Convoy reunion comes one day after federal Conservative leader Pierre Poilievre and other senior Conservative MPs sought to distance themselves from profane flags and "hyper-aggressive rhetoric" associated with convoy supporters.
Our journalism is powered by readers like you.

We're an award-winning non-profit news organization that covers topics like social and economic inequality, big business and labour, and right-wing extremism.
Help us build so we can bring to light stories that don't get the attention they deserve from Canada's big corporate media outlets.
Donate