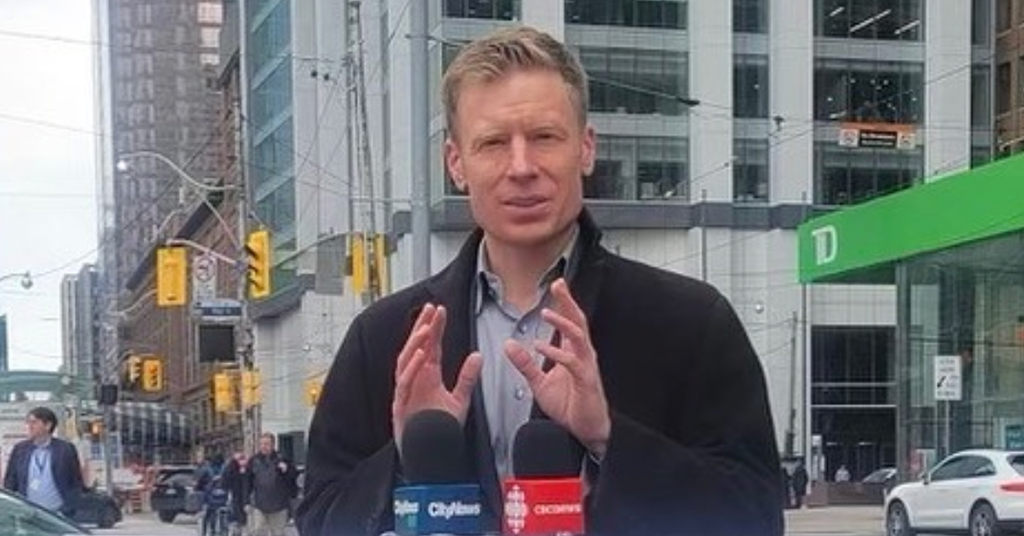 News
Far-Right Mayoral Candidate Anthony Furey Claims Toronto Police Association 'Endorses' His Platform
Toronto Police Association denies its words of support for far-right mayoral candidate's platform represented an endorsement
Toronto mayoral candidate Anthony Furey is claiming an endorsement from the Toronto Police Association, even though the TPA denies its words of support represented an endorsement of the far-right candidate's campaign.
In a recent video on his campaign's official YouTube channel, Furey posted an interview between 640 Toronto radio host Alex Piersen and TPA President Jon Reid.
The video, titled "TPA President Jon Reid backs Furey's plan to hire 500 police officers as Toronto Mayor," presents Reid's comments as an endorsement of Furey's policy.
The video is set to a backdrop of uniformed police officers and features an image of the TPA president photoshopped to appear as though he is standing behind Furey.
Furey, a columnist for the Toronto Sun and the far-right website True North, has been endorsed by a number of right-wing publications, columnists and public figures as a candidate to watch. Recent polls have shown Furey's support grow at the expense of other right-wing candidates, like city councillor Brad Bradford and former police chief Mark Saunders.
Furey has committed to end Toronto's safe supply program, forcibly drive homeless people out of city parks, "phase out drug injection sites," expand the city's $1.16 billion police budget and submit all other programs to a "value for money" audit.
Regarding Furey's proposal to hire 500 police officers by Piersen, TPA president Jon Reid expressed support for a "strong mayor" who is "supportive of public safety."
"Right now, Toronto needs a strong mayor to come in and be supportive of public safety," Reid said. "This is a public safety issue."
"Any candidate who wants to hire 500 more police officers, I would say: 'Yeah, absolutely'."
Despite its current billion dollar budget, Reid claimed Toronto Police are incapable of answering basic 9-1-1 calls in a timely manner, blaming overdose consumption sites and adjacent "panhandling."
"Our members, they are now stuck having to deal with loitering, panhandling and a rise in street-level drug trafficking."
Under provincial law, police officers and executive members of police associations are expected to remain politically neutral and are prohibited from endorsing candidates during elections.
"The endorsement or opposition of political candidates by municipal police officers is prohibited by the Police Services Act and its Regulations," Ann Morgan, chair of the Toronto Police Service Board, told PressProgress.
Morgan noted that both "members of the Toronto Police Association or its Executive are subject to the Police Services Act and its Regulations."
Political activism by police associations have been controversial elsewhere in Canada.
In British Columbia last year, Vancouver's police association faced intense criticism after it endorsed Mayor Ken Sim and his bid to expand the city's police budget, with some suggesting the endorsement represented a serious conflict-of-interest.
Breen Ouellette, a lawyer and community activist, says the TPA's public support for Furey is troubling.
"The Toronto Police Association should be held accountable to the law if they refuse to denounce Anthony Furey's claim that the police association 'backs' his platform," Ouellette told PressProgress.
"Police have extensive powers to infringe on our rights, including the power to take our lives," adding that the public should be "alarmed" by police attempting to "tell us how to vote."
"Furey should apologize for his transparent attempt to bypass the law. Anything else is contrary to the spirit of the law and should be vigorously denounced by good people as law breaking by omission and as a threat to our democracy."
Meenakshi Mannoe, a criminalization and policing campaigner with Pivot Legal Society, said the political advocacy by police associations is part of a growing trend to push back against calls for police accountability.
"The latest wave of municipal elections has illuminated how effectively police associations have inserted themselves into the political process," Mannoe told PressProgress. They have been designed to sheild police from accountability and they've developed into a very effective political lobby – they've made themselves into a powerful group."
Despite lobbying for more money in the name of "public safety," the data suggests the cash giveaways to police are having the opposite effect.
"There is ample data revealing that the police are actually unsafe – especially for marginalized people," Mannoe said.
Jane Finch Action Against Poverty community lead Anna-Kay Brown said she's "not surprised" to see the Toronto Police Association drop its political neutrality to lobby for more money.
"The police are one entity sucking up all the financial resources," Brown said. "Other services are not getting them because the police are disassembling encampments – same thing with panhandling," adding that the TPS' main priority is "policing the working poor."
In a statement, the Toronto Police Association denied that Reid's statement that the TPA "backs" Furey's policing platform constitutes an endorsement.
"During his interview with Alex Pierson, our President was asked for his thoughts on a proposal to hire 500 more police officers," a TPA spokesperson told PressProgress. "His response agreed with the idea to hire more officers citing staffing challenges and unacceptable response times to calls for service."
"This is not an endorsement of the candidate," the spokesperson said, before offering a different characterization of Reid's words expressing support for Furey's policies.
"We do not endorse specific candidates, but rather would like to work with a mayor who recognizes that a world-class city like Toronto deserves a police service that is well-trained and equipped to provide public safety in partnership with communities."
In a statement to PressProgress, Furey's campaign said its statement that the president of the TPA "backs" Furey's platform was not intended as an endorsement of Furey as a candidate.
"We are well aware that the TPA does not endorse any candidate for Mayor," a spokesperson for Furey's mayoral campaign told PressProgress.
"Jon Reid endorses the idea, not the candidate."
Our journalism is powered by readers like you.

We're an award-winning non-profit news organization that covers topics like social and economic inequality, big business and labour, and right-wing extremism.
Help us build so we can bring to light stories that don't get the attention they deserve from Canada's big corporate media outlets.
Donate