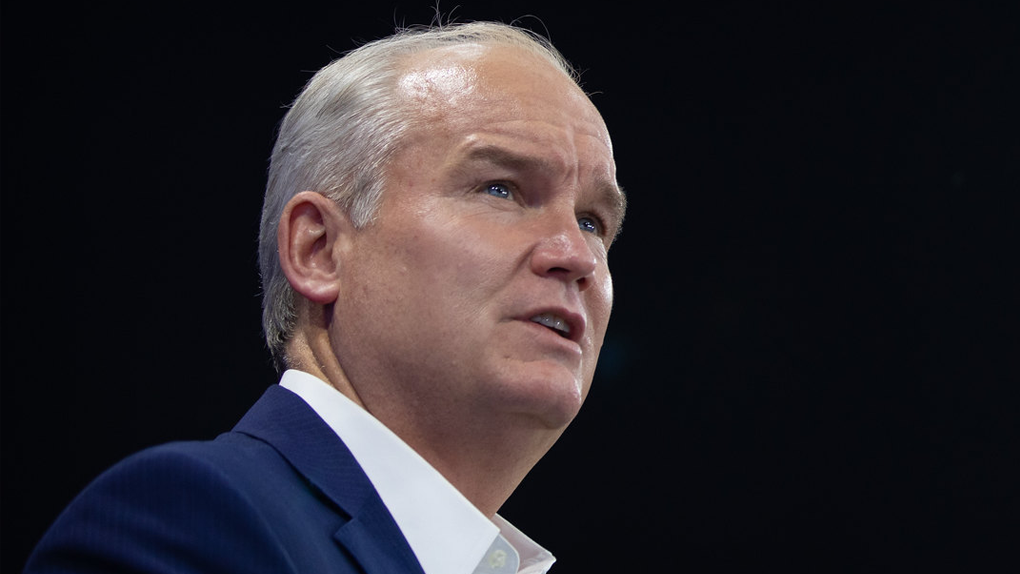 New
CEO of Private Healthcare Company Hosted Fundraising Event for Conservative Leader Erin O'Toole
Erin O'Toole previously helped promote the CEO's "radical" message about privatizing health services in Canada
Conservative leader Erin O'Toole held an official party fundraising event with the CEO of a private health company who has spent years advocating for health care "privatization" — a message O'Toole once helped him promote.
Throughout the election campaign, Justin Trudeau's Liberals have accused O'Toole of supporting "for-profit" healthcare. O'Toole has himself clarified that he does in fact support a bigger role for private companies in Canada's health care system.
On November 30, 2020, the Conservative Party held an official fundraising event — a virtual "meet and greet with Erin O'Tool" — which was hosted by Shaun Francis, CEO of a private health company called Medcan which runs a "corporate wellness and executive health clinic."
The company operates outside Canada's public health insurance system and has, in the past, registered to lobby federal officials.
A description of the fundraiser, which was placed in the Hill Times, noted Francis would be posing questions about O'Toole's "plans for Canada" and "the issues that are important to you":
A listing for the event that appeared on Google shows the Conservative Party created a special URL for the event which included Francis' name — though the page has since been deactivated.
Francis is a longtime Conservative Party donor, having donated well over $10,000 to the party since 2006. Last year alone, he donated $1,625 to the party.
Over the years, Francis' involvement in Conservative politics has included serving as chair of the PC Ontario Fund, the fundraising arm of the Progressive Conservative Party, and as an appointee by then-Conservative Veterans Affairs Minister Julian Fantino to the Veteran Transition Advisory Council.
Back in 2017, the Globe and Mail listed Medcan as one of Canada's largest for-profit clinics which reportedly offers priority access to doctors for a fee of $895 per year.
"Anytime throughout the year you want to see the physician, you are guaranteed a same day appointment or a convenient video visit with the doctor," Medcan said in a recorded call that was later reported by the Globe.
In 2018, the Fraser Institute hosted a $750 per plate dinner "celebrating Mr. Francis' contributions to Toronto and Canadian businesses," attended by VIPs like former Ontario Premier Mike Harris and then-Finance Minister Rod Phillips.
Francis is the former VP of Strategy for Broadlane, one of the largest "healthcare outsourcers" in the United States and he's also a longtime advocate of privatizing Canada's health system. In 2012, Francis explicitly criticized TD economist Don Drummond for failing to suggest "privatization" when the Ontario Liberal government commissioned him to draft its austerity policies.
Also in 2012, according to the National Post, Francis told the Economic Club of Canada "We need to turn patients into customers and open the system to entrepreneurs and competition," just as his company, then the "largest private clinic in the country" does.
One person who was in attendance at the Economic Club of Canada event was, as it turns out, Erin O'Toole — who live-tweeted the speech by his "friend, Shaun Francis."
@EconomiClub Listening to my friend Shaun Francis speak on healthcare #ecctor

— Erin O'Toole (@erinotoole) May 8, 2012
According to O'Toole's tweets, the soon-to-be Conservative MP was particularly struck by Francis' suggestion that Canada's public healthcare system is "squandering excellence" and "leading to less efficient outcomes."
Shaun Francis on squandering excellence in health #eccto #cdnpoli

— Erin O'Toole (@erinotoole) May 8, 2012
Central planning of health in ON leads to more expensive and less effective outcomes @Shaun_Francis #ecctor #onpoli

— Erin O'Toole (@erinotoole) May 8, 2012
O'Toole further praised Francis' "radical look" at Ontario's health system which, he claimed, "needed to innovate with (the) private sector involved."
@Shaun_Francis radical look at ON health needed to innovate with private sector involved. #onpoli #eccto

— Erin O'Toole (@erinotoole) May 8, 2012
This, however, is not Francis' only ties to O'Toole.
Francis previously served as chair of the True Patriot Love Foundation, a charity for veterans they co-founded together in 2009, while O'Toole was a lawyer for Proctor and Gamble.
The True Patriot Love Foundation's registered office is the same as the now-dissolved Canadian Association of Medical Service Providers, an advocacy group, also chaired by Francis and made up largely of other private health company representatives.
The address listed on the True Patriot Love website, 150 York Street, is the same building where Medcan's registered office is currently located.
Francis and Medcan both declined requests for comment from PressProgress.
The Conservative Party of Canada did not respond.
Our journalism is powered by readers like you.

We're an award-winning non-profit news organization that covers topics like social and economic inequality, big business and labour, and right-wing extremism.
Help us build so we can bring to light stories that don't get the attention they deserve from Canada's big corporate media outlets.
Donate