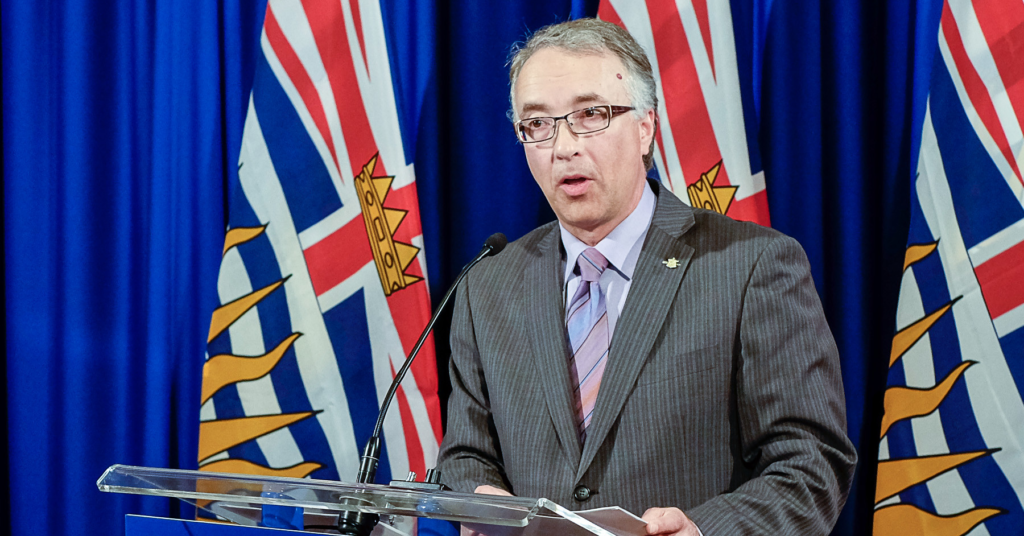 News
BC Liberal MLA Says He Shared an Anti-Vaccine Blog With Constituents on Facebook By Mistake
BC Liberal MLA John Rustad clarifies he did not intend to encourage 'people not to be vaccinated'
A BC Liberal MLA is telling his constituents he only meant to express his fascination with advancements in vaccine technology when he shared an anti-vaccine blog on Facebook last week that falsely suggests COVID-19 vaccines will alter human DNA.
Over the weekend, MLA John Rustad shared a post from a prolific anti-vaccine blog titled: "Head of Moderna Explains How Vaccines Alter DNA."
The post features a video clipped from a TED talk given in 2017 by Moderna Chief Medical Officer Tal Zaks about research into mRNA vaccines — conspiracy theorists and anti-vaccine advocates have in recent months falsely claimed that mRNA COVID-19 vaccines alter human DNA and are part of a secret plot to control global populations.
However, in the video Rustad shared, Zaks does not claim that mRNA vaccines used to treat infectious diseases — like the flu — can alter human DNA, as the blog headline misleadingly suggests.
Zaks explains that traditional vaccines use inactive or weakened pathogens that cause a particular disease, whereas mRNA vaccines "give instructions on how to make the protein, on how the body can make its own vaccine."
After PressProgress contacted Rustad asking why he shared an article with a misleading headline about vaccines, the BC Liberal MLA changed his post's privacy settings to make it only viewable by his Facebook friends.
Rustad wrote a comment directed at his constituents explaining that he only meant to express his interest in science: "I posted this article because I was fascinated by the advancement in the technology."
"Apparently some have used this clip to tell people not to be vaccinated," Rustad added. "That was never my intent."
"I plan to get vaccinated as soon as my age group is called and I encourage people to look seriously at getting vaccinated."
The BC Liberal MLA concluded by denouncing PressProgress as "left-wing, fake news" and told constituents he will "never respond to such an outfit."
However, some of Rustad's followers echoed anti-vaccine sentiments in response to the MLA's original post.
One Facebook user falsely claimed: "These vaccines were released under emergency measures and did not go through rigorous testing."
Another wrote: "I sure as heck don't want my DNA to be altered."
A third added: "AstraZeneca kills!"
The blog post Rustad shared was published this month on a website called "Armstrong Economics," the personal blog of Martin A. Armstrong, an American "self-taught" economic forecaster who was reportedly jailed for 11 years for cheating investors and hiding assets from regulators.
Armstrong's blog regularly promotes misinformation and conspiracy theories about COVID-19 vaccines and the pandemic. The blog also promotes anti-mask and anti-lockdown content.
In one post, Armstrong claims US President Joe Biden received a fake vaccine, and floated the idea that Microsoft founder Bill Gates is encouraging people to get vaccinated to "sterilize much of the world to create his father's goal of depopulation."
In another post, Armstrong advises readers to "just say no" to vaccines, and claims "This entire drive to mandate vaccinations is political."
The Moderna COVID-19 vaccine uses mRNA, which means it provides instructions for human cells on how to make a piece of the "spike protein" unique to SARS-CoV-2, the virus that causes COVID-19. This process allows the body to build immunity against the virus.
Leading health experts and public institutions have explained that mRNA COVID-19 vaccines do not change a person's DNA.
Dr. Zain Chagla, an associate professor of medicine at McMaster University, told CBC last December:
"You can't go from RNA back to DNA in human cells. It's not possible because we just don't have the machinery to deal with it. So there should not be concerns about the RNA vaccine somehow getting into the human DNA and transforming it."
Sara Riordan, president of the National Society of Genetic Counselors, told Forbes back in January: "The mRNA never even goes into the nucleus, the part of the cell contains all of your own DNA and instructions."
Meanwhile, Ontario's Ministry of Health vaccine guidelines state: "mRNA vaccines are not live vaccines, cannot cause infection in the host and cannot alter a person's DNA."
Regarding the Moderna vaccine, which uses mRNA, Health Canada advises: "No major safety concerns have been identified in the data that we reviewed."
Rustad recently endorsed BC Liberal MLA Ellis Ross in the party's leadership race.
Our journalism is powered by readers like you.

We're an award-winning non-profit news organization that covers topics like social and economic inequality, big business and labour, and right-wing extremism.
Help us build so we can bring to light stories that don't get the attention they deserve from Canada's big corporate media outlets.
Donate