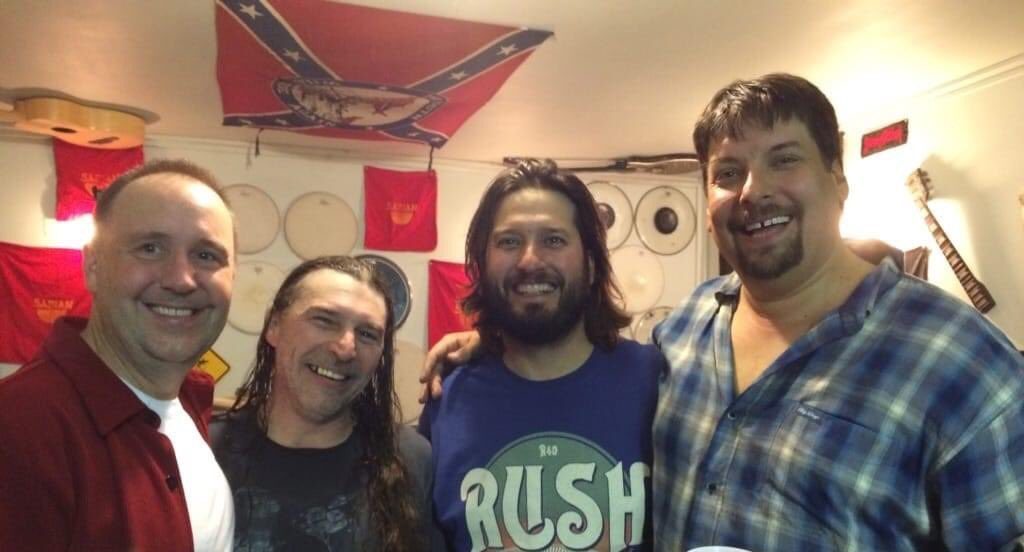 New
BC Liberal MLA Mike Bernier Says He 'Didn't See' Confederate Flag in Photo With His Bandmates
The MLA insists he "didn't look up"
BC Liberal MLA Mike Bernier insists he didn't notice the Confederate flag behind him while he posed with his old bandmates, in a photo recently-resurfaced on social media.
The photo, which was reposted to Bernier's Facebook timeline last April, shows the MLA with three men he identified as members of his old band.
But a close look at the photo reveals a confederate flag behind them — with a graphic in the middle seemingly reading "The South Will Rise Again."
Bernier did not respond to questions from PressProgress about the photo, but instead posted the image on Twitter stating he "didn't look up to see the flag that was there."
"Obviously I don't support what that symbol represents," he added.
The Confederate Flag is most-notably the symbol adopted by the eleven southern states that seceded from the United States of America, in defence of slavery in the American Civil War.
The Southern Poverty Law Centre notes it was also used extensively by the Ku Klux Klan and by other proponents of segregation and Jim Crow policies.
The BC Liberal Party did not respond to requests for comment from PressProgress.
Our journalism is powered by readers like you.

We're an award-winning non-profit news organization that covers topics like social and economic inequality, big business and labour, and right-wing extremism.
Help us build so we can bring to light stories that don't get the attention they deserve from Canada's big corporate media outlets.
Donate