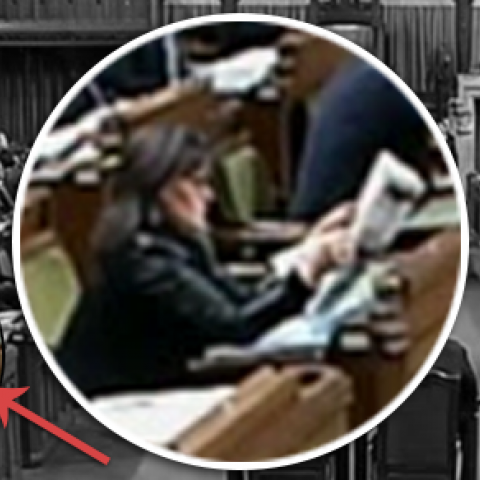 VIDEO: Leona Aglukkaq reads newspaper, ignores questions about people looking for food in dump
That news article must have been really interesting. Facing tough questions from the Opposition during Question Period on Monday about the price of food in Canada's North, Environment Minister Leona Aglukkaq was caught on video reading a newspaper only seconds after ignoring a question about news footage of her constituents in Rankin Inlet, Nunavut scavenging for […]
That news article must have been really interesting.
Facing tough questions from the Opposition during Question Period on Monday about the price of food in Canada's North, Environment Minister Leona Aglukkaq was caught on video reading a newspaper only seconds after ignoring a question about news footage of her constituents in Rankin Inlet, Nunavut scavenging for food from garbage dumps.
The issue of exorbitant food prices in the North  and problems with the federal Nutrition North program became an issue after the Aboriginal People's Television Network reported Aglukkaq "tried to force an apology" from Rankin Inlet's deputy mayor; Sam Tutanuak had spoken out about high food prices and people scavenging for food at the local landfill.
Following APTN's report, Aglukkaq said she was considering taking legal action against Tutanuak for his "completely false" statements.
On Monday, Aglukkaq seemed more interested in reading her newspaper than addressing the issue of food prices in the North.
When NDP MP Romeo Saganash asked her if "people being asked to pay 10 times more for milk or scavenge at the dump is indicative of a program that's working?," Aglukkaq pointed to Aboriginal Affairs Minister Bernard Valcourt to answer the question.
As Valcourt responded, the Opposition began crying foul that Aglukkaq was dodging the question. That's when the House of Commons camera pulled back and caught Aglukkaq reading her newspaper.
A few minutes later, during the same line of questions on food scarcity in the North, Aglukkaq was still reading her newspaper.
Watch:
Our journalism is powered by readers like you.

We're an award-winning non-profit news organization that covers topics like social and economic inequality, big business and labour, and right-wing extremism.
Help us build so we can bring to light stories that don't get the attention they deserve from Canada's big corporate media outlets.
Donate