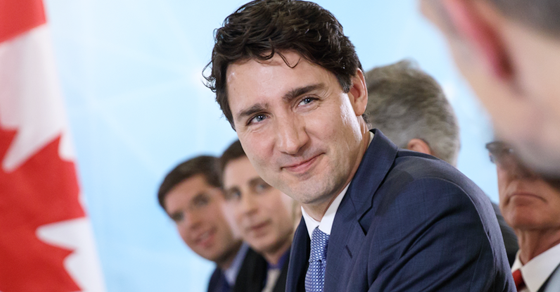 Trudeau government tells 130,000 Canadians support for electoral reform 'does not exist'
130,000 Canadians signed the all-time record breaking petition demanding Trudeau honour his campaign promise.
The Government of Canada has responded to a record breaking petition demanding Justin Trudeau honour his campaign promise on electoral reform.
Their response? In a nutshell: thanks, but we'll be sticking with our line that support for electoral reform "does not exist."
According to the final tally, a grand total of 130,452 people signed the official House of Commons e-petition calling on the Trudeau government to reverse its electoral reform flip-flop – the largest petition ever of its kind since the House of Commons passed a motion allowing online petitions before the last election.
In its formal response to the petition initiated by Kitchener Ontario's Jonathan Cassels and sponsored by NDP MP Nathan Cullen, the Trudeau government tells signatories that "the Government of Canada is pleased to respond to this petition," but reiterates that they aren't open to changing their mind about their broken promise.
Liberal "reply" to Petition #E616. Paraphrase: Thanks. We heard you. We're ignoring what you told us. Oh, and tanks https://t.co/4sAsXdqAqC

— Nathan Cullen (@nathancullen) April 19, 2017
Seriously, if you want to see how deeply this government has inhaled its own farts, you only have to read this. https://t.co/yYOGsV79B6

— Andrew Coyne (@acoyne) April 18, 2017
"It has become evident that the broad support needed among Canadians for a change of this magnitude does not exist," reads the response signed by Democratic Institutions Minister Karina Gould.
Gould previously signalled her openness to electoral reform, going so far as to suggest her own party had had won a "false majority" because the Trudeau Liberals received over 50% of the seats with only 39% of the vote.
In the response, Gould states that the government determined adequate support "does not exist" based on a feedback from a variety of initiatives aimed at consulting Canadians on their views on democracy.
But a closer look at Gould's examples suggests that feedback does not exist instead:
1. The government's Buzzfeed-style personality quiz: Gould points to MyDemocracy.ca, the Government of Canada's $2 million survey that was inspired by "online personality quizzes" and was riddled with methodological problems.
Except the quiz was designed as a nifty educational tool, it was never designed to collect serious data and it did not ask users whether or not they support electoral reform. And despite spending $1.8 million promoting Trudeau's "fun little questionnaire" to every single household in Canada, MyDemocracy only managed to collect 243,057 valid responses. Even without a two million dollar budget, the House of Commons e-petition organically collected more than half that number, all clearly indicating they want electoral reform.
2. The all-party Special Committee's report: Gould also points to a "thoughtful, diligent report" tabled by the all-party Special Committee on Electoral Reform.
Except the Special Committee's final report recommended Canada adopt a proportional voting system that incorporates local representation.
3. The cross-country electoral reform town halls: Gould suggests feedback from "town halls held by Members of Parliament from every political party represented in the House of Commons" shows support for electoral reform "does not exist."
Except the data from the same town halls actually shows two-thirds of all speakers expressed support for proportional representation. There are videos on YouTube showing confrontations between former Democratic Institutions Minister Maryam Monsef getting and rooms full of Canadians demanding the Trudeau government to honour their electoral reform promise. Even Conservative MPs admitted they observed an "appetite for change toward a more proportional system" at their town halls.
Here's one random example: according to a town hall report from the Member of Parliament representing the Montreal-area riding of Papineau, the majority of constituents were in favour of electoral reform and "most were favourable to the idea of a proportional and mixed-proportional voting system."
Who is the MP for Papineau, you might ask? Of course, it's none other than Prime Minister Justin Trudeau, who also personally attended the meeting.
And we can't forget Trudeau not only repeatedly promised electoral reform before, during and after the 2015 election – he explicitly vowed that "2015 will be the last federal election conducted under the first-past-the-post voting system."
Watch 2 straight minutes of Justin Trudeau promising to end Canada's first-past-the-post system #cdnpoli #EngagedInER @acoyne @davidakin pic.twitter.com/b5KzGF8Y4Y

— PressProgress (@pressprogress) December 2, 2016
So, to sum up: aside from Justin Trudeau, Karina Gould, Maryam Monsef, three of four Canadian political parties (including every candidate who ran on the Liberal Party of Canada's 2015 platform), at least two-thirds of people at town halls across the country, another 130,000 or so people who broke an all-time record signing the House of Commons electoral reform petition and also the good people of Papineau, the Trudeau government would have you believe support for electoral reform basically "does not exist."
Got all that?
Photo: PMO.
Our journalism is powered by readers like you.

We're an award-winning non-profit news organization that covers topics like social and economic inequality, big business and labour, and right-wing extremism.
Help us build so we can bring to light stories that don't get the attention they deserve from Canada's big corporate media outlets.
Donate