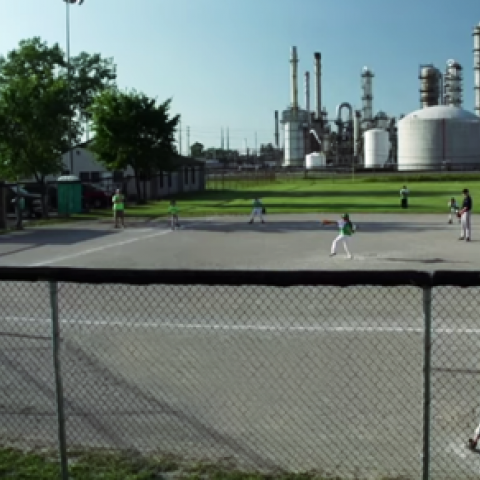 This video will make you rethink where we put our oil refineries and chemical plants
It's a tale of two cities. Well, that's not completely accurate – it's really the story of a First Nations reserve and a 25 km2 industrial zone outside Sarnia, Ontario known as the "Chemical Valley" that's home to 60 oil refineries and chemical plants, or about 40% of Canada's entire petrochemical industry. And all that separates […]
It's a tale of two cities.
Well, that's not completely accurate – it's really the story of a First Nations reserve and a 25 km2 industrial zone outside Sarnia, Ontario known as the "Chemical Valley" that's home to 60 oil refineries and chemical plants, or about 40% of Canada's entire petrochemical industry.
And all that separates these two worlds is a chain link fence.
For residents of the Aamjiwnaang First Nation, air pollution is a major concern. In 2011, the World Health Organization labelled Sarnia's air quality the worst of any city in Canada, owing to Sarnia having "the most particulate matter per cubic metre of air" in the country.
Particulate matter can enter the blood stream and cause lung and cardiovascular diseases, including cancer. And it's been reported that Aamjiwnaang has higher-than-normal rates of cancer and miscarriages. 40% of residents use asthma inhalers.
Even more alarming are the repeated leaks of hydrogen sulfide that often go unreported. One leak sent several children from an Aamjiwnaang daycare to hospital last year.
"You want to operate here, then you should have top-of-the-line technology. You should be putting safety above your dollars," Christine Rogers, an Aamjiwnaang member and mother of three young girls told Vice Magazine's Patrick McGuire for a documentary on Chemical Valley.
"It's going to cost too much; it's going to cost too much. That's what you hear all the time. I don't care. I don't care how much it costs you," said Rogers. "That's my child's safety. They [petrochemical executives] would [feel this way] too if their kids lived right here." 
Watch this powerful documentary and decide for yourself whether the oil and gas industry is doing enough to ensure the safety of people who live and work near their plants and factories:
(Watch part two of this great documentary by Vice here.)
Help us protect Canadians by holding the powerful accountable.
Journalism is an important public service. That's why PressProgress is prioritizing stories aimed at keeping Canadians safe and holding the powerful accountable during the coronavirus pandemic.
Please consider supporting our award-winning non-profit news organization so we can keep making a positive impact for Canadians.
Support Our Journalism