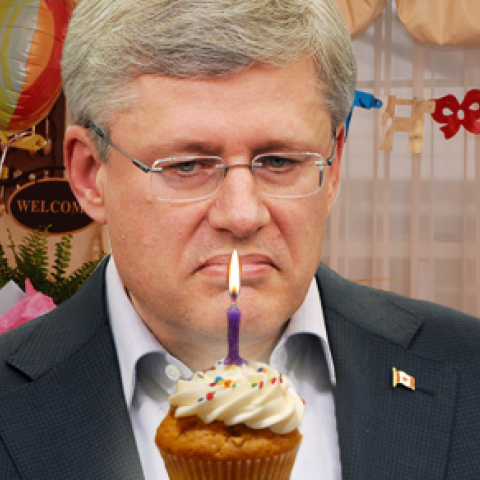 Stephen Harper mails own birthday cards for people to sign and send back to him
Will Stephen Harper have a lonely birthday? Not if the Conservative Party of Canada can help it! According to photos circulating on social media this week, the Conservatives are drumming up support for the Prime Minister's 56th birthday this week — by mailing people birthday cards, along with instructions to sign the cards and send […]
Will Stephen Harper have a lonely birthday?
Not if the Conservative Party of Canada can help it!
According to photos circulating on social media this week, the Conservatives are drumming up support for the Prime Minister's 56th birthday this week — by mailing people birthday cards, along with instructions to sign the cards and send them back to Harper.
"Guys Stephen Harper is actually sending out birthday cards for himself that you can sign and send back," said a Tumblr user who first posted the photos and has since been reblogged hundreds of times:
Tumblr users reacted with a range of sarcasm, from "that's kinda pathetic," to "where can I get these? I have a lot of things I would like to wish the PM," to "how is this real?"
While it's not uncommon for political parties to use the birthdays of leaders as an opportunity to collect information from supporters, in this case, it's hard not to wonder if the Conservatives are worried no one will wish the Prime Minister "happy birthday" without a nudge?
After all, this is the same Prime Minister's Office that asked staff to prepare binders full of enemies.
So who probably won't be sending Harper back a birthday card this year?
Mike Duffy:  It was not so long ago when Harper called Senator Duffy, currently facing charges of breach of trust, bribery, and fraud, one of his "best, hardest working appointments ever." Like another famous resident of Prince Edward Island and her kindred spirit Diana, Harper and Duffy seemed by all accounts to be true bosom friends.
Senator Duffy also raised money for Harper. He raised a lot of money. He even made videos for Harper too, even though the Crown prosecutor now argues Duffy wasn't eligible to sit as a PEI senator in the first place.
Oh yeah, and Senators Pamela Wallin and Patrick Brazeau probably won't be RSVP-ing for Harper's birthday either.
Close confidantes turned tell-all authors: How could such loyal friends turn into tattle tales? Harper's former advisor Bruce Carson said Harper is prone to fits of rage and increasingly isolated, while another top advisor and one-time co-author Tom Flanagan wrote that the PM has a "dark, almost Nixonian side." 
Preston Manning: Once upon a time, Harper was a protégé of Manning. Now? The former leader of the Reform Party isn't in Harper's good books.
Why is that? Well, he started advocating for what Harper calls a "crazy economic policy" — that's right, Manning is now calling for carbon pricing to fight climate change. Oh, how people change.
The oil industry: Speaking of which, even the oil industry seems less friendly than it once was. Harper has always put all of his eggs in the boom and bust resource economy basket, but now that the price of oil is sinking, the oil and gas industry did not receive a single mention in Joe Oliver's recent federal budget, though Oliver telegraphed they'll now shift their attention to Canada's hollowed out manufacturing sector. 
Everyone involved in Canada's manufacturing sector: Except there's a problem with the Conservatives' talk of manufacturing. Rebuilding the sector will take time and money, and the Conservatives don't appear willing to offer either.
The governor of the Bank of Canada said last fall that "capacity in these subsectors has simply disappeared," and the lights won't be turning on at Ontario factories without substantial new investments. Meanwhile, total employment in Canadian manufacturing has plummeted to near record lows. 
It also doesn't help when Canada invests half a billion dollars to build Volskwagon factories in Mexico days after earmarking an "underwhelming" fraction of that amount in the 2015 budget to help Canadian manufacturers. 
Conservative critics of Bill C-51: It was bad enough when the Prime Minister lost the support of conservative guys over his anti-terror bill: Conrad Black, Rex Murphy, Conservative MP Michael Chong, former prime minister Joe Clark, the National Firearms Association and ex-Conservative MP Brent Rathgeber are among its vocal opponents.
But now he's lost the support of 60 Canadian business leaders who say C-51 will needlessly undermine consumer confidence in their products and be bad for the economy. Not a good sign.
Charities and labour unions: Between using the Canada Revenue Agency to lead an ongoing witchhunt against charities and Conservative senators (of all people) accusing labour unions of corruption and demanding transparency, it's pretty safe to assume charities and labour will skip out on Harper's birthday party. 
Public officials: For the last nine years, Harper Conservatives have scapegoated public servants whenever they don't "take no (or yes) for an answer." That list includes: Chief Justice of the Supreme Court Beverley McLachlin, former Auditor General Sheila Fraser, former Parliamentary Budget Officer Kevin Page, former Veterans ombudsman Pat Stogran, current Elections Canada Chief Electoral Officer Marc Mayrand,  former Statistics Canada Chief Statistician Munir Sheikh, and so many more.
Our journalism is powered by readers like you.

We're an award-winning non-profit news organization that covers topics like social and economic inequality, big business and labour, and right-wing extremism.
Help us build so we can bring to light stories that don't get the attention they deserve from Canada's big corporate media outlets.
Donate