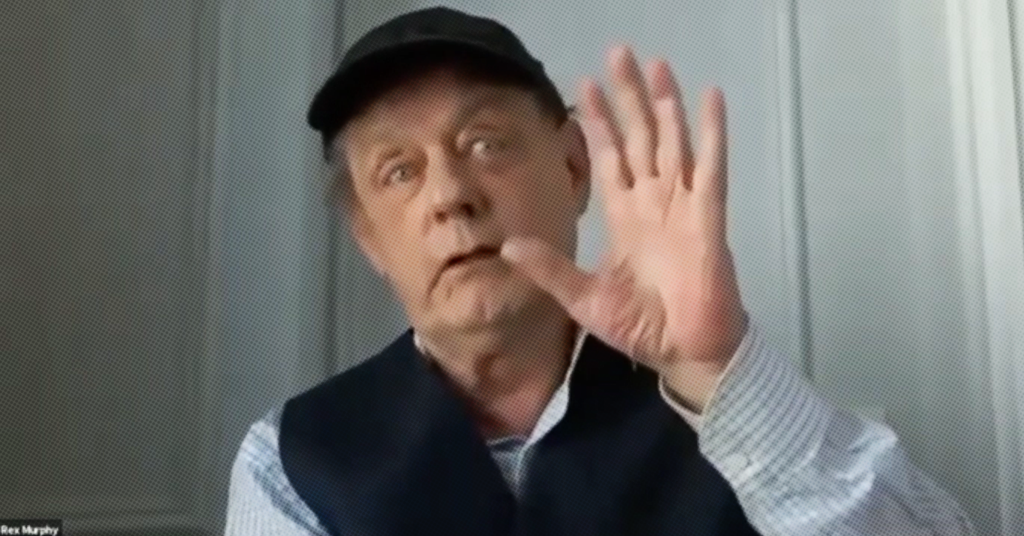 Video
Rex Murphy: Don't Listen to 'Television and Radio', They Want You to Believe That Climate Change is Real
"You have to defy the conventional idea that if you deny global warming you are some sort of benighted Neanderthal"
Your local television and radio stations aren't telling the truth about climate change, says one of Canadian broadcasting's most well-known personalities.
Rex Murphy, who once had a regular segment on CBC's The National and hosted CBC Radio's Cross Country Checkup, called on Canadians to "defy" conventional thinking on climate science during a recent Zoom webinar.
The event, titled "Pushing Back the Great Reset," was organized by the think tank formerly known as the Manning Centre which now goes by a brand new name: "The Canada Strong and Free Network."
The topic of the event raised eyebrows given that the "Great Reset" is also a highly controversial far-right conspiracy theory. Event organizers acknowledged that the term is associated with a "crazy conspiracy theory about world domination," but insisted "that is not what we are talking about today."
Murphy, one of Canada Strong and Free Network's Zoom webinar guest, has been a longtime favourite speaker at right-wing oil industry events.
In his spiel, Murphy railed against the "totalitarian ideology" of environmentalism, bemoaned the idea of reducing his carbon footprint and, at one point, suggested climate activist Greta Thunberg's warnings came from an "Apollo shrine in Greece."
Murphy concluded his remarks by asking viewers to "defy" conventional thinking on climate science and stop listening to "what you hear on almost every single television and radio station, because they are drenched in this garbage."
"It has to be resisted, you have to speak out against it, and you have to defy the conventional idea that if you deny global warming you are some sort of benighted Neanderthal. Push back against accepted thinking, and don't listen to what you hear on almost every single television station and radio, because they've been drenched in this garbage and know no better."
Murphy spoke at the "Pushing Back the Great Reset" webinar alongside Toronto Sun columnist Anthony Furey and the National Post's Peter Foster, who mockingly compared World Economic Forum Executive Chairman Klaus Schwab to the fictional Austin Powers villain "Dr. Evil."
Discussion covered areas other than climate change — for example, Furey suggested the "Great Reset" is using the pandemic to advance a communist agenda.
"The phrase the 'Great Reset', heavens, it sounds like Maos great leap forward, or one of those five year planning things that Stalin came up with and those didn't end to well," Furey remarked.
"We saw what happened with all of that, and that was all about subsuming the individual for some great agenda. It's very interesting that this is happening now with the pandemic."
At another moment during the event, the National Post's Peter Foster brought up Black Lives Matter and invoked the memory of George Floyd.
"Klaus Schwab would have George Floyd say not, 'I cant breathe,' but 'we need a Great Reset'."
After moderator Christine Van Guyn offered Foster an opportunity to clarify what he meant by bringing up Floyd's name, Foster explained: "Schwab is so focused on the ills of the world, so he thinks everything should be dragged in, from Black Lives Matter to @MeToo."
Our journalism is powered by readers like you.

We're an award-winning non-profit news organization that covers topics like social and economic inequality, big business and labour, and right-wing extremism.
Help us build so we can bring to light stories that don't get the attention they deserve from Canada's big corporate media outlets.
Donate