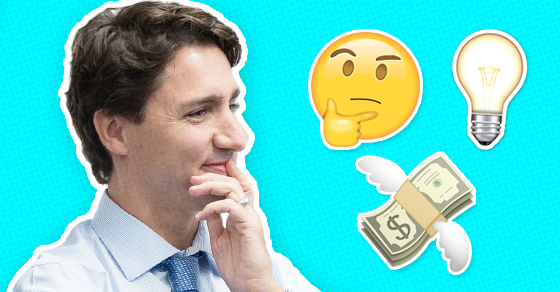 Hold on – Could Justin Trudeau go ahead and create a $15/hour minimum wage all across Canada?
Justin Trudeau has opposed raising the minimum wage in the past, but maybe this idea will help change his mind?
Good news – maybe the federal government actually can do something about the minimum wage after all!
Last winter, Prime Minister Justin Trudeau spoke to Neil Piercey, a 58-year-old Ontario worker laid off from a long-time, good paying manufacturing job during a one-on-one interview that aired on CBC News.
Piercey, who now finds himself working for low-wages and without a pension as he nears retirement, had one direct question for Trudeau:
"Wouldn't it be a good idea to raise the minimum wage?"
Unfortunately, as CBC host Rosemary Barton later pointed out, Trudeau's answer left Piercey disappointed and "unsure about what will happen to him":
Trudeau suggested raising the minimum wage could kills jobs and increases prices – two claims that are not supported by evidence.
UofC economist @trevortombe says #CFIB's conclusions about min wage job loss are "hard to justify" based on research https://t.co/2sfSDOVBuX

— Gil McGowan (@gilmcgowan) June 30, 2016
Trudeau also told Piercey "that's not something the federal government can do directly" – and during the last election, Trudeau opposed a federal minimum wage because he felt it didn't help enough people (although he previously supported the policy in 2014).
At the time, labour leaders called this line of argument "wrong," and pointed out it would have a "trickle up effect" on other industries covered by provincial minimum wage laws.
@JerryPDias Prez of @UniforTheUnion explains why $15 fed min wage matters: http://t.co/9Bx0WpJCc4. #15andFairness #elxn42 #UpTheWage #15now

— $15 & Fairness! (@fairwagesnow) August 20, 2015
But what if Trudeau could help struggling workers all across Canada?
What if the federal government could raise wages for everyone in Canada and what if they could do that "directly"?
Alberta has committed to a living wage. Now it's time for the feds to step up. Here's how: https://t.co/SKd00oZ24h #cdnpoli #ableg

— Corey Hogan (@coreyhogan) September 13, 2016 
Corey Hogan, a Calgary-based strategist and former Executive Director of the Liberal Party of Alberta, has put together a new website that asks: why can't the federal government bring in $15 national minimum wage in every province all across Canada?
Not only would that render Trudeau's objections to the minimum wage null and void, but it might just make a dent in inequality too.
Here's the problem: Canadian provinces currently set their own minimum wages and that creates a patchwork of eleven different wage floors depending on where you work:
Why is the minimum wage a provincial responsibility?
In 1979, the Supreme Court ruled "Parliament has no authority over labour relations as such nor over the terms of a contract of employment."
But Hogan explains "that's not the end of the story."
The Supreme Court might say a national minimum wage is a "reasonable encroachment on provincial responsibility" if it is a "national concern" – and Hogan thinks it might because "the increased mobility of the Canadian labour force and the growing number of low income Canadians has made it more national in scope."
So, he proposes three possible solutions:
1) Pass a federal minimum wage law and dig in for a court battle: The federal government could pass a law mandating a $15 minimum wage applying to all workers. Given that the constitution has evolved since the original rulings governing minimum wage laws were made, it's possible the challenge could succeed. 
2) Raise taxes on low-wage employers: Suppose the courts toss out a national minimum wage law, what then? The federal government could pay for the costs of working poverty by imposing a tax on companies that insist on paying low wages. 
3) Negotiate a provincial wage compact: Federalism might be what's currently holding back a $15 national minimum wage, but perhaps it could also offer a solution. Provinces could get together and set a timeline for harmonizing minimum wages across the country. The federal government could help facilitate the process, both by bringing provinces to the table and by offering to contribute money to subsidize the costs to provincial governments – much like it does with health transfers under the Canada Health Act.
Hogan says "the federal government has a role in bringing them together to do this," and "if the provinces won't come together and agree to raise the minimum wage the federal government should be prepared to act."
1,253,000 Canadian workers currently make the minimum wage and last year about a quarter of the Canadian workforce made $15/hour or less, meaning they may have qualified for social assistance, tax credits or government subsidies. 
Raising the minimum wage isn't only an issue of fairness – there's also a strong economic case for putting money back in people's pockets.
Low wages weigh down public services, raise the cost of social assistance and cut into government revenues through tax credits and other programs that top up low incomes.
The Ontario Association of Food Banks estimates poverty costs the federal government up to $30 billion each year, while other estimates say poverty costs the Canadian health care system $7.6 billion each year alone.
After factoring in provincial and private sector costs, the national impact of poverty runs well above $100 billion each year.
As Hogan puts it: "low wages are a hidden tax on us all."
Photo: PMO.
Our journalism is powered by readers like you.

We're an award-winning non-profit news organization that covers topics like social and economic inequality, big business and labour, and right-wing extremism.
Help us build so we can bring to light stories that don't get the attention they deserve from Canada's big corporate media outlets.
Donate