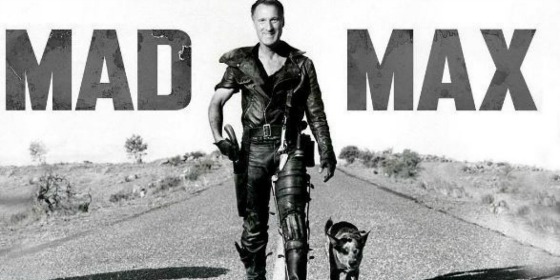 Did Maxime Bernier accidentally sum up libertarianism with this Mad Max meme?
Conservative leadership candidate photoshops himself onto a dystopian hellscape where government has finally been rolled back.
Is Canada ready to be governed by a road warrior? Maxime Bernier seems to think so. 
On Tuesday, the Conservative leadership hopeful and unofficial standard-bearer for Canadian libertarianism posted an image on his Instagram account showing his face photoshopped onto the body of Mel Gibson in the 1980s film series Mad Max.
The accompanying caption reads:
CALL ME MAD MAX— You know, some people like to call me Mad Max like in the movie.They may believe it's an insult. But let me tell you something: It's true. I am mad! I'm mad about government waste! I'm mad about government borrowing money on the backs of future generations, to benefit big corporations! I'M MAD THAT THE LIBERALS ARE RUNNING OUR COUNTRY'S FINANCES, AND OUR NATION'S FUTURE, INTO THE GROUND!I'M MAD THAT THE LIBERAL GOVERNMENT SHRINKS OUR PAYCHECK WITH HIGHT TAXES AND TAKES AWAY OUR FREEDOM. I'm mad about the federal government constantly meddling in provincial jurisdictions! I'm mad at politicians who promise anything to get elected! So yes, you can call me Mad Max. I don't mind! I'm asking you to get mad like me and take your future into your hands.
While this suggests the image is mostly a play on words, Bernier may have accidentally said a little more than he intended to. 
Mad Max is set in a bleak, dystopian future in which a poor and lawless Australian Outback is overrun by violent motorcycle gangs. Mel Gibson portrays Max Rockatansky: a cop in the badly funded police unit who fights desperately to prevent the gangs from stealing and plundering fuel and other valuable resources. 
Seen another way, it's a world where regulations have been done away with, the evils of government overreach are history, and the spirit of human freedom is finally allowed to roam free.
Hmmmm, which political philosophy does that remind you of? 
In general, libertarians argue that government should be scaled back to its absolute minimum (or completely done away with, depending on who you ask) with the market left to its own devices. So unless you happen to be rich – or a member of a well-armed motorcycle gang – forget about medicare, social services, or clean air.
But hey, no mandatory census, dairy market regulation, or capital gains tax either!
While Bernier has distanced himself from fellow libertarians on certain foreign policy issues, his campaign has offered up no shortage of crazy ideas.
These includes massive deregulation, killing capital gains taxes, tying Canada's currency to the value of gold, and offering up China as a model to be emulated. 
If you actually believe that all government action or intervention is oppressive, some pretty crazy ideas start to emerge. So far, though, the Quebec MP has nothing on some of his libertarian counterparts south of the border.
They're variously advocated that social security and medicare be completely eliminated; civil rights were an example of government overreach; mortality is an ideological construct; selflessness is evil; and that libertarians should escape democracy by building colonies underwater and in outer space (seriously).
But if Canada ever opts to travel down the Fury Road of zero taxes or regulations, at least we'll have our own Mad Max to patrol the highways.
Photo: hon.maximebernier
Our journalism is powered by readers like you.

We're an award-winning non-profit news organization that covers topics like social and economic inequality, big business and labour, and right-wing extremism.
Help us build so we can bring to light stories that don't get the attention they deserve from Canada's big corporate media outlets.
Donate