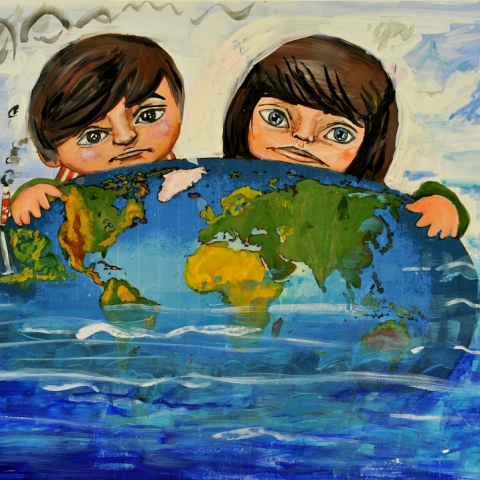 Conservatives on climate change: "the climate always changes. It goes hot. It goes cold."
The Conservative climate change skeptics club is getting bigger. Tory MP Gordon O'Connor showed his colours last week, when he explained why the Conservatives couldn't support an Opposition motion at the House of Commons government operations committee. It called for the Parliamentary Budget Officer to study and forecast the cost of climate change on the […]
The Conservative climate change skeptics club is getting bigger.
Tory MP Gordon O'Connor showed his colours last week, when he explained why the Conservatives couldn't support an Opposition motion at the House of Commons government operations committee. It called for the Parliamentary Budget Officer to study and forecast the cost of climate change on the delivery of public safety emergency operations.
O'Connor explained:
"My problem is with the words 'climate change.' I don't know what those words mean because they're a buzz phrase. Climate change. If we're talking about what is our preparedness for natural disasters, that's one thing, but climate change, if you want to talk about the climate, the climate always changes. It goes hot. It goes cold, etc."
O'Connor's colleague, Agriculture Minister Gerry Ritz, made his own quip on the floor of the House of Commons last week.
"This cold weather can't last forever. This global warming has to stop some time."
These guys seem to be taking their cues from Environment Minister Leona Aglukkaq, who started her tenure in the portfolio by casting doubt on climate change.
They should be listening to this guy instead.
In a speech in Jakarta on Sunday, U.S. Secretary of State John Kerry put climate change deniers in the same category as people who believe the Earth is flat. He said climate change may be the world's "most fearsome" weapon of mass destruction requiring urgent action.
Photo: undpeuropeandcis. Used under a Creative Commons BY-NC-SA 2.0 licence.
Help us protect Canadians by holding the powerful accountable.
Journalism is an important public service. That's why PressProgress is prioritizing stories aimed at keeping Canadians safe and holding the powerful accountable during the coronavirus pandemic.
Please consider supporting our award-winning non-profit news organization so we can keep making a positive impact for Canadians.
Support Our Journalism