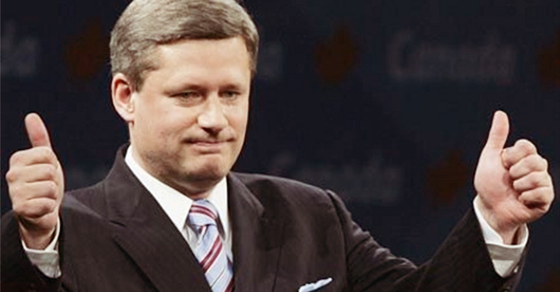 Congratulations, Canada: now the world is talking about your Prime Minister's "racist" rhetoric
How bad has this election been for Canada's international reputation?
How do we want the world to see us?
This last month has been devastating for Canada's international reputation – from 1-800 hotlines to snitch on your neighbours to screening refugees based on their religion to policing how a handful of women dress, it doesn't square with what most Canadians have in mind when they think: mutual-respect.
When Americans start turning their heads away from train wrecks like Donald Trump or Sarah Palin and ask what's "going on up in Canada?" it might be a sign we've got an image problem.
Here are eight international news stories that underline just how far off course Stephen Harper's divisive rhetoric has taken all of us:
1. New York Times: "Canada has its Trump moment"
The New York Times is one of the biggest and most prestigious newspapers in the world. A recent headline suggests Harper is turning to a Donald Trump-style of "demonizing" Muslims all in a selfish drive to win the election:
"Effectively, Mr. Harper hopes to win his fourth term on Oct. 19 in part by demonizing those few who wear the niqab — and much of Canada's Muslim population by extension."
2. The Economist: Harper is "Muslim-bashing" as a "campaign tactic"
The Economist informs its international readership that Harper's "Muslim-bashing" rhetoric appears to have spurred a series of physical attacks on Muslim-Canadians:
The [Niqab] fuss is a godsend for Stephen Harper, who hopes voters will re-elect him for a fourth term as prime minister—despite their fatigue with his ten-year rule and a weak economy … Canada's 1m Muslims are dismayed. Although hate crimes in general are declining, those targeting Muslims are not. In the past week, a pregnant woman wearing a headscarf in Montreal was knocked down by two teenagers. Another wearing a niqab in Toronto said she was assaulted. Politicising the niqab is "unbelievably dangerous," said Calgary's mayor, Naheed Nenshi, who is a Muslim.
3. The Guardian: Harper is using "Islamophobia to make gains in polls"
A recent article in the UK-based Guardian observes that Harper's fear-mongering about foreigners has gotten so over-the-top, he's starting to sound like Donald Trump:
"Thanks to candidates like Donald Trump and Ben Carson, American political discourse seems to be dominated by xenophobia. Now, Canada seems to be following suit."
4. Washington Post: Harper is playing "a dangerous xenophobic game"
Over at the Washington Post, confusion abounds as to how an "insignificant" issue has dominated a Canadian election at the same time as our economy is tanking and a few other issues that actually present a threat to the security and welfare of Canadians:
"There are lots of important issues at stake, including Canada's flagging economy, its role in counterterrorism operations overseas, and the looming specter of climate change.

But, of late, something far more insignificant has begun to dominate the conversation: whether Muslim women can wear the niqab, a type of full-face veil, during Canadian citizenship ceremonies."
5. Esquire Magazine: "What the f–k is going on up in Canada?"
Esquire Magazine has a piece that says Harper has "learned all the wrong lessons from the Bush-Cheney-Halliburton years" and is "going to Trump University this time around":
"​Once uncorked, xenophobia rarely stays in the bottle. If it's not questioning someone's citizenship, it's good old-fashioned nativism."
6. The Independent: Harper's rhetoric has "dark, racist overtones"
A headline in the British daily The Independent expressed disbelief that Canadian democracy is losing its way – "something has gone profoundly wrong":
"Faithful ally of Britain in two world wars, peacekeeper to the world, Nato but neutral across the globe, it's difficult to believe that Canada's democracy might have come adrift.  But the last weeks of election campaigning by Stephen Harper's ruling Conservative party – with its dark, racist overtones and anti-Muslim rhetoric — suggests that something has gone profoundly wrong with the nation which Winston Churchill once called "the linchpin of the English-speaking peoples." 
7. Vox: "Disturbing questions" are being raised "about how Canada sees Muslims and immigrants"
Calling it a disturbing "wedge issue," the news website Vox attempted to explain to American readers why an "unusual issue" could come to dominate Canada's election news coverage:
"It's not as if there's an epidemic of Muslim women wearing niqabs to Canadian citizenship ceremonies. But in the past months, and especially the past few weeks, the niqab issue has become a huge part of Harper's campaign. What's more, it appears to be working — raising some pretty disturbing questions about how Canada sees Muslims and immigrants."
8. Salon: "White people don't have to worry about Canada's new 'report your neighbor' hotline"
But at least Salon, a New York-based outlet covering current affairs, took note of how Canadians have been ruthlessly mocking the "Conservatives' racist strategy":
"The criticism of "Report Your Neighbor" has been voluble, with news outlets emphasizing that the Conservative defense of "old-stock"— i.e. White –"Canadian values" is, rather, a coded way of validating Islamophobia in Canada, and that this fear-mongering has led to vicious physical attacks against Muslim women wearing the veil, including one pregnant woman. (The irony abounds, for it would seem that women and children could, in fact, use some protection from "barbaric cultural practices," just the ones that are being whipped up by the "old-stock" government itself.)

Meanwhile, internetizens have been grimly mocking the racism of "Report Your Neighbor." Not only has a satire site popped up to target the Un-Canadian behavior of Conservatives, but the hashtag #BarbaricCulturalPractices has been skewering the campaign."
Maybe that should give us all hope.
Because if there's one thing that unites us as Canadians, it's ridiculing bad Conservative ideas. It's what we do best.
Our journalism is powered by readers like you.

We're an award-winning non-profit news organization that covers topics like social and economic inequality, big business and labour, and right-wing extremism.
Help us build so we can bring to light stories that don't get the attention they deserve from Canada's big corporate media outlets.
Donate