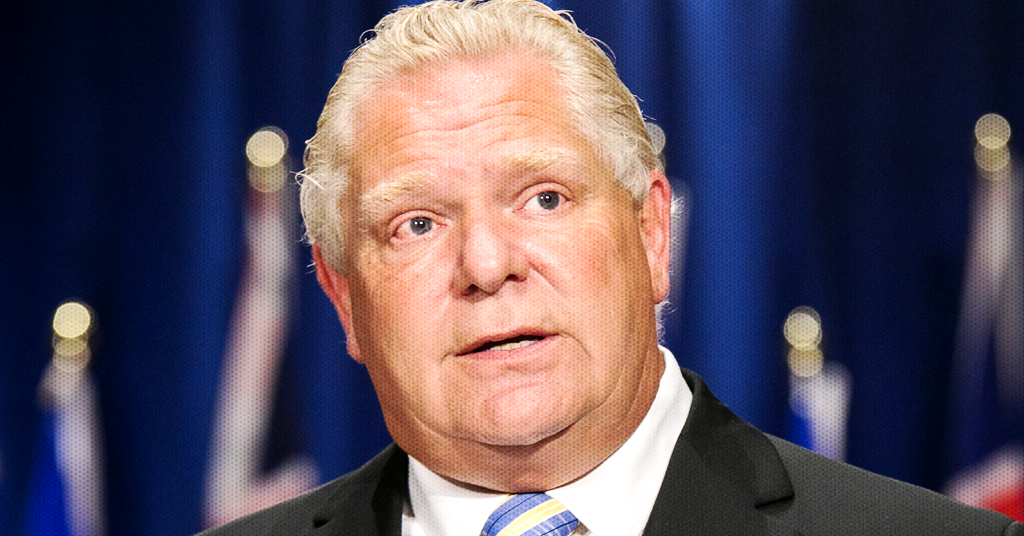 Year-End Review
5 Thoughtless and Troubling Ways Doug Ford's Government Messed Up Ontario's Education System in 2020
Doug Ford had a tricky year managing Ontario's education system
From trying to replace human teachers with computers to forgetting to renew the province's online learning subscriptions, Doug Ford's government apparently had a tricky year managing Ontario's education system in 2020.
So it might be no big surprise that the Ford government's biggest supporter in its fight against teachers turned out to be a fake parents group run by a millionaire conservative donor who had been lobbying the government over a new highway.
Here's a short look at the ill-considered changes to the province's education system Ford and Education Minister Stephen Lecce tried to ram through in 2020.
Trying to make Ontario more like "Alabama"
Leaked memos from the Ontario government, revealed plans to layoff thousands of teachers and replace them with online learning software that could be sold later.
Education Minister Stephen Lecce notably pointed to "Alabama" and "Arkansas" as possible models for the government's changes.
Experts said that was a terrible idea.
Trying to cut special education
A key cause of disagreement between Ontario's teachers and the Ford government was the government's push to cut the province's Local Priorities Fund which, among other things, helps cover the salaries of special education staff.
While Lecce pledged $148 million for the fund, in Spring it was noted that was about $100 million less than what was promised previously, and about $12 million lower than had been provided the year before.
Lecce also let slip during an interview that funding would be made up for in part by replacing unionized special education jobs with non-union positions.
Inconsistent school repair funding
Since the last election, Ford's government has been less-than-consistent about how much it intends to spend fixing Ontario's massive school repair backlog — and that continued through 2020.
Its June pledge, for example, promised only 3% of what was needed last year to fix its existing backlog and, while the province promised to spend $1.4 billion each year, it revised its ten-year target to $12 billion.
That's about $2 billion less than 10 increments of $1.4 billion.
Relying on support from fake parents
While the Ford government quickly lost the support of the province, it won the support of well-connected business owners eagre to complain about striking teachers to media.
First, the Toronto Sun interviewed an "angry parent" named Paul Greco — who just happened to have a history organizing photo-ops for Minister Lecce.
Then, a mystery group by the name "Vaughan Working Families" purchased full ads in all of Ontario's major newspapers — accusing the province's teachers of "risking student success."
It just so happened that many of the group's registered founders were large developers and business owners who donated to Ford's party.
Underfunding the province's COVID-19 reopening
Doug Ford's back-to-school plan pushed some Ontario school boards to consolidate smaller classes into larger ones — leading to some situations where one classroom is shared by "30 or more students."
Meanwhile, teachers and advocates warned the government also underfunded cleaning services, nurse staffing and even failed to renew subscriptions to online learning programs.
Our journalism is powered by readers like you.

We're an award-winning non-profit news organization that covers topics like social and economic inequality, big business and labour, and right-wing extremism.
Help us build so we can bring to light stories that don't get the attention they deserve from Canada's big corporate media outlets.
Donate